Reviewed by NEAL GENDLER
Ellis Island tends to dominate thinking about Jews' immigration to America.
But there's another America.
Who knows that early in the 20th century, Romanian Jews fled persecution for — of all places — Peru?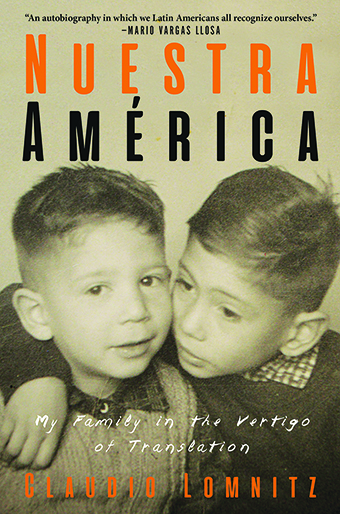 That's where author Claudio Lomnitz's maternal grandfather, Misha Adler, and grandmother, Noemí Milstein, developed a thriving intellectual life bolstered by fellow immigrants from Romania's Bessarabia region, some from his hometown of Nova Sulitza.
"This is an account that speaks of how strangers help shape everything that we call ours. It begins in exile," says Lomnitz, a Columbia University anthropologist who specializes in Latin American culture and politics.
We get heaps of culture and politics in his Nuestra América (Spanish for "Our America"), which is foremost Lomnitz's interesting, complicated, 412-page family saga, and moves among 11 countries.
Nuestra América centers around Misha, a sometime journal publisher, and attractive, talented Noemí. She spoke seven languages; he spoke eight.
In 1923, Romania became the last European country to make Jews citizens. Misha "celebrated this supposed act of inclusion by emigrating to Peru," which sought European workers, Lomnitz says. Misha's Hashomer Hatzair, a Zionist youth movement, group came along, avoiding conscription.
The Milsteins fled Mogilev, Ukraine, when a commissar told Noemí's father Boris he was about to be arrested and hung. In Peru, he reestablished his lumber and soap-making business.
Misha's interesting life is tinged with sadness: he was friends with brilliant people but struggled against circumstances for a full intellectual life.
Nuestra América gains heft — intellectual and physical — from discourses about politics and social conditions surrounding his forebears' lives, such as seven pages on Peruvian politics and society. Later, seven pages summarize Peruvian history since 1532.
Reaching Peru in 1924, age 19, Misha used his multilingual skills working for a Sephardic businessman and enrolled in a university. He received his doctorate in 1930 with a dissertation on Karl Marx.
Misha and Noemí became close friends with José Carlos Mariátegui, "one of Latin America's most remarkable journalists of all time," Lomnitz says. They were regulars at Mariátegui's home for "Red Corner" sessions that led to creating Peru's Socialist Party, "which later morphed into its Communist Party."
Lomnitz provides 20 pages on Mariátegui's life, work and influence. In 1926, Mariátegui created the periodical Amauta, dedicated to creating a new idea of Peru. Noemí worked as a translator.
In 1929, Misha created Repertorio Hebreo, which Lomnitz calls "eclectic in spirit and scope." Misha promoted a Jewish state but "without abandoning the internationalist messianism he and Mariátegui both associated with Marx." Noemí, 18, was managing editor. After three issues, they and Boris were arrested as part of a fabricated Jewish-Communist plot.
Noemí was freed quickly, but Misha served two or three months bagging guano, breathing its dust, until Nova Sulitza friends got him released on condition of deportation.
Freed, Boris and family moved to Colombia and went back into business, and Misha and Noemí married. They went to Paris in 1932, where Misha enrolled for doctoral studies in ethnology. He would call himself an ethnologist.
In 1934, Misha gave talks in Poland on the Nazi danger. Then he, Noemí and their daughter Larissa lived in Nova Sulitza for two years, visiting his parents and trying to convince Bessarabian Jews to leave. A 16-page chapter on the Shoah describes the end of Nova Sulitza's Jews, including Misha's parents.
Returning to Colombia, the couple worked to consolidate Jewish culture. Misha was to direct a Jewish school in Bogotá. It failed, partly because traditionalists and leftists disagreed.
Moving to Medellín, Colombia, Misha published two issues of Nuevo Mundo (New World). It folded in 1943. Back in Bogotá, Russian-speaking Misha directed the Institute for Colombian-Soviet Friendship until fired while gravely ill with typhoid.
In 1949, the family, with four children, made aliya. Misha taught school. Larissa met and married Cinna Lomnitz, Claudio Lomnitz's German-born father, who had come alone from Chile. Eventually, Misha's family returned to Colombia.
Now, about three quarters of the way in, Claudio Lomnitz tells his father's family history. Great-grandfather Sina Aronsfrau — well-off, well-regarded in Mannheim, Germany — was murdered in 1922 by pre-Nazi thugs. Glamorous, paternal grandmother Bronis' singing career began in a concert directed by Bruno Walter but was limited by her religion. In 1933, the family fled; Cinna grew up in Chile.
Around 1954, Cinna, who spoke six languages, won a California Institute of Technology scholarship for his doctorate in geophysics. When Claudio Lomnitz was eight, his mother Larissa, 32 with three sons, entered college in Berkeley for a bachelor's degree. Her doctoral dissertation, in Spanish — How Do the Marginalized Survive — was published in 1976 and is in its 17th edition.
Nuestra América errs in saying Moses was punished for striking a rock at God's command to produce water. The punishment was for later striking a second rock when God had told him to speak to the rock.
Beautifully written, Nuestra América includes plentiful photos, source notes and, mercifully, a family tree. It would benefit from an index, a timeline and the pronunciation of Noemí.
***
Neal Gendler is a Minneapolis writer and editor.
(American Jewish World, July 2021)