Memories After My Death: The Story of My father, Joseph "Tommy" Lapid, by Yair Lapid, Thomas Dunne, 330 pages, $27.99.
Reviewed by NEAL GENDLER
So "dead men don't talk"?
Tommy Lapid — voluble, sharp-witted, tart-tongued Israeli writer and politician — died in 2008, but he's still talking.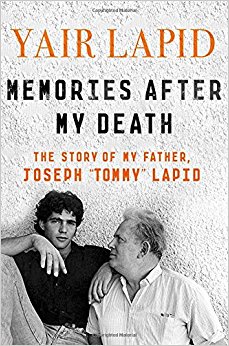 In Memories After My Death, Lapid speaks through son Yair, like Tommy a journalist turned politician. He chairs Yesh Atid, the Knesset's second-largest party.
Pretending to be Tommy's autobiography, Memories is a revealing, engaging, delightful portrait of his zest for living, friends, food and family written in Hebrew in 2009. Its U.S. edition, well indexed, is in easy, flowing translation by Evan Fallenberg.
Tommy was in Israel's news often atop the stridently secular Shinui Party — once the Knesset's third largest.
"I was the most famous atheist in Israel … whose outbursts were legendary," Yair's Tommy says. "I was despised but remarkably popular."
The former Tomislav Lampel of Novi Sad, Serbia, dates adulthood to March 19, 1944, at age 12, when a German soldier entered his prosperous Hungarian family's home and took his journalist-lawyer father, "the center of my world." Released but later arrested in Budapest, Tommy's father died in Mauthausen.
In Budapest, Tommy's mother was arrested but rescued like thousands of Jews by Raoul Wallenberg. Later caught in an SS and Hungarian Arrow Cross roundup, she and Tommy were marching toward death at the Danube when they slipped into a public lavatory and hid.
"Half an hour later, not a single person from the march was left alive. This was the key moment of my life, the moment that defines me more than any other," Tommy says. Since, "I lived my life with guilt-free passion" as possible only for someone "spared certain death."
After reaching Israel in 1948 and army service, he worked at a Hungarian daily where he met soon-famous humorist Ephraim Kishon, his closest friend for 50 years. Tommy studied law, then landed at Ma'ariv, ascending from errand boy to reporter.
In 1959, he married beautiful, introverted Shulamit Giladi, who would surprise him by becoming a repeat best-selling novelist.
After being London correspondent and covering the Knesset, he became a hugely popular columnist. He'd earlier taken a Lampel-related Hebrew name: Lapid, meaning torch.
He lit verbal fires on Friday evening's must-see Popolitika, a raucous current-events discussion, famous for insults and shouting. It ran five years, the station's most successful program at its cancellation in 1998 as "uncivilized."
His enjoyable fame once caused embarrassment.  Mistaking a private car for a taxi, he jumped in and was driven home. Asking the fare, he learned of his error. "So why did you agree to drive me," he asked.
"I was waiting at the stop light and suddenly Lapid from the television got into my car and told me to take him home," the driver said. "I was afraid if I refused, you'd shout at me."
Yair's Tommy calls himself "loud and voracious, always engulfed in a circle of friends, quick to laugh and quick to anger."
And multitalented: In 1967, he wrote his first play, a hit comedy called Black Man's Burden. Back in Israel, Ma'ariv assigned him to create a glossy women's magazine; he'd never read one. Studying Cosmopolitan, he created At, (feminine for "you"). It, too, was a huge hit.
He traveled Europe in 1969 to create The Lapid Guide for Israelis — another success, updated almost annually for 30 years. From 1979 to 1984, he was head of the Israel Broadcasting Authority.
After Popolitika, "dying of boredom," he agreed to head the Shinui party's ticket. Shinui called for Israelis to serve in the army, work for a living and pay taxes. Shinui won six seats. In 2002, it won 15. After the ultra-Orthodox quit the coalition, Shinui joined. Tommy became deputy prime minister and, in 2003, justice minister.
That lasted two years. After a period of inactivity and depression, he returned to writing and broadcasting and headed the Yad Vashem council in 2006.
After a year with cancer, he called close friends Ehud and Aliza Olmert to his hospital bed to witness his stop-chemotherapy signature.
Watching, grandson Yoav asked why non-family witnesses were required. Tommy said it's to prevent someone from pulling the plug to get rid of a spouse or gain an inheritance.
"That's a really smart law," Yoav said.
"I know," Tommy replied. "I wrote it."
***
Neal Gendler is a Minneapolis writer and editor.
(American Jewish World, 11.17.17)