Nine Essential Things I've Learned about Life, by Rabbi Harold S. Kushner, Knopf, 171 pages, $23.95
Reviewed by NEAL GENDLER
When bad events challenge our childhood faith in God's goodness or even in God's existence, "it is not only permissible but a religious obligation" to question our beliefs, says Rabbi Harold Kushner.
But then seek answers to the questions.
"The only religiously unacceptable response is to reject religion entirely and close your mind to further speculation," says Kushner, now 80 and rabbi laureate of Temple Israel in Natick, Mass.
"To be a religiously serious person… need not mean banishing all doubt," he says in his delightful, insightful 13th book, Nine Essential Things I've Learned about Life. What it means is "a readiness to live with doubt" and giving God the benefit of the doubt, "as we would for any person we cared about."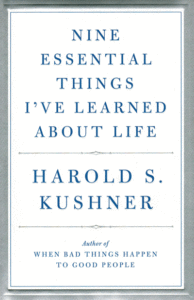 Doubts about God don't necessarily mean a lapse of faith but "can be seen as manifestations of faith, concerns born of caring enough to be troubled by life's unevenness," he says.
Kushner sometimes surprises people by telling them that "there is no commandment in Judaism to believe in God." The first of the Ten Commandments "is not a commandment at all," he says, but an explanation of "why the assembled people should obey the subsequent precepts."
That statement appears in a chapter called "Religion is what you do, not what you believe." Many others above are in the especially good chapter, "Leave room for doubt and anger in your religious outlook." He notes that even Moses got angry with God.
Kushner, an excellent writer and spellbinding speaker, gained worldwide fame with his first book, When Bad Things Happen to Good People, written after the death of his son Aaron from a rare disease of rapid aging.
This book is partly memoir and partly his view of how organized religion has changed in his lifetime. Other chapters include: "God is not a man who lives in the sky" and "God does not send the problem; God sends us the strength to deal with the problem."
Kushner says: "The religion I teach and practice is very different from the religion I was taught." His education to become a Conservative rabbi "saw congregants as passive consumers of ancient and eternal truths. To be religious was to obey, not necessarily to understand, and certainly not to question."
That didn't prepare him for a world of social change in which a Bible verse or centuries of precedent no longer were persuasive arguments.
"In the 21st century, the religious agenda will be set not by tradition's answers but by congregants' questions," he says. Those who see themselves as upholders of rulings and traditions may disagree. Increasingly, though, we see American Jewish life reacting to questions of "why can't" or "why not" by eliminating barriers to participation and leadership.
Kushner's religious outlook was shaped by "religion done well," in a childhood home where Jewish practice "introduced moments of specialness," and in his synagogue, faith fashioning a community — and also by "'religion done badly,' more concerned with protecting God's reputation than with helping worshippers in need."
God doesn't need a press agent, he says. Kushner sees his role not as trying to protect God from people's righteous anger "but to rescue people who need God from having to choose between a cruel God and no God at all."
Nine Essential Things is chock full of Torah-based answers cast in modern terms, such as "forgiveness is a favor you do yourself," a way of obeying commandments not to hold grudges or harbor thoughts of revenge while at the same time freeing oneself from mentally hobbling self-definition as a victim.
I've heard Kushner pooh-poohed for his uplifting messages, but I beg to differ. Kushner, a Columbia University freshman at 16, draws on Jewish law and tradition to teach ways that people can think and behave differently to reduce or overcome guilt, anger and despair, and to lead happier, better lives.
That's not a rabbi's only job, but it surely is a big one.
***
Neal Gendler is a Minneapolis writer and editor.
(American Jewish World, 10.9.15)