Sabes JCC's new fitness facility for kids encourages movement and other skill development
By ERIN ELLIOTT BRYAN / Community News Editor
Thanks to a generous donor, the Sabes JCC has converted a former racquetball court into the KidsFit Club, a state-of-the-art fitness facility for children ages five to 12.
Complete with kid-sized fitness equipment — everything from a leg press to a biceps curl — and interactive gaming systems that encourage movement, the facility is described as a "fun, safe, positive place" to build self-esteem and stronger bodies, and to empower kids and families to be fit and happy.
"It's very important that kids get to experience the health benefits of physical activity," said Donna Heck, the Sabes JCC's fitness director. "It's very important for us to create a safe, fun environment where they can move and play, and do it in a way that they don't even know that they're doing it."
According to Heck, it is recommended that kids ages six to 17 get 60 minutes of physical activity per day to maintain a healthy lifestyle. She said the KidsFit Club is not only a way to play fun games, but to engage in activities that are beneficial to all parts of the body.
Certified personal trainers, who supervise the kids and offer one-on-one support, always staff the facility, and KidsFit Club can accommodate 15 kids at one time.
During the school year, it is available for use 3:30 to 7:30 p.m. Mondays through Thursdays; 3:30 to 5:30 Fridays; and 10 a.m. to 7 p.m. Saturdays and Sundays. It is free for members and $10 per one-hour session for nonmembers.
"It's been really positive," Heck said. "The kids beg their parents to come in."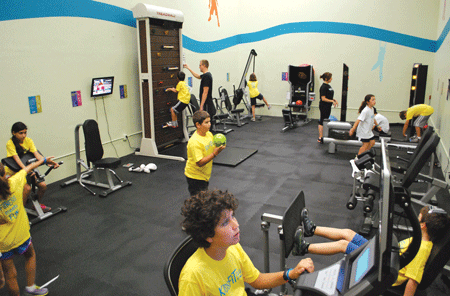 The Sabes JCC's new KidsFit Club, designed for children ages five to 12, offers a variety of specially designed fitness equipment and interactive gaming systems that promote exercise and a healthy lifestyle. (Photo: Courtesy of the Sabes JCC)
The "biggest hit in the whole place" is the TreadWall, according to Derek Griffin, the JCC's sports and recreation manager. The apparatus combines a climbing wall with a treadmill, and it adjusts to the child's weight.
"The kids are always setting goals for themselves, which is so fun to see," Griffin said.
Other popular areas of the facility are the interactive games, such as the Brain Bike or the Xbox and Xavix systems. In addition to promoting movement, the games strengthen hand-eye coordination, agility and cognitive learning.
There are several strength-training machines that are specially designed for those 5-foot-6 and under. The level of resistance can be adjusted with hydraulic cylinders, which are easy to use and safe for all ages.
Among the machines available for use are the leg extension, leg press, ab/adduction, water rower, Absolo, chest fly, chest press, shoulder press, triceps press and biceps curl. All machines have instructions posted nearby.
And because the equipment is smaller and easier to use, it can be used by other members of the community, such as shorter adults, seniors or those who have special accessibility needs.
For the kids, once they outgrow the KidsFit Club, Heck said it will be easier for them to transition to full-size machines in the JCC's fitness center.
To complement the activities offered, Heck and Griffin have also developed additional programming, such as the ABCs of Fitness, Zumbatomic, and KidsFit yoga, bootcamp and personal training. They would also like to supplement that programming with nutritional information and education, particularly in conjunction with September as Childhood Obesity Month.
"When the [parents and kids] seek us out for the physical activity piece, what we want to do is we want to develop additional educational tools and resources for them, beyond just that movement piece," Heck said.
The facility had a soft opening earlier this summer — it accommodated 493 kids in July — and KidsFit Club officially opened on Aug. 16.
Heck said some families have joined the JCC specifically to get access to KidsFit Club.
"We're proud of the space and we're proud of what we can accomplish," she said.
***
For information on KidsFit Club and to make a reservation, call 952-381-3408 or visit: www.sabesjcc.org.
(American Jewish World, 9.14.12)