Bilked Madoff investors now complain about the conduct of Irving Picard, the court-appointed trustee of the Madoff estate
By MORDECAI SPECKTOR
Boston-area newspapers reported last week that Robert I. Lappin, an 88-year-old Jewish businessman and philanthropist, is fighting back against a so-called clawback lawsuit seeking funds from his investments with Bernard L. Madoff Investment Securities (BLMIS).
The Robert I. Lappin Charitable Foundation, which funded free youth trips to Israel and other programs to promote Jewish continuity in communities along the Atlantic shore north of Boston for four decades, lost $8 million in its Madoff investments. And Lappin's Shetland Properties Retirement Fund, his employees' pension plan, lost $5.1 million. Although Lappin replenished the retirement fund with his own money, Irving H. Picard, the court-appointed trustee for the Madoff estate, is suing him now for $1.8 million.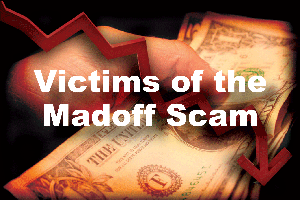 As reported in the last issue of the American Jewish World (12-24-10 AJW), clawback lawsuits seek to recover "fictitious profits" from Madoff's Ponzi scheme and distribute the proceeds to victims of the scam. Lappin, as an example, is deemed a "net winner" by Picard, because he allegedly took out more from his Madoff accounts than he put in.
The AJW has done further research and found that a number of Jews from the Twin Cities are in the same boat as Lappin, as far as facing clawback claims:
• On Nov. 19, 2010, a New York City law firm, acting as special counsel to Picard, filed a lawsuit seeking more than $11.4 million from Steven Fiterman and Susan Fiterman, individually and in their capacities as general partners of the Fiterman Investment Fund; the complaint also names Verdeway Investment Partners, LLC, a Fiterman company in Naples, Fla.
• Picard has sued David Miller and Marshall Miller, as trustees of Minnetonka Moccasin Co., Inc. Profit Sharing Trust, for $4.4 million "in fictitious profits from the [Madoff] Ponzi scheme." The amount sought in the clawback action represents transfers from BLMIS to the Millers over six years prior to the lawsuit filing date, according to the complaint filed in the New York Southern District Bankruptcy Court.
The AJW reported last week that the Millers' philanthropic vehicle, the Phileona Foundation, claimed a "theft loss" of $40.3 million from its investment with the Madoff firm, according to the charity's 2008 990-PF IRS filing; now Picard wants more millions of dollars. As in the other multi-count clawback complaints filed by Picard, who is being assisted by hundreds of other lawyers, both federal laws and New York state laws are cited.
• A lawsuit filed on Nov. 12 names as defendants NTC and Co. LLP, the Colorado-based custodian for numerous retirement accounts of Madoff investors, and Paul Kunin, of Minnetonka. The complaint alleges that BLMIS transferred more than $1.1 million in "fictitious profits" to NTC "and/or" Kunin over the previous six years. Picard previously denied Kunin's claim for losses from his Madoff account. "No securities were ever purchased for your account," wrote Picard, in a March 11, 2010, Notice of Trustee's Determination of Claim.
• The Madoff estate trustee also is suing the Werner Foundation, which has a Minnetonka address, for $1.35 million. The complaint specifies that the Werner Foundation "supports various organizations such as the Jewish Federation of Palm Beach County, the Jewish Federation of Minneapolis [sic] and the Kravis Center for the Performing Arts." Violet Werner, of Palm Beach, Fla., is listed as the president and secretary of the foundation, according to the organization's recent 990-PF tax filings with the IRS.
In late 2008, Werner told the Star Tribune that her late husband, Harvey Werner, who owned a trucking company, invested with Madoff's firm based on advice from the late Mike Engler, a fellow member of Oak Ridge Country Club in Hopkins. Engler, who was a partner in the Engler & Budd brokerage firm, which has been out of business for many years, recommended Madoff to numerous members of the club. Apparently this is how the Twin Cities became one of the geographic centers of the Madoff scam.
Madoff is serving a 150-year federal prison sentence. Now a number of Madoff's victims are focusing their ire on Picard, who is seen as inflicting additional financial woe through denial of insurance claims for lost assets and for filing around 1,000 clawback lawsuits.
Charles Zimmerman, of the Zimmerman Reed law firm in Minneapolis, has a number of Jewish clients who lost money in the Madoff Ponzi scheme. He said that a typical client lost more than a million dollars; some had accounts with BLMIS in the millions of dollars. Zimmerman put the cumulative losses of his clients in the range of $20 million to $30 million. And now a number of them — residents of the Minneapolis area, as well as Scottsdale, Ariz., and Naples, Fla. — are facing lawsuits to claw back their transfers from Madoff's firm.
Zimmerman told the Jewish World this week that his clients find themselves in "a very unfortunate and unforeseen circumstance." He explained that they made "a good faith investment," received returns on their investment, and then found out later that "the investment vehicle" was fraudulent and they had lost their money.
The clawback approach against Madoff clients, who are being asked to give back "even those returns that were purported to be legitimate, and viewed as legitimate in the investment community… is an exacerbation of the pain," Zimmerman said.
The lawyer said his clients "had no knowledge… had no culpability" in the fraud perpetrated by Madoff.
"The first word [of the Ponzi scheme] was when you lost your principal, and that's a heavy shock; and then to find that heavy shock is exacerbated by a clawback makes it very draconian and very difficult," said Zimmerman, who mentioned that he also is representing clients in the $3.78 billion Ponzi scheme perpetrated by local fraudster Tom Petters. The actual losses in the Madoff Ponzi scheme are reported to be around $20 billion.
The law, as it applies in both the Madoff and Petters cases, "needs to be reviewed… for an ultimate fairness test," added Zimmerman.
Lawrence Velvel, a victim of Madoff's Ponzi scheme and the dean of the Massachusetts School of Law in Andover, has been an outspoken critic of Picard. Beyond the clawback lawsuits, Picard has denied claims for compensation by hundreds of individuals defrauded by Madoff, according to Velvel.
In a phone conversation from Florida last week, Velvel explained that Picard is "using the cash in, cash out method — for shorthand it's called 'CICO'… under that method, he claims people have negative net equity, they took out more than they put in [to their Madoff accounts]; and therefore, they get nothing from the SIPC [Securities Investors Protection Corporation] fund, nor do they get customer property later on."
Another way to look at losses is what Velvel called the "final statement method," which basically involves, in this case, looking at the last BLMIS statement, issued for November 2008, and considering the final asset figure as a total loss.
Velvel refers to SIPC insurance, which is a program designed to return funds to investors when their broker-dealers became insolvent. Investors who meet certain criteria can recover as much as $500,000 of their lost assets through the SIPC program.
Picard, who determines the validity of loss claims for SIPC compensation, "ignored the fact that these people, maybe 1,500 of them, were completely innocent, didn't have any knowledge whatever — I'm one of them — that Madoff was a cheat," commented Velvel.
Regarding the clawback lawsuits, Velvel noted that Picard can grant a hardship exemption in certain cases; but "most people do not qualify for hardships, and many of the people who think they do are sadly disappointed" after they make their case to the trustee, according to Velvel.
As mentioned in the previous edition of the Jewish World, the Picard clawback settlement with the estate of Madoff investor Jeffry Picower — for a whopping $7.2 billion — sparked speculation that victims of the Madoff scam might be able to recover a substantial amount of their lost assets. However, Velvel remarked that he and others suspect that the bulk of the recovered funds could go to "hedge funds, large banks and very wealthy individuals; because those are the people that did not have to use their Madoff putative earnings in order to live. The people who ended up taking out more than they put in [to their BLMIS accounts], generally speaking, were not wealthy people and they were living off of this money."
While Zimmerman suggested that a "fairness test" be applied to the clawback lawsuits, Velvel said, in remarks geared to this newspaper's Jewish readership, that Picard's notion of fairness "is a world removed, this is the opposite of the Jewish concept of, call it justice, call it rachmones [compassion]… because what he claims is fair is without any regard for whether somebody is old, is poor."
Referring to his upbringing in a "Labor Zionist household, my parents were immigrants from Russia," Velvel, who has blogged extensively about the Madoff case aftermath, decried Picard's failure "to take any account of the differing situations [Madoff's victims] find themselves in."
Velvel also mentioned that the decision by Judge Burton R. Lifland, of the U.S. Bankruptcy Court for the Southern District of New York, to affirm Picard's "net investment method" (also called "net equity") for determining customer claims is being appealed to the U.S. Court of Appeals for the Second Circuit.
In the area of clawback claims, the legal jousting likely will drag on for years. The Madoff aftermath surely is a bonanza for lawyers, on both sides of some 1,000 lawsuits.
"They'll be defended heavily," Zimmerman said, regarding the lawsuits seeking to claw back money from Madoff investors. "I think that people will take the position that there should not be clawback" when money was used for charitable contributions.
He added, "The weight of authority, unfortunately, seems to be against them in prior cases that have interpreted the law of clawback; but I think there are some meritorious defenses out there."
Returning to the case of Jewish philanthropist Lappin, the Boston Globe reported that he recently wrote a letter to Picard, contending that his foundation "was a net loser, not a net winner" in the Madoff affair.
Lappin told the newspaper that through his investments with Madoff, his personal fortune has been reduced from $20 million to "around $2 million," so the lawsuit seeking a $1.8 million would "basically wipe me out."
Perhaps some members of the Twin Cities Jewish community are facing a similar predicament.
(American Jewish World, 1.7.11)