Keith Ellison, who represents Minnesota's Fifth District in Congress, visited Gaza on Thursday, and surveyed the destruction from Israel's recent war with Hamas.
 
Traveling with Rep. Brian Baird, a Democrat from Washington, Ellison, in a statement issued by his office, said that he wanted to
meet directly with Palestinians in Gaza who have been affected by the destruction, and to express "concern and support. We also want to better understand what can and must be done to recover from the devastation, address the underlying issues, and work toward a lasting, just and peaceful resolution."Â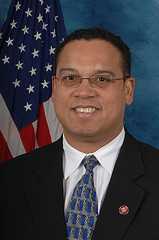 The House members traveled to various locations within the Gaza Strip and met with civilians and relief workers. They were "deeply affected" by what they saw and heard, according to the statement.
"The stories about the children affected me the most," said Ellison. "No parent, or anyone who cares for kids, can remain unmoved by what Brian and I saw here."
 
 

The visit by Ellison and Baird marked the first time in three years that any U.S. government officials had visited Gaza. U.S. State Department officials advised the congressmen about security concerns. The Gaza Strip is controlled by Hama, the Islamist faction that is regarded as a terrorist group by Israel, the U.S. and European governments.Israel attacked Hamas forces in Gaza during a 22-day air, naval and infantry campaign that ended on Jan. 17. The military assault was launched with the goal of bringing a halt to rocket attacks from Gaza on the town of Sderot and other Negev communities.
"The amount of physical destruction and the depth of human suffering here is staggering" said Baird, "Entire neighborhoods have been destroyed, schools completely leveled, fundamental needs such as water, sewer, and electricity facilities have been hit and immobilized. Relief agencies, themselves, have been heavily damaged. The personal stories of children being killed in their homes or schools; of entire families wiped out, and relief workers prevented from evacuating the wounded are heart wrenching."
The congressmen reported that some humanitarian aid has been "allowed in since the intensity of the attacks lessened a month ago, but much is still being blocked by the Israeli defense forces." They stated that the Israeli government has banned the import of "lentils, macaroni, tomato paste, and other common food products. Basic building materials, generator fuel and parts to repair damaged water treatment equipment have also been kept out."
"If this had happened in our own country, there would be national outrage and an appeal for urgent assistance," said Ellison. "We are glad that President Obama acted quickly to send much needed humanitarian funding to Gaza for this effort. However, the arbitrary and unreasonable Israeli limitations on food, and repair and reconstruction materials are unacceptable and indefensible. People — innocent children, women and non-combatants — are going without water, food and sanitation, while the things they so desperately need are sitting in trucks at the border, being denied permission to go in."
Ellison and Baird also traveled to the West Bank city of Ramallah and met with Dr. Riad Malki, foreign minister of the Palestinian Authority. They were scheduled to travel to Sderot and Ashkelon on Friday.
In a separate tour, Sen. John Kerry also visited Gaza on Thursday. He told the New York Times that his visit indicated no change in American policy toward Hamas, which is officially committed to the destruction of Israel and which the United States labels a terrorist group. He said he would not meet with any Hamas leaders.
 
"Hamas has to change its policies," Kerry said at the ruins of the American International School in Gaza, which was destroyed by an Israeli air attack in early January. "There is no change in our policy."
 
The New York Times also reported on Thursday that the opening of Israel's border crossings with Gaza — a central demand of Hamas for a resumption of a cease-fire — was contingent on the release of Cpl. Gilad Shalit, a soldier who was taken captive by Hamas more than two and half years ago.