Acclaimed Israeli author and filmmaker Etgar Keret will speak Nov. 14 at the Sabes JCC
By MORDECAI SPECKTOR
Israeli author Etgar Keret is best known for his short stories. From his most recent collection, Suddenly, a Knock on the Door (Farrar, Straus and Giroux), here is "The Story, Victorious II": "But if one day, out of nostalgia, you suddenly want the story back, it will always be happy to oblige."
That's it — the entire story, 20 words. Some stories are longer — two or three pages. Some sprawl over seven pages. "Surprise Party" unspools across 22 pages, on the long side for a Keret story.
If you haven't read Keret's stories on the printed page, you might have heard them read on This American Life, the storytelling show hosted by Ira Glass on National Public Radio. And if you're in the Twin Cities on Nov. 14, you will have the opportunity to see Keret in person, when he appears at the Sabes JCC as part of the Culture BLVD II: Israeli Author Series.
Keret's appearance is sponsored by the Israel Center of the Minneapolis Jewish Federation and the Sabes JCC.
The Israeli author has said that his prime literary influences are Franz Kafka, Isaac Babel and Kurt Vonnegut. In a similar vein to Kafka and Vonnegut, his stories often feature an absurd plot turn, or a quirky event to leaven the occasionally horrific nature of mundane life.
There is "Hemorrhoid," for example, in which the titular character starts out "small and annoying" and then becomes larger than the businessman: "The earnings of the company he ran kept growing, and so did the hemorrhoid…. eventually it was the hemorrhoid that was chairman of the board. And sometimes, when the hemorrhoid took its seat on the chair in the boardroom, it found the man underneath a little irritating."
And so it goes, with Keret's stories.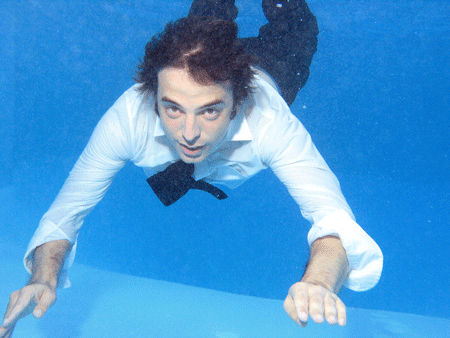 Etgar Keret: Humor, for me, is a defense mechanism. It's very much like the airbag in your car. (Photo: Moshe Shai)
During a recent phone interview with the AJW, from his home in Ramat Gan, Israel, Keret explains that he uses humor "unintentionally."
"For me, humor is a defense mechanism," says the 45-year-old author. "So, it's very much like the airbag in your car. You don't kind of push a button and the airbag opens. The airbag fills up with air when there is a need for it. And I think that the same goes for humor. Usually, humor, in my case, comes when I dwell on very dangerous ground, emotionally, ideologically or mentally…. When I could start crying or become crazy or get myself lynched, this is usually when humor presents itself."
He adds, "I always say that humor is the weapon of the weak. If you're strong and in control of your life, you have no need for humor. But usually, you make a joke as a way of protesting against something that you cannot change. That's why we have so many jokes about our bosses, and that's why we have so many jokes about death."
Humor, according to Keret, helps you "keep your dignity, but still say, 'You know, this is not right,' or 'I can't go on living like this.'"
Keret also posts essays on Tablet Magazine, a provocative Jewish Web site. Some years ago he wrote about his sister who became ultra-Orthodox. The piece titled "My Lamented Sister" begins: "Nineteen years ago, in a small wedding hall in Bnei Brak, my older sister died, and she now lives in the most Orthodox neighborhood in Jerusalem."
Asked how the religious versus secular cultural and political clash in Israel seeps into his stories, Keret replies, "It is more in the vein of belief, you know."
He mentions that he considers the problem of God and human suffering, in the story "Pick a Color," in his new collection. The story's protagonist, the victim of a hate crime, is in a wheelchair.
"He tries to understand why God has made him this way, and when he meets God, he sees that God is also in a wheelchair," Keret summarizes his story. It turns out that God, too, had been attacked when he was younger — "by a gang of golden gods… The golden gods beat Him with golden clubs of sunlight and didn't stop until they'd broken every bone in His divine body."
"God says, 'I made you in my image, and this is the best I can do,'" says Keret. He considers further the Creator's predicament: "It's like, all those human frailties that you see, it's basically because of my problem as a God — I would want to make you better than me, but I can make you just as good as I am."
On the theme of theology, Keret tells a personal story.
"My son is six years old, and somebody asked about his family, so he said, 'My aunt believes in God; my mother doesn't believe in God; and me and Father, we haven't made up our minds yet.'"
And then Keret reflects, "The human existence is all about misunderstanding and miscommunication, and it would make so much sense that we would misunderstand and miscommunicate with God, too."
While on the topic of belief, I recall Kurt Vonnegut's line that the afterlife is "purple light and a hum." Keret replies that he "might have unconsciously quoted" that in his story "Bad Karma," which he allows is serious, but conjures an afterlife with "colors and a hum."
In addition to his stories and essays, Keret has written screenplays and directed films. He co-directed the 2007 film Jellyfish (Meduzot) with his wife, Shira Geffen, who wrote the screenplay.
Minnesota Jews might not know that Geffen is from an illustrious family of Israeli artists. She is the daughter of Yehonatan Geffen, a famous poet and songwriter. Her brother, Aviv Geffen, is one of Israel's most renowned rock musicians.
"And she's also from the Dayan family," adds Keret. "Her great-uncle is Moshe Dayan." He says that the Dayans are a "tough family. If they were Americans, they would be cowboys."
Keret also mentions Assi Dayan, the late general's son who is a filmmaker. I've interviewed his sister, Yael Dayan, who is an icon of the peace movement in Israel.
Family gatherings must bring together a colorful cast of characters.
"There are many artists in this family," agrees Keret, "and some politicians and some generals."
***
Etgar Keret will read from Suddenly, a Knock on the Door, and sign copies of the book 7 p.m. Wednesday, Nov. 14 at the Sabes JCC, 4330 Cedar Lake Rd. S., St. Louis Park. Tickets are $12, or $10 for students, seniors and JCC members. For tickets, call 952-381-3499 or e-mail: tickets@sabesjcc.org.
(American Jewish World, 11.9.12)