Reviewed by NEAL GENDLER
The trial of Adolf Eichmann in Jerusalem 50 years ago next month "transformed Jewish life and society as much as it passed judgment on a murderer," historian Deborah Lipstadt writes in The Eichmann Trial. "In the general world, it changed our perception of the victims of genocide."
Lipstadt, Dorot professor of modern Jewish history and Holocaust studies at Emory University, gained fame in 2000, standing trial for alleged libel after calling British historian David Irving the world's leading Holocaust denier in a book that still deserves attention, Denying the Holocaust: The Growing Assault on Truth and Memory.
In Britain, the defendant has the burden of proof, which she and her lawyers supplied so successfully that the court's 300-page judgment lambasted Irving and pretty much ended his once-respectable career.
Lipstadt insightfully has revisited and reevaluated the Eichmann trial, which she says differed from Nuremberg, where "victors sat in judgment. Now, the victims' representative would sit in judgment."
She looks beyond the courtroom to a basic disagreement: Whether, as some envisioned, to limit the trial to Eichmann's misdeeds, and testimony to those who'd had direct contact with him or, as she says the prosecution sought, to expand the trial "into an event that would have enduring significance." She calls the latter jurisprudentially controversial, "but monumental from a historical perspective."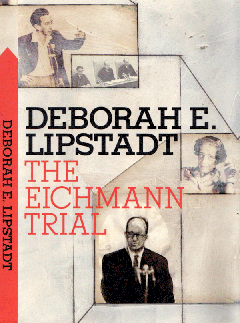 Prosecutor Gideon Hausner managed to call 100 Shoah survivors as witnesses even though few had contact with Eichmann during the Shoah. They transformed the Shoah from a distant, perhaps abstract event of masses into personal tragedies to which people worldwide could relate.
Lipstadt provides an orderly overview: Eichmann's capture; mixed world and Jewish reaction; choosing venue and judges; Eichmann's biography and Nazi roles; determining the crimes with which he'd be charged, and the trial.
Against an unremarkable-looking man's claim he was but a "tiny cog" in the system of mass murder, she says Hausner's line was that of "an overwhelmed Jewish population poised against an Eichmann-devised transportation system fully committed to ensnaring every Jew." Eichmann's peak of success was Hungary in 1944: 437,000 Jews sent to Auschwitz-Birkenau, the remaining 255,000 saved by the arrival of the Soviet Army.
But "Israel had to demonstrate that it could guarantee Eichmann a fair hearing," Lipstadt says. The many clashes between Hausner and the judges "[gave] the lie to any notion that this was a 'show trial.'"
The story didn't end with Eichmann's hanging, nor does Lipstadt's book. A 39-page chapter both condemns and defends the work of Hannah Arendt, whose famous — or infamous — book, Eichmann in Jerusalem: A Report on the Banality of Evil, shaped many opinions.
"To many people, Arendt was a more central character in the Eichmann story than Eichmann himself," Lipstadt says.
Arendt's depiction of Jews as assenting to their own slaughter, and Eichmann as just a "desk-level bureaucrat who showed little initiative" and no "fanatical anti-Semitism," contradicts evidence and accounts by Jews who negotiated for lives face-to-face with him.
"He was no clerk," Lipstadt says. "This was a well-read man who accepted and espoused the idea of racial purity."
She says Arendt, a German Jew who fled the Nazis, "ignored the bedrock of the Holocaust": age-old anti-Semitism "that prompted perpetrators to murder with impunity" and countries to close their doors to those seeking refuge.
In fact, Lipstadt says, Arendt "was absent for much of the trial." Still, "she correctly deduced that there was something entirely unprecedented about this crime: Germany wanted to wipe out an entire people, leave no witnesses, and cover up the evidence." She also "powerfully articulated some of the most basic lessons of this horrific moment in history."
But in the end, she gives the credit to Hausner. His "determination that this trial would be founded on the human story of the victims' suffering… still stands as the trial's most significant legacy."
***
Neal Gendler is a Minneapolis writer and editor.
(American Jewish World, 3.18.11)