Stewart's directorial film debut, Rosewater, is based on the memoir of an Iranian journalist who was arrested after appearing on The Daily Show
By TALIA LAVIN
NEW YORK (JTA) — Jon Stewart's directorial film debut, Rosewater, is set to premiere at film festivals in the United States and Canada this September. So the Hollywood Reporter took the opportunity to grab some golden quotes (and glam shots) of the iconic Daily Show comedian about filming in the Middle East — and his own take on the region's politics.
Rosewater tells a story that Stewart was drawn to because of his own real-life involvement: The film is adapted from the memoir of Maziar Bahari, a journalist taken captive by the Iranian government just days after appearing on a Daily Show segment. Clips of the segment were used in Bahari's interrogation as "proof" that Bahari was acting as a spy (although perhaps this just confirms that Revolutionary Guard members in Iran are not widely known for their senses of humor).
Stewart filmed the movie in Amman, Jordan, which proved challenging due to the lack of an established film industry in the area.
Israel, despite its well-established film infrastructure, was not considered as a location, Stewart told the Hollywood Reporter: "You've already got a Jewish guy directing it. They're already putting out seven-minute pieces, the Iranian press, that I'm a CIA and a Mossad agent. So the last thing we want to do is add fuel to that."
Even so, the Iranian government has used Stewart's Jewishness to discredit the upcoming film, postulating in state media that Rosewater was sponsored by Stewart's Jewish "masters."
"I guess I'm still waiting for the money," Stewart said to suggestions that a "Zionist lobby" helped him fund the film.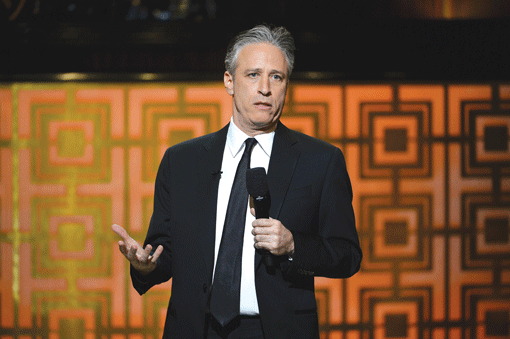 Back at home in his regular role as one of TV's most recognizable faces, and a pioneer of the faux-news genre, Stewart has received criticism from the opposite end of the Middle East spectrum.
At first, Stewart drew ire from vocal Zionists when he expressed sympathy for the Palestinians in Gaza and drew attention to the asymmetrical nature of the conflict.
Then he ran a popular segment attesting to the difficulty of having rational, dispassionate conversations about the Israel-Gaza conflict, due to the polarizing nature of the conflict (but it's funnier than we've made it sound).
On accusations of being a "self-hating Jew," Stewart made a strong distinction between anti-Semitism and anti-Zionism — a heated topic of discussion in recent weeks, as anti-Semitic incidents have vastly increased in Europe.
"Look, there's a lot of reasons why I hate myself — being Jewish isn't one of them," Stewart told the reporter. "So when someone starts throwing that around, or throwing around you're pro-terrorist, it's more just disappointing than anything else. I've made a living for 16 years criticizing certain policies that I think are not good for America. That doesn't make me anti-American. And if I do the same with Israel, that doesn't make me anti-Israel.
"You cannot outsmart dogma, no matter what you do. If there is something constructive in what they're saying, hopefully I'm still open enough… to take it in and let it further inform my position. But I'm pretty impermeable to yelling. As soon as they go to, 'Your real name is Leibowitz!' that's when I change the channel."