by MAX SPARBER
Community News Editor
Radio personality John Moe has experience with depression. As is often the case, there is a history of it in his family, and untreated depression lead to his brother's suicide in 2007. Writing about it on Twitter in 2015, Moe wrote "I pledged at that time to speak up about depression."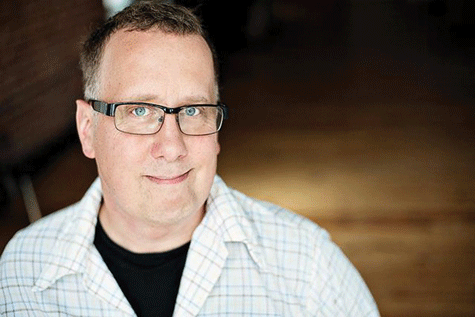 The series of tweets were unflinching. Moe detailed how depression has long been treated as shameful and untrustworthy. Moe discussed how his brother had been advised to seek treatment. "He rejected this because of the stigma associated with mental illness," Moe wrote. "Soon after, he shot himself at a gun range in San Diego."
Moe, a famously funny man whose voice has been heard Wits, the locally recorded comedy show he hosts and which records at the Fitzgerald Theater. In November of 2016, Moe turned to podcasting, creating a show that honored his pledge to speak. The podcast, titled The Hilarious World of Depression, has consisted of a frank but often genuinely comic discussion of mental illness, featuring guests that have included Peter Sagal of NPR's Wait Wait…Don't Tell Me, comedian Maria Bamford, and even legendary talk show host Dick Cavett, all of whom have had experiences with depression.
Moe's show has gone a long way toward destigmatizing the illness — listening to the show, you quickly realize that it is a lot more common than you might expect, people who experience depression often also manage to be accomplished and successful, and that there are tools to address depression. One of the most common tools is a sharp sense of humor, which Moe and his guests frequently demonstrate.
Moe will be speaking at this year's Mental Health Education Conference, an event that was created in 2001 as an indirect response to the tragic death of Barbara Schneider, a Minneapolis woman active in the Twin Cities Jewish community who struggled with severe mental illness. Schneider was a social justice activist with bipolar disorder, and her shooting at the hands of the police (she had been found brandishing a knife in her uptown apartment) led to the development of a crisis intervention program in the Minneapolis police department.
Her death also led to the creation of the Barbara Schneider Foundation, an organization that has trained police officers, mental health professionals and state and local policy makers, and has worked to improve the health care response to mental health crisis.
This year's conference, alongside a keynote address by Moe, will offer two breakout sessions of workshops with 28 topics to choose from, covering mental health issues affecting youth to people in the later stages of life. Workshop topics include helping young people overcome anxiety, media fatigue, caring for someone experiencing dementia, addiction and recovery, Emotional Freedom Techniques, and many more. The event will also include a resource fair with free educational materials, local resources, and books on mental health and addiction available for purchase. This year's keynote session will include an 18th anniversary video and a closing ceremony, Music of Hope and Light, led by Wendy Goldberg.
This will also be the last year that conference coordinator Laurie Kramer will fill that position. Described by the event as the "primary driving force of the inaugural Conference," Kramer plans to continue as a volunteer but turn over the coordination to someone new.
***
The 18th annual Mental Health Education Conference sponsored by the Twin Cities Jewish community, "Hope, Humor and Healing – Finding Light in Dark Places," will start 10 a.m. Sunday, Oct. 21 at Temple Israel, 2323 Fremont Ave. S., Minneapolis.
Registration for the conference can be completed online or by mail. To register online, go to www.jfcsmpls.org. To register by mail, call JFS at 651-698-0767 to request a conference brochure and registration form. Everyone who registers by Oct. 5 will receive a box lunch at no charge.