Funeral services were held for Reuven Rahamim, founder of Accent Signage Systems, and Rami Cooks, a company production manager
By ERIN ELLIOTT BRYAN / Community News Editor
Judith Brin Ingber, a long-time friend and St. Louis Park neighbor of the Rahamim family, said that she will miss Reuven Rahamim's joie de vivre.
"He was an upbeat, marvelous person," Brin Ingber told the AJW. "We were neighbors, so if he was driving by and we were out in the driveway or the kids were playing in the street, he'd stop to talk. And then there would be all kinds of people around him. He had a capacity to draw people."
Brin Ingber said Rahamim "personified community" and cared about everyone.
Rahamim, 61, a native of Israel who founded Accent Signage Systems, Inc., in 1984, was among five people gunned down on Sept. 27 at the company in the Bryn Mawr neighborhood of Minneapolis. On Wednesday afternoon, members of his family left for Israel, where Rahamim will be buried.
The other victims of the shooting were UPS driver Keith Basinski, 50, of Spring Lake Park; Jacob Beneke, 34, of Maple Grove; Ronald Edberg, 58, of Brooklyn Center; and Rami Cooks, 62, of Minnetonka, an Israeli native who worked at Accent Signage as a production manager.
Two other Accent employees, John Souter and Eric Rivers, were wounded and remain hospitalized at Hennepin County Medical Center.
Private services for Cooks were held Sunday at Bet Shalom Congregation. Services for Rahamim also took place Sunday at Beth El Synagogue, where he served on the board of directors; more than 1,000 mourners paid their respects.
"This feels like a nightmare and we keep wondering, when will we wake up? We keep saying, this can't be real," said Rabbi Alexander Davis in his eulogy for Rahamim. "It's so unfair. We can only surmise that you, God, needed an extra measure of rahamim to truly be el rachum v'chanun, the God of mercy and compassion. So you took our Reuven, who was exactly as his name: merciful, compassionate, kind and loving."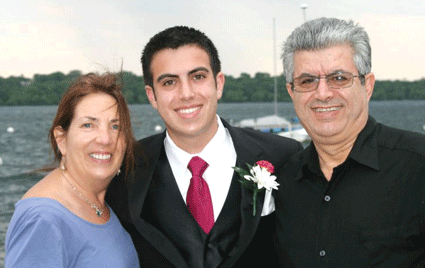 Reuven Rahamim (right) with his wife, Shereen, and son, Sami. (Photo: Courtesy of the Rahamim family)
Davis offered stories from Rahamim's life and recalled his humble beginnings on a moshav in Israel. Rahamim fought on the Syrian front in the 1973 Yom Kippur War and "the horrors he saw there left a deep impression that would not easily leave," Davis said.
To clear his head, Rahamim visited family in the United States. He later decided to stay and made his way to Minnesota, where he graduated from Dunwoody College. He built Accent Signage from a small local business to a multi-million-dollar company manufacturing interior signs.
Rahamim also held several patents, including one for an innovative method for making signs in Braille that is used around the world.
"He didn't just make signs, he helped people find their way," Davis said.
The American Jewish World ran a photo of Rahamim in the Aug. 31 edition, and reported that he hosted a visit to Accent Signage by Under Secretary of Commerce Francisco Sanchez, U.S. Rep. Keith Ellison and Minneapolis Mayor R.T. Rybak on Aug. 9. Sanchez leads the International Trade Administration, which works with American businesses to identify export opportunities for their products, and lauded Accent Signage "as an exemplary business that looks to export and expand U.S. business in foreign markets."
According to the Star Tribune, Rahamim was a member of the Thinc.GreenMSP Committee, an economic development partnership between Minneapolis and St. Paul that aims to promote green-manufacturing businesses and jobs. In March, at the invitation of Minneapolis Mayor R.T. Rybak, Rahamim went to Washington, D.C., to attend a forum with fellow Twin Cities business leaders and the White House Business Council to talk about how the government and the private sector can collaborate more effectively to foster innovation and job creation.
"He's an example of somebody who climbed the ladder of success and didn't pull (the ladder) up but tried every way possible to get other people up on that rung, too," Rybak told CNN. "We owe a tremendous debt to Reuven."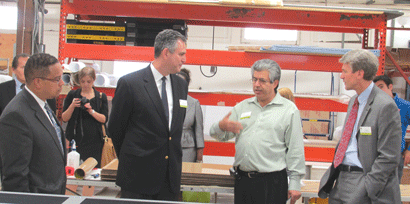 Reuven Rahamim (second from right) talked about Accent Signage Systems during an Aug. 9 visit with (l to r): U.S. Rep. Keith Ellison, Under Secretary of Commerce Francisco Sanchez and Minneapolis Mayor R.T. Rybak. (Photo: Courtesy of Accent Signage)
But Rahamim's greatest success in life was his family, including the love of his life, Shereen, daughters Dina and Miya, and son Sami.
"He could not take enough pictures when I graduated from law school, even though it was a cold, rainy day and the rest of us just wanted to go inside," Miya Rahamim said at the funeral. "And he was proud of my sister for becoming a doctor, but absolutely beaming when she introduced two beautiful grandchildren into his life. He went to my sister's house every Wednesday morning, and everybody knew about it, for their regular date to spend time with the kids."
Steve Hunegs, executive director of the Jewish Community Relations Council of Minnesota and the Dakotas (JCRC), said, "Reuven was a wonderful family man and deeply committed to his synagogue, community, country and native Israel."
In a company statement, Accent Signage Systems said, "This senseless act has devastated us, but it will not destroy us. We fully intend to honor the memories of our colleagues and friends by continuing to grow the company they helped build through their hard work and dedication."
Rahamim is survived by his mother, Sarah; wife, Shereen; daughters, Dina (Chad) Blumenfield and Miya; son, Sami; grandchildren, Aiden and Aviva; brother, David (Carmen); sisters, Shoshanah and Carmela (Shlomi); sister-in-law, Maureen (Scott); brother-in-law, Stan; many nieces and nephews in Israel; and many beloved aunts, uncles and cousins, and colleagues who became friends.
According to his obituary, Cooks is survived by his life partner and best friend, Pam Wexler; children, Shiri, Gali, Orr, Topaz, Dana, Ross and Nathan; grandson, Shayden; brother, Aryeh; and sister, Yocheved.
Minneapolis police identified the suspected gunman as company employee Andrew Engeldinger, 36, of Minneapolis. According to police, at the end of the day Engeldinger was called into a meeting with Souter and Cooks, where he was fired and given his final paycheck.
It was then that he pulled out a Glock 9 mm pistol and began shooting. After his murderous rampage, Engeldinger fatally shot himself in the basement of the Accent Signage building.
On Wednesday morning, Brin Ingber accompanied Shereen Rahamim to the funeral of Beneke, a graphic designer. The family has attended the funerals for each of the victims.
Brin Ingber said Rahamim had "incredible ingenuity" and a great concern for others, which is embodied in his family.
"They are an extraordinary family," she said. "He was extraordinary and they are extraordinary."