By JOSEFIN DOLSTEN
NEW YORK (JTA) — Students at Jewish day schools offered prayers, lit candles and demanded change as part of a nationwide student walkout calling for gun reform in the wake of last month's school shooting in Parkland, Florida.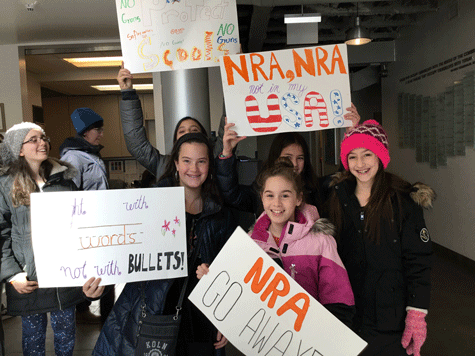 Students around the country walked out of class for 17 minutes at 10 a.m. Wednesday to pressure Congress to approve gun control legislation and to honor the lives of the 17 victims of the Feb. 14 shooting at Marjorie Stoneman Douglas High School. The national walkouts come a week before the March for Our Lives, a protest organized by Parkland students in which their peers from around the country will descend on Washington D.C. to call for stricter gun control.
At Golda Och Academy, a Conservative day school in West Orange, New Jersey, students organized a prayer memorial service ahead of the walkout. At the service, students and teachers spoke about the Parkland victims and lit a yahrzeit memorial candle. Each speaker was picked so that he or she shared some characteristics with the victim being talked about, such as being in the same grade or teaching the same subject.
Afterwards, the overwhelming majority of students chose to participate in a walkout, where they carried signs, made speeches and sang songs.
Theo Deitz-Green, an 11th grader and the president of the school's student council, said he and other student organizers planned the event after learning about the Parkland shooting.
"There was a sense that yes it happened at a different school, but it could have just as easily happened at our school, we could have been the school experiencing that tragedy," Deitz-Green told JTA over the phone.
"As we saw the Parkland kids start to speak out, there was a sense that something about the aftermath of this shooting had to be different. It was time not just for the country to change but for students to lead that change," he added.
Another organizer, 8th grader Sarah Farbiarz, was happy with how the event turned out.
"We worked really hard, so most of it seemed really powerful, and really moving, especially at the end when people were singing together, I thought that was a really great moment," Farbiarz said.
The school was supportive of the students, said the head of the school, Adam Shapiro.
"From a school perspective we supported the desire of the students to carry out this program and make their powerful voices heard," he told JTA in an email.
Earlier this month, Shapiro led a group of 139 heads of Jewish day schools who signed an open letter voicing their support for students organizing for gun reform after the Parkland shooting.
Students at Hannah Senesh Community Day School in Brooklyn also held a prayer memorial service. The service honored all victims of gun violence in schools. Students gave out note cards with the names of gun violence victims, lit a yahrzeit candle and prayed for the families of victims.
After the service, students had the choice to stay inside, walk outside the school or walk together with teachers to Brooklyn Borough Hall, where students from other schools gathered. The majority of students took part, said Annette Powers, the school's director of communications and marketing.
Powers said supporting the walkout was "very much in line with our values."
"We're a school that really promotes the idea of social action and not just talking about issues but taking action to make a difference," she said.
At the Jack M. Barrack Hebrew Academy, a pluralistic school in Bryn Mawr, Pennsylvania, students gathered in a parking lot outside the school. They read about the lives of the Parkland victims and heard speeches from students and teachers.
"It was really an incredible sense of togetherness that all these people I've talked to about other issues where we might not agree, or just people that I don't know very well, we all came together and stood together for this issue that we all feel so passionately about," said Sophia Shapiro, a 10th grader who organized the walkout together with 11th grader Ruthie Cohen.
She emphasized that the walkout was only the beginning of action. Shapiro and Cohen are planning to find ways to keep their fellow students engaged on the issue, including by organizing students to contact their local representatives.
"Our message doesn't end with this news cycle," Shapiro said. "When this news cycle ends, our message will continue, and we will continue to fight for what we believe in."
NFTY, the Reform movement's youth group, urged members in public schools and day schools to march and share their participation on social media using the hashtag #JewsDemandAction.