AJW Staff Report
The much-anticipated Minneapolis St. Paul International Film Festival (MSPIFF) is underway, running through April 20, with more than 250 films from some 70 countries.
Returning to the festival will be Al Milgrom, who has been branded the "world's oldest emerging filmmaker." His MSPIFF entry, with co-director Daniel Geiger, is the very enjoyable documentary Singin' in the Grain: A Minnesota Czech Story, billed as a film "45 years in the making." Milgrom — who founded the University Film Society, in 1962, and was the founder and longtime artistic director of MSPIFF — re-turned to footage he shot in the 1970s of the Eddie Shimota Band, a polka combo based in New Prague, Minnesota.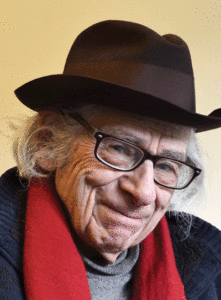 There are wondrous scenes of Czech-American rural life, including one of a group of men drinking while slaughtering a pig. The film also includes more recent foot-age of the Czech-American culture in New Prague, Veseli, Montgomery and Lonsdale, which are located southwest of Minneapolis; and at the C.S.P.S. Hall, headquarters of the Czech and Slovak Sokol Minnesota, on West Seventh Street in St. Paul.
Singin' in the Grain had a sold-out premiere screening April 6. It will be shown again 4:15 p.m. Wednesday, April 17 at the St. Anthony Main Theatre; and 12:15 p.m. Thursday, April 18 at the Rochester Marcus Cinema.
In the 2015 MSPIFF, Milgrom — who is pushing 97 and still works out at the Midtown YWCA — showed The Dinkytown Uprising, a film about radical politics in Minneapolis, at MSPIFF, along with Rediscovering John Berryman, which focused on the famous poet who taught at the U of M.
Festival screenings, which are concentrated at the St. Anthony Main Theatre in Minneapolis, can be browsed online at: mspfilm.org. There are a number of Israeli and Jewish films in the mix this year:
Afterward, by Ofra Bloch (USA), is a compelling documentary that "illuminates how trauma, historical and present, shapes identities and points to a path toward healing. Born in Jerusalem, Bloch is a trauma expert who grew up surrounded by both memories and the real-life aftermath of the Holocaust." The director of the 94-minute documentary travels to Germany, Israel and Palestine to revisit her own history. 7:10 p.m. Sunday, April 14, and 7 p.m. Monday, April 15, St. Anthony Main. Bloch will appear at the screenings.
 Fig Tree, by Aäläm-Wärqe Davidian (Ethiopia, Israel, Germany, France), is set in Addis Ababa in 1989, and follows a teen girl's harrowing coming-of-age. Mina is 16 years old. Her country has been at war for her entire life. The family is Jewish and is planning to flee Ethiopia for Israel, where Mina's mother awaits their reunion. Fig Tree is Davidian's directorial debut, and in 2018 earned her an Ophir nomination for Best Film from the Israeli Academy of Film and Television. The film was inspired by her own childhood growing up in Addis Ababa. The film screened April 6 at St. Anthony Main; upcoming showings 4:30 p.m. Sunday, April 14, Capri Theater, Minneapolis, and 7 p.m. Wednesday, April 17, Rochester Marcus Cinema.
Seder-Masochism, by Nina Paley (USA), arrives in time for Pesach. This animated feature, which evokes Yellow Submarine, inventively tells the story of the Exodus, with plenty of popular music highlighting the action. Paley "interweaves an interview with her father and adds a few twists to biblical tales, such as a female goddess who confronts the adversarial powers of the patriarchy." Screenings are 9:30 a.m. Sunday, April 14, and 9:45 a.m. Saturday, April 20 at St. Anthony Main.
The Golden Harvest, by Alia Yunis (Palestine, Israel, Greece, Italy), is an artistically wrought and entertaining documentary about the long history and relationship between olive trees and the Mediterranean people. The film "includes a revelatory exploration into the evolving environments, societies and demographics of the European and Middle Eastern regions where the trees reside." Yunis, whose family is from Jenin in the Israeli-occupied West Bank, mentions that while she was growing up in St. Paul, her father would shop for hummus ingredients at Morgan's Mexican and Lebanese Foods, where the olive oil was labeled as "Made in Italy." Screenings 9:45 a.m. 

Saturday, 

April 13, and 4:50 p.m. 

Monday, 

April 15

 at St. Anthony Main.
Seder-Masochism Trailer April 2018 from Nina Paley on Vimeo.