Minneapolis accounting firm appears on list, but had no investments with Madoff
By MORDECAI SPECKTOR
After the AJW went to press last week with a story about private foundations that suffered losses in the Bernard Madoff investment scam, a list ostensibly naming thousands of people who lost money with Madoff scam was released as part of the firm's bankruptcy-court proceedings.
Among the more than 13,000 names on the Madoff list were around 400 names of Minnesotans, and the bulk of those were Jews from the Twin Cities — some prominent in the community and some not.
As the Wall Street Journal noted last week, the list is providing "fodder for gawkers who are already poring through it to look for friends, business associates and prominent people who had so far avoided the spotlight, but who now have been outed."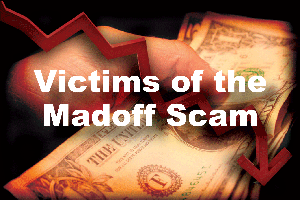 The national celebrities "outed" included baseball Hall of Famer Sandy Koufax, TV personality Larry King, actors John Malkovich and Kevin Bacon (neither of them Jewish), World Trade Center developer Larry Silverstein, New Jersey Sen. Frank Lautenberg, et al.
On the local scene, the newspapers in town reported that Star Tribune columnist Sid Hartman's name was on the Madoff list, along with those of Harold Roitenberg (12-19-08 AJW), and Lyle Berman, chairman and CEO of Lakes Gaming, Inc.
"Madoff was peanuts compared to the money I lost on McClatchy [newspaper] stock that I was stupid enough to hold until the end," Hartman told a reporter for his newspaper.
Berman reportedly did not disclose his losses in the Madoff scam, but told the Star Tribune: "I heard about Madoff 25 years ago from some friends in California and decided to give him a try. It worked out fine for quite a while." Berman added that he had "zero hope" of recovering his money.
In some cases names that appeared on the recently released Madoff list did not have investments, but were merely on the Madoff firm's mailing database.
The accounting firm of Lurie Besikof and Lapidus is listed at least eight times on the list, but Beth Kieffer Leonard, the Minneapolis firm's managing partner, told the Jewish World this week that the company had no investments with Madoff.
In a statement posted on the Lurie Besikof and Lapidus Web site, the firm noted that it was "unpleasantly surprised" to find itself on the Madoff list. The statement added that the firm "has never had any connection with Mr. Madoff (or any related entity) and we do not manage investments or provide investment advice…. [W]e believe our inclusion on this list is in error and relates solely to the fact that a number of our clients have had their statements from Madoff companies sent to our attention for tax planning purposes."
The AJW previously reported that many local Jews who were members of Oak Ridge and Hillcrest country clubs were recruited as investors with the Madoff firm in New York City. Minnesota is one of the geographic centers of the Madoff scam, which extends around the world. A number of European investment banks apparently lost billions of dollars that had been invested with Madoff.
On Dec. 11, the scam came to a halt when Madoff, after reportedly admitting the fraud to his two sons in the business, was arrested by FBI agents. He has been kept under house arrest, in his Manhattan penthouse apartment, as federal authorities probe his records and prepare to file criminal charges.
Another highlight of the ongoing Madoff scandal was the testimony by Harry Markopoulos, a chartered financial analyst and certified fraud investigator, before the U.S. House of Representatives' Financial Services Committee on Feb. 4. Markopoulos told committee members that he had provided evidence to the Boston regional office of the Securities and Exchange Commission (SEC) in May 2000, which should have caused an investigation of Madoff. He resubmitted additional evidence of Madoff's fraudulent activities "several times" between 2000 and 2008.
Markopoulos testified that he became "fearful for the safety" of his family, because of his investigation into Madoff's massive pyramid investment scam. Although he smelled a rat early on, Markopoulos said that he and his investigative team "missed the obvious, that [Bernard Madoff] was Jewish, and as a result, he would be preying most heavily on the Jewish community because Ponzi schemes are first and foremost an affinity fraud."
"There was an abject failure by the regulatory agencies we entrust as our watchdog," said Markopolous, regarding the lack of follow-up by the SEC on what he termed the "most complex and sinister fraud in American history."
(American Jewish World 2.13.09)
Update
After the American Jewish World went to press this week, Sidney Kaplan, a lawyer with the Minneapolis firm of Leonard, Street and Deinard responded to a phone call about his name appearing on the list of Madoff clients.
Kaplan said that neither he nor his wife, nor his current firm or his previous firm, Parsinen Kaplan Rosberg + Gotlieb P.A., had any accounts with Bernard L. Madoff Investment Securities.
"Those lists are in error," Kaplan told the AJW.