Most of money raised so far has gone to groups working with refugees in Jordan
By URIEL HEILMAN
NEW YORK (JTA) — When Georgette Bennett decided a few months ago to help refugees from Syria's civil war, she wanted to do it in a Jewish way.
Citing a passage from Leviticus she said her late husband often quoted, "Thou shalt not stand idly by the blood of thy neighbor," Bennett met with the CEO of a major Jewish aid group and quickly got him to agree to head a Jewish effort for the refugees. Bennett, a former professor, journalist and philanthropist, supplied the first $100,000.
The CEO, Alan Gill of the American Jewish Joint Distribution Committee, got more than a dozen Jewish groups to sign on to the campaign, dubbed the Jewish Coalition for Syrian Refugees in Jordan. So far, more than $344,000 has been collected, most of it allocated to groups working with refugees in Jordan.
But though they constitute some of the nation's largest and most prominent Jewish organizations, most of the 16 groups in the coalition have done little to help the cause. They have not used the mechanisms they usually employ to rally Jewish support or raise money — mass emails and press releases, to name just a couple — even as many of them have posted conspicuous "calls to action" to rally support for a U.S. military strike against the Assad regime.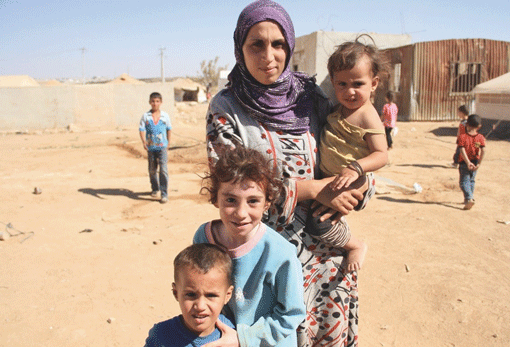 Only three have posted prominent appeals on their websites. And only one, the JDC, has contributed any money of its own — $50,000, according to a spokesman.
The biggest contributor so far has been Bennett herself, who has now put in a total of $150,000.
"I found myself very much called by the Jewish imperative that commands us to act in the face of human suffering," said Bennett, president of the Tanenbaum Center for Interreligious Understanding, which she founded two decades ago in memory of her husband. "What makes it near to my heart is I was a refugee. I come from a refugee family. I'm a child of Holocaust survivors. And I can't help but relate to the plight of these refugees."
Jewish groups are not working with Syrian refugees directly — that's being left to local partners on the ground, many of which asked not to be named due to the sensitivity of their work and the Jewish source of the money.
In a separate effort, the Israeli group IsraAid has been providing mattresses and food-and-hygiene packages to refugee families in urban areas in northern Jordan for the last year. As with the coalition's effort, IsraAid is working with locals, but Israeli staffers have been traveling to Jordan every few weeks to coordinate the effort.
"We do distributions in concert with local partners — they know we come from Israel," Shachar Zahavi, the group's director, told JTA. "Most often they're surprised, but there is thanks. We have not encountered any hostility. Everybody's been wonderful. We're not representatives of the Israeli government. We're a civil society organization."
IsraAid, which says it has spent tens of thousands of dollars so far, is funded in part by North American Jewish groups, including the American Jewish Committee and Toronto's Jewish federation.
HIAS, the Hebrew Immigrant Aid Society, is also planning on dispatching team members to Jordan to help the Syrian refugees find new homes overseas, including in the United States. The effort, for which HIAS has received $50,000 from the coalition (HIAS is also a member), is not yet operational. The plan is to have people on the ground by 2014.
"As a Jewish organization, we have to be very careful in terms of how we participate in the response," HIAS CEO Mark Hetfield told JTA. "But now we've found a way to participate constructively, and it's clear our community needs to be represented in response to the Syrian refugee crisis."
Aside from HIAS, the members of the coalition — itself a subgroup of the Jewish Coalition for Disaster Relief — include the United Synagogue of Conservative Judaism; the Jewish Council for Public Affairs; the Union for Reform Judaism and its affiliated Religious Action Center; the Jewish Federations of North America; Ve'ahavta, a Canadian group dedicated to "tikkun olam," the Jewish concept of repairing the world; the Rabbinical Assembly of the Conservative movement; Mazon, the Jewish hunger relief organization; the U.K.-based World Jewish Relief; World ORT; the Conference of Presidents of Major American Jewish Organizations; the World Jewish Congress; the American Jewish Committee; and the JDC.
Ve'ahavta and World Jewish Relief both have posted prominent calls on their Web sites to help with the refugee crisis.
"Each group decided what they want to do based on their constituencies," JDC spokesman Michael Geller said. "They all participate in the calls. They participate in the allocations conversations."
Aside from the contributions by Bennett and the JDC, the coalition has gotten $25,000 each from two anonymous donors, $75,000 from the California-based Leichtag Foundation and about $20,000 from grassroots donors.
"The Jewish community understands tikkun olam, understands humanitarian responsibility," said Will Recant, an assistant executive vice president at the JDC. "When they were made aware, they started to step forward just as they did for Darfur, Rwanda and other areas of humanitarian need."