This 'play with music' features Jewish characters and an intimacy that is unique to Jewish families
By DORIS RUBENSTEIN
Michael Elyanow and Jeremy B. Cohen are quite a theatrical team: Elyanow is a playwright and erstwhile song composer; Cohen is a seasoned director and is currently in his sixth season as producing artistic director at the Playwrights' Center in Minneapolis.
They're also a married couple with a son in grade school. And they're Jewish, which makes them of particular interest to readers of this publication.
Since these two creative types have been in town for quite a few years now, why is it that they're suddenly coming into focus for Jewish audiences? The project is Theater Latté Da's world premiere production of Elyanow's "play with music," Lullaby, which opens on Jan. 13 at the Ritz Theater in Minneapolis.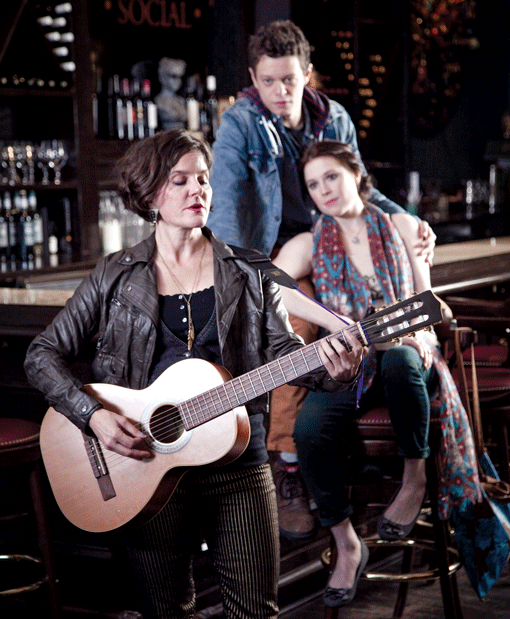 Lullaby was a big hit with fans of Latté Da's NEXT 20/20 program, its major new work initiative in which audiences are able to preview the company's upcoming musical presentations while they are still works in progress.
The show is described as a comedy/drama about a widowed young mother who, haunted by the death of her husband, forms an unlikely friendship with the songwriter she hires to teach her to play lullabies for her infant son. And, of course, the characters are all Jewish. But why?
"The characters spoke to me as I was writing the play and were revealing themselves to me as being Jewish," Elyanow explained. "It's not essential that they're Jews, but it makes sense that they are."
He feels that there's a certain intimacy and linkage that is unique to Jewish families, something that he relates to growing up Jewish in Somerville, Mass.
"You know, they're all complicated," Elyanow said.
And the music?
"This is not a musical in the Broadway sense of the word, where characters break out and sing to move the story forward," he said. "Here, there are other reasons for the songs. I'd call this a 'play-sical.'"
Elyanow is not a trained musician. He has an MFA in theater from Northwestern University; he shied away from acting after discovering that he's "a much better storyteller on the page than on the stage." He's self-taught on the guitar, and noodling around with it to create lullabies for his son may be the genesis of the songs he wrote for this show.
While not writing for Theater Latté Da or places like the Hartford Stage Company or the Manhattan Theatre Club, Elyanow dedicates himself to teaching television and screenwriting at Carleton College and Hamline University.
Prior to coming to Minneapolis for his job at the Playwrights' Center, Cohen served as associate artistic director/director of new play development at Hartford Stage from 2003 to 2010, where he directed several premieres. Other directing credits include productions at Actors Theatre of Louisville, Kansas City Rep, Mixed Blood, Repertory Theatre of St Louis, Royal George, Steppenwolf Theatre; and workshops at O'Neill Playwrights' Conference, New York Stage and Film, Pasadena Playhouse, Denver Center, and Beautiful Things at Latté Da in 2012.
He has received numerous directing awards, a NEA/TCG Directors Fellowship and a Northwestern University grant for his play 12 Volt Heart. He directed the 2014 world premiere of an off-Broadway musical by singer/songwriter Jonatha Brooke called My Mother Has Four Noses, to raves from the New York Times.
Since Lullaby had been in the works in different forms for some 10 years, it fit well into Latté Da's new focus on musicals. Artistic Director Peter Rothstein fell in love with the script and was pleased that Cohen and Elyanow came as a package to deliver it to the stage. This was a perfect reason for Rothstein to bring Cohen back to Latté Da after his successful show there in 2012.
"The play has a Jewish ethos about it," Cohen said. "It beautifully explores the intersection of two women's lives of great transitions… and great hopes."
Cohen and Elyanow invite the community to explore that ethos with them and the actors, to enjoy the music and take home a new lullaby or two for their kids or grandkids.
***
The world premiere of Lullaby runs Jan. 13–Feb. 7 at the Ritz Theater, 345 13th Ave. N.E., Minneapolis. For tickets and information, visit: www.theaterlatteda.com.
(American Jewish World, 1.1.16)