On Aug. 4, U.S. District Court Judge Vaughn R. Walker ruled California's Proposition 8, the law banning gay marriage, as unconstitutional. The ruling is now awaiting appeal from the Federal Appeals court.
Proposition 8 was passed as a ballot measure in November 2008, and subsequently became a constitutional amendment for the state of California. The amendment states that only marriages between a man and a woman are recognized by the state of California, effectively banning gay marriage.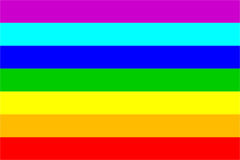 The ruling sparked comments, praise and criticism from voices across the nation.
"Oy Gay," a blog section of the Jewish Journal of Los Angeles' Web site written by and for the Jewish LGBTQ community, celebrated the ruling and encouraged readers to "realize that this is not just an advocacy issue; the protection of all families is a Jewish issue."
According to JTA, the Orthodox Union issued a statement explaining that their main concern is that "legal recognition of same-sex 'marriage' poses a grave threat to the fundamental civil right of religious freedom."
The Religious Action Center of Reform Judaism countered that view, applauding the decision and looking to a future of justice and equality for gay and lesbian Jews.
"We know, of course, that this decision will be reviewed by other courts, including in all likelihood, the U.S. Supreme Court," said the Religious Action Center's associate director Mark Pelavin. "And we know that long march to full marriage equality will not be uninterrupted; there will be victories such as we celebrate today as well as setbacks. But it becomes clearer every day that we are now, finally and blessedly, on a road that is destined to end with justice for gay and lesbian Americans."
Many celebrities were quick to "tweet," posting messages on Twitter about their excitement and approval of Walker's decision. Among the celebs publicizing their enthusiasm were a few Jews.
Openly gay pop star Adam Lambert said, "Prop 8 Overturned! I'm glad California has restored the right for ALL of its citizens to marry whoever they please! Equal rights are very Glam!" and earlier exclaimed "We're gonna throw glitter on this barn tonight!!!"
Actor Eli Roth, Donny "The Bear Jew" Donowitz from Inglorious Basterds, also tweeted his excitement: "Amazing news about Prop8 being overturned. Now The Sun can make up engagement stories about everyone!" — AJW Staff Report