By MORDECAI SPECKTOR
Jerry Leiber provided the lyrics and his partner, Mike Stoller, wrote the music for a slew of popular rock 'n' roll tunes in the early days of the genre. As teenagers in Los Angeles, both of them gone with black music, they started churning out songs — sometimes 10 in a day, as Stoller told me in 1996.
He said that he and Leiber developed a creative process that was "a spontaneous combustion kind of thing: notes, words, phrases, rhythms, everything just in a mad kind of frenzy."
Leiber died Monday in Los Angeles. According to a report in the Los Angeles Times, the cause was cardiopulmonary failure. He was 78.
As I wrote for the American Jewish World: "The pair went on to write dozens of pop songs during the 1950s and 1960s that were recorded by everybody from Ray Charles to The Beatles to Edith Piaf. If they didn't help shape the zeitgeist, they at least gave it a danceable soundtrack."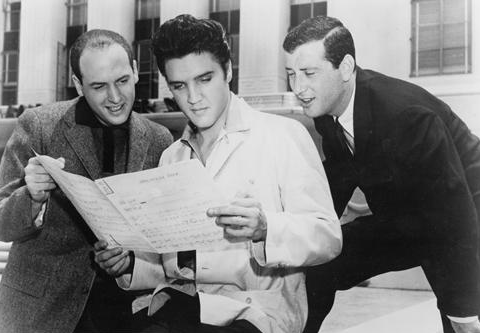 The Leiber and Stoller song list includes "Hound Dog" (written for Willie Mae "Big Mama" Thornton, and then covered three years later by Elvis Presley, who sold 5 million records), "Jailhouse Rock," "Poison Ivy," "Kansas City," "On Broadway" and "Stand By Me."
I interviewed both Leiber and Stoller for a story about their Broadway musical Smokey Joe's Cafe, which showcased their great pop songs. The 1996 national tour of the show kicked off at the State Theatre. You can read the American Jewish World story: HERE.
"Of all the crossover white songwriters from the rock 'n' roll era, none had a deeper understanding of black slang and musical style than Leiber and Stoller," music critic Stephen Holden wrote in the New York Times on Tuesday.
Holden noted that as "one of the first independent producing teams in the late 1950s, Leiber and Stoller changed the sound of pop records with the Drifters' 1959 hit 'There Goes My Baby,' belted by Ben E. King, one of several collaborators on the song. For this, the most operatic rock 'n' roll ballad of its time, they added strings. The hit had a profound influence on their protégé Phil Spector and was a prototype of his wall-of-sound style, as applied to the Righteous Brothers' hits."
Leiber was the son of Jewish immigrants in Baltimore, Maryland. According to the New York Times' obituary, he is survived by three sons, Jed, Oliver and Jake, and two grandchildren.