If You Don't Weaken mixes drama and humor with Jewish customs and rituals as a granddaughter struggles to honor her recently departed zaide
By DORIS RUBENSTEIN
Is Twin Cities playwright Jenna Zark just talented? Just lucky? Or both?
Most playwrights, like most artists, struggle for years, if not decades, to have their work presented. Not so Jenna Zark.
Zark, who was born in Brooklyn, N.Y., and raised in Englewood Cliffs, N.J., entered playwriting in a roundabout fashion. She studied theater and journalism at Emerson College in Boston, and learned over time that she preferred writing theater, rather than acting in it or writing about it.
Shortly after her arrival in Minnesota in the late 1980s, Zark became a member of the nationally renowned Playwrights' Center and was a core member there from 1989 to 1997. She is a two-time winner of the McKnight Advancement Artists Fellowship and she has won Minnesota State Arts Board fellowships for playwriting and prose.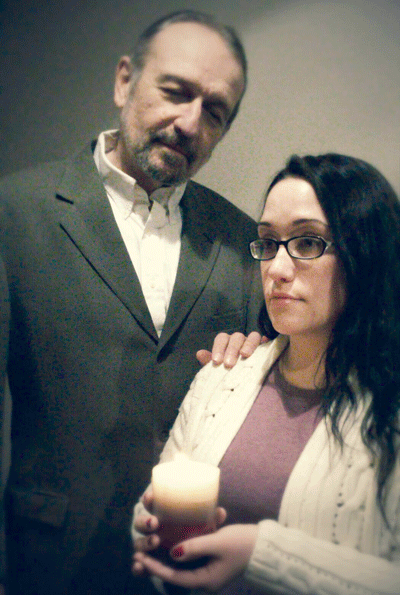 She's written a good dozen plays, many of which have been performed in respected local venues such as Steppingstone Theatre and the Minnesota Jewish Theatre Company.
So, we've established that Zark is talented. But what about lucky?
Zark herself admits that her newest play, If You Don't Weaken — presented by Freshwater Theatre, which opens March 28 at the Nimbus Theatre in northeast Minneapolis — got its chance at production in a way that could only be described as bashert (destiny).
While her play was still a work-in-progress, Zark had a reading of If You Don't Weaken at the St. Paul JCC, arranged by Beth Friend. The audience was composed largely of bubbes and zaides (grandmothers and grandfathers) who gave her valuable criticism on the play and its characters.
Having finished writing the script, Zark found herself zipping through her Twitter feed and came upon a link to the Freshwater Theatre in Minneapolis. On a whim, and with absolutely no personal contacts, she sent them a copy of the play. For more than a year, nothing happened; she expected this, it was a very, very cold call.
But out of the blue, Freshwater Theatre Co-Artistic Director Ruth Virkus called Zark and invited her to coffee with herself and director Ariel Leaf. Virkus and Leaf liked the play — presenting plays that take place in the Twin Cities is part of their mission.
From a cold call, the play became a hot item in no time at all.
If You Don't Weaken follows the efforts of Amy, a young Jewish "millennial," as she attempts to round up a minyan at a dying and decrepit synagogue in the Twin Cities as a way to honor her recently departed zaide.
Drama and humor mix with Jewish customs and rituals as Amy sets out on her misadventure of a mission, encountering and recruiting a mixed bag of characters to form the minyan. The play demonstrates the various ways that Jews of all stripes can come to identify with the rituals of our faith and find their own way to recognize HaShem in their lives.
Zark herself never knew her zaide. The true inspiration for the play was the death of her own father, Sidney, in 2008.
"I remember being in shul after he died," Zark recalled. "The rabbi made an impassioned plea to those at the funeral to attend minyan so that I could say Kaddish."
Many of Zark's plays focus on Jewish rituals. A Body of Water, which received its debut at the prestigious Circle Repertory in New York, deals with the mikva (ritual bath), the chevra kaddisha (burial society) and tashlich (casting away sins). Mother of Exiles, read at the Jewish Women's Theatre Project in Los Angeles, is focused on Bar Mitzva. And, of course, The Magic Dreidels tells a Hanuka tale.
Zark finds her inspiration in many places: books such as Pearl Abraham's The Romance Reader; an article in Lillith magazine provided fodder for part of A Body of Water.
Zark explains that she likes to expand on these themes of Jewish rituals "that resonate with us now. Many people may not know that they're still relevant. They have to be shown that relevance in ways like this play."
No matter how Zark's plays come to be presented — by luck or by talent — we in the Twin Cities are lucky to have such a fount of talent in our community. And we are lucky to be able to sit in the audience for the premiere of her new play; that is, if you're lucky enough to get a ticket!
The Nimbus Theatre is small and the show will be playing only March 28 through April 12. Considering that part of that run is seder night, the tickets for seats on other nights will be hot.
But, as the title of the play says, don't weaken! Buy in advance to see a show by a proven talent.
***
The Freshwater Theatre production of If You Don't Weaken by Jenna Zark runs March 28–April 12 at Nimbus Theatre, 1517 Central Ave. N.E., Minneapolis. For tickets and information, call 612-816-8479 or visit: www.freshwatertheatre.com.
(American Jewish World, 3.13.15)