After attack that killed Palestinian baby, many public figures say it's time for the government to make changes in how it treats Jewish terrorists
By BEN SALES
DUMA, West Bank (JTA) — The smell of stale smoke wafted from the burnt concrete home now marked by a banner bearing the grinning face of a baby and, in bold red letters, a name: Ali Saad Dawabsha.
Some 100 Jewish visitors trudged hesitantly under the banner and into the house on Sunday to pay respects to the family of 18-month-old Ali, who died Friday morning when suspected Jewish arsonists set two homes in the village on fire. Ali's parents and his 4-year-old bother are in critical condition at an Israeli hospital near Tel Aviv. The brother, Ahmed, has burns over 60 percent of his body.
The attackers, who have not yet been apprehended, also left Hebrew graffiti on the walls with the words "revenge" and "long live the king messiah."
Inside the house, debris from the fire clashed with jarring reminders that just three days earlier, people lived here. Packages of food stood on the kitchen counter next to a packed refrigerator, now charred. The skeleton of a child's hobby horse stood in a blackened corner of the room. Room by room, the smell of smoke only grew stronger.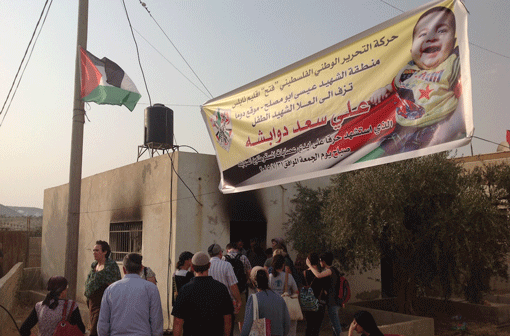 The Jewish visitors, who were organized by a group called Light Tag, a coalition that opposes anti-Arab racism, had come to comfort mourners and bear witness to the crime, but a local guard detail organized by the village urged them not to stick around. Residents of this village near Nablus had glared when the group arrived, and the guards warned them to leave quickly in case things got out of hand.
"They can't do anything," said Yusef Dawabsha, a cousin of the family who suggested that visitors wearing yarmulkes would do better to take them off. "Jews coming in these hours, it's not good."
Dawabsha's sentiment was perhaps the bluntest expression of a feeling widely circulating here since the Friday attack that this time, gestures aren't enough. The attack is the latest in a string of Jewish violence that has made international headlines and sent shaken Israelis by the thousands into public squares in protest.
In June, Jewish arsonists torched the Church of the Multiplication in northern Israel. On Thursday, an extremist stabbed six people at the Jerusalem Pride Parade, killing a 16-year-old girl. The Duma attack followed hours later.
Harsh condemnations of the attack poured from the highest levels of government over the weekend, but many public figures say it's time for the government to back up its words with concrete changes in how it treats Jewish terrorists.
"We cannot continue to dismiss these flames, which are consuming the public in Israel, as an unfortunate set of coincidences," Israeli President Reuven Rivlin said at a rally in Jerusalem on Saturday night. "These flames, which are consuming all of us, cannot be extinguished with weak condemnations. These flames cannot be extinguished with solidarity rallies."
Yohanan Plesner, president of the Israel Democracy Institute, urged the government to adopt harsher methods with terror suspects, even at the risk of infringing on their civil rights.
"We're not preventing enough," Plesner said. "We're not talking about the freedom to express hate here, but rather a will to really kill. So we need to use stronger tools, with the understanding that we're compromising some of our basic rights. We need to do it thoughtfully."
On Sunday, Israel's security Cabinet approved the use of administrative detention for suspected Jewish terrorists. Administrative detention, which allows security forces to detain a suspect without charging them, is commonly used against suspected Palestinian terrorists. As of June, 370 Palestinians were being held in administrative detention, some for more than a year, according to B'tselem, an Israeli human rights group.
Plesner supports the change and suggested that Israel increase its use of restraining orders and tracking devices on Jewish terrorists. But B'tselem spokeswoman Sarit Michaeli criticized the move, saying administrative detention is just as unjust for Jews as for Palestinians. Rather, she said, security forces need to do a better job investigating Jewish attacks and bringing perpetrators to justice.
According to Light Tag, of 43 churches and mosques torched or vandalized by Jewish extremists since 2009, perpetrators have been indicted for just one incident.
"In administrative detention, you don't even know what you're charged with, let alone [having] the opportunity to mount an effective defense," Michaeli said. "If there is no evidence, the authorities should bloody well go and find evidence and conduct a proper investigation, instead of the easy way out, which involves violation of people's rights."
Light Tag Chairman Gadi Gvaryahu also said that the government needs to treat Jewish terrorism more seriously, and acknowledged that sending a large group of Jews to Duma three days after the attack may have inflamed tensions. But he said the trip was still valuable, if only because it allowed the visitors to face up to what was done in their name.
"It was important for us to come look in their eyes and say, 'This is the worst thing a person from our nation could do,'" Gvaryahu said. "To say we're sorry, we're shocked. It's not a mistake to come and meet people and ask forgiveness."