God Bless America: The Surprising History of an Iconic Song, by Sheryl Kaskowitz, Oxford, 224 pages, $29.95
Reviewed by NEAL GENDLER
Sheryl Kaskowitz says "God Bless America" has become an anthem for conservative politics.
Who knew?
Apparently, everyone but me, long professionally prohibited from partisan activity.
Kaskowitz is an American music scholar who most recently lectured in American studies at Brandeis University. She explores the evolution of the song, which was written in 1918 by soldier Irving Berlin but not performed until Nov. 10, 1938, by the wildly popular Kate Smith on her hour-long variety program.
Seventy-five years have not robbed the song of its emotional power. It became a near-hymn in the anxious days leading to World War II, revived itself after 9/11 — when members of Congress spontaneously sang it on the steps of the Capitol — and soon after was appropriated by major league baseball.
Along the way, its politics switched from left — interpreted as favoring American interventionism in Europe — to right, in defense against social change, she says. An ironic twist is that Berlin's original lyric asked God to "stand beside her and guide her, to the right with a light from above." In 1938 he changed "to the right" to "through the night." The original meant do the proper thing, but by then, "the right" had associations with Fascism, Kaskowitz says. "The night" also resonated as tyranny descended over Europe and the Depression still lingered.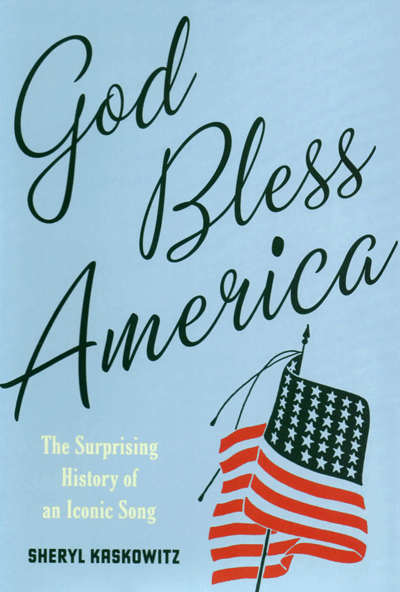 Kaskowitz calls the song "part of a repertoire of unofficial national anthems" such as "America the Beautiful." Berlin insisted it was not a replacement national anthem, and Kaskowitz calls it "a love song from Berlin to his adopted country."
Whatever its uses, "God Bless America" is forever associated with Smith by those of us who heard or saw her sing it, and since 9/11, young people at ballparks have heard her in recording. The first performance, on the eve of what then was called Armistice Day, coincided with Kristallnacht, which began the night before and was reported in American news media and mentioned by Smith on her daytime "Kate Smith Speaks" program.
Smith sang it almost weekly until January 1941, when a royalties dispute caused a months-long broadcast boycott of music licensed by ASCAP (American Society of Composers, Authors and Publishers) — of which Berlin was a founder.
But behind its unifying message lay discord. Berlin, Smith and her manager, Ted Collins, battled for song credit and control. Berlin prevailed, giving Smith eight weeks of exclusivity and writing rules for subsequent performance.
In addition, "there was dissent against the song," leftists saying it "glossed over the country's problems with simple jingoism and religiosity" and on the right, "an anti-Semitic and xenophobic backlash" because the composer was a Jewish immigrant, Kaskowitz says. The ownership dispute calmed after Berlin created a fund in 1940 giving the song's royalties to the Boy Scouts and Girl Scouts.
Kaskowitz says "God Bless America" moved toward the political right in the mid 1960s "as it was wielded by Christian conservatives in battles against secular liberalism," and by those unhappy with the antiwar movement and political turmoil. Richard Nixon used it increasingly toward the end of his presidency. That "effectively cemented the relationship between [the song] and conservative politics, which continued with Reagan's presidency," she says.
Kaskowitz calls her book a hybrid that also covers "communal singing as a form of collective music-making in American life." Her observations, likely satisfying academic purposes, are insightful and informative and little interfere with a good story.
It's a hybrid in another way — it's accompanied by a Web site. Cues in the text direct you to links at which you can hear performances and notice changes in tempo and lyrics from Smith's first to a heavily produced reenactment of it in the 1943 movie, This Is the Army (starring Ronald Reagan) that still can send chills down the spine.
God Bless America's 154 pages of too-tiny text, followed by many pages of notes, a discography and an index, are interesting and enlightening, despite occasional brief lapses into academic-style analysis. I learned more than I could have imagined there was to know.
***
Neal Gendler is a Minneapolis writer and editor.
(American Jewish World, 8.2.13)