By MORDECAI SPECKTOR
It's not every day you talk with an Israeli superstar.
After a series of e-mails over recent weeks with his manager, the AJW finally caught up with peripatetic and popular musician Idan Raichel, who has become a luminary on the "world music" scene.
Raichel, who last played here in 2005, will perform with Vieux Farka Touré, a sensational guitarist from Mali, who has been dubbed the "Hendrix of the Sahara," on Monday, April 16 at the Dakota Jazz Club (3-30-12 AJW).
During a chat last week with the Jewish World by phone from Tel Aviv, Raichel talked about his gigs this month with Touré; their new album, The Tel Aviv Session; and upcoming projects.
Asked about his history of performing in Minnesota, Raichel drew a blank. "I have to admit that when we are touring… we keep touring airports more than cities."
He explains that tours involve a round of arriving at an airport, going to the venue for a sound check, performing the concert, and then back to the airport for a flight to the next town, all in a 24-hour time span.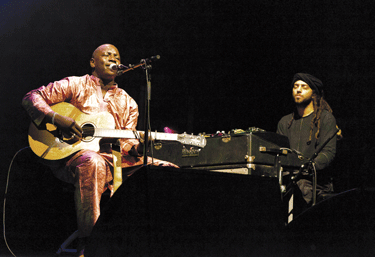 In any case, Raichel says he's looking forward to meeting fans, old and new, when he plays the Dakota. He admits to being "surprised," when touring in the Midwest with his band, the Idan Raichel Project, by the warm welcome he has received, even though he performs a "non-English music," which apparently is understood "as a universal language."
I mention that the AJW published a story about Ravid Kahalani, the vocalist and frontman for Yemen Blues, who performed at a well-attended show in January at the Cedar Cultural Center in Minneapolis. Kahalani, an Israeli of Yemenite ancestry, attained prominence several years ago as part of Raichel's eclectic musical group.
"He's still a member of the Idan Raichel Project," the 34-year-old musician affirms. "He's playing with us these days, and going on his solo tours. This is the magic with the Idan Raichel Project: It became like a train station — artists from all over are joining the train… and then they continue with their own path, and go back and forth."
Some 95 musicians — ranging in age from 16 to 91 — have performed with the Idan Raichel Project over the past decade, says Raichel, who adds that his large ensemble recently toured and is set to hit the road again in June.
In the meantime, Raichel is preparing for a tour of U.S. and Canada, in April, with Touré, who is the son of the late legendary guitarist Ali Farka Touré.
"I played with him in two shows, one in Spain and one in Israel," Raichel recalls, "but this is actually the first time to go on the tour bus, and go on the road with him and Souleymane [Kané], his amazing percussion player, and with Amit Carmeli, one the greatest bass players in Israel."
Bassist Yossi Fine played on The Tel Aviv Session (Cumbancha); but Carmeli, who is also "an incredible singer… agreed to join us on this tour, and we are very honored and lucky to have him," explains Raichel.
Asked if the group has rehearsed ahead of their North American dates, Raichel responds that the quartet would be rehearsing this week in New York City.
"Our challenge is mainly to try to keep the vibe of the album, which started as a jam session [in a Tel Aviv studio, the day after Raichel and Touré performed a concert in Tel Aviv]," he comments.
Raichel makes the analogy to teaching a baby to speak. Rather than teaching him "a few sentences, or many sentences, the challenge is to teach him the language, so he can create his own sentences. So, it's not important for us to rehearse on songs… it's important to rehearse on the language, on the stage language, so then we can… explore the collective language in a different way."
The Tel Aviv Session was a successful recording, because "we're all talking in the same language, although we're coming from different parts of the world, different times of our careers, different backgrounds, different religions," according to Raichel.
The Idan Raichel Project typically numbers 10 or so musicians in concert, so Raichel will find himself in a new environment as part of a quartet when he takes the Dakota stage.
"I don't feel there is a band leader, in a way," he says, regarding the stripped-down ensemble. He figures that the rhythm section of Souleymane Kané and Amit Carmeli will be in the forefront at times; also, "Vieux Farka Touré, with his amazing, spiritual guitar playing," will be in the limelight for extended solos. "Yeah, it's more about creating a new language," he says.
Asked if he has been in touch lately with Touré, Raichel says, "These days we talk not about music but about politics, after the revolution in Mali."
On March 22, mutinous soldiers staged a coup d'état, overthrowing the government in Bamako, the capital of Mali. At the same time, rebels from the Tuareg tribe seized cities in the north of the landlocked West African country, including Timbuktu.
"Vieux sees himself as a Malian, a traditional Malian, very in love with his country," notes Raichel, who expresses his hope that Mali will get back on the path of democracy.
As for future musical collaborations, Raichel is going to record an album with the American pop singer India.Arie. The songs have been written for the album that will be titled Open Door.
"I already toured with India.Arie," says Raichel. "India.Arie is one of the greatest singers I ever worked with." The musicians collaborated on a performance at the Nobel Peace Prize ceremony.
For Raichel, musical collaborations are what it's all about. He likens his musical projects to chefs coming together to blend varied ingredients and create new flavors — "it doesn't matter if you make pasta or sushi."
"This album represents a new step for me," Vieux Farka Touré said, regarding The Tel Aviv Session. "It's the first time I have done a full album collaboration and it's the first time I have really exhibited my acoustic playing. So, for me, it demonstrates a maturing of my music and my career."
And Raichel says, "I hope that more and more musicians from all over the world keep on joining us…. The Idan Raichel Project became kind of a musical movement of people that are coming to share their music, share their roots with the world."
The musical train, from Israel and Mali, pulls into the Dakota on Monday night.
***
The Vieux Farka Touré and Idan Raichel Quartet performs 7 p.m. Monday, April 16 at the Dakota Jazz Club, 1010 Nicollet Ave., downtown Minneapolis. For tickets, go to: dakotacooks.com or call the box office at 612-332-5299.
(American Jewish World, 4.13.12)