by MAX SPARBER
Community News Editor
Mike Reiss does not like to speculate on the Jewish influence on The Simpsons, the popular animated show he has written for since its debut. Reiss was also the Simpsons showrunner during its influential early seasons.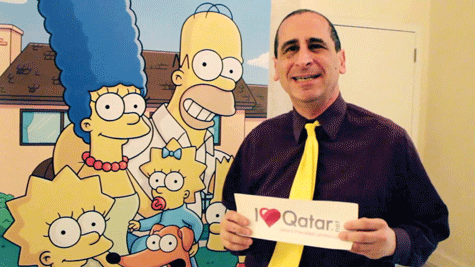 Speaking with American Jewish World, Reiss said, "One thing I've learned is, everywhere I go people come up to me and say, 'This is just like my comedy.'
"I was in Malaysia and a Malaysian bartender said, 'Homer is like a Malaysian father.' A Danish man came up to me and told me that The Simpsons have a very Danish sense of humor. Everyone says, 'This is just like our humor!'"
Reiss, who will speak May 6 as a guest of the Howie Stillman Fund, explained he came from a comedy background that wasn't notably Jewish. He was raised in Connecticut, where he "grew up in a town where we were one of the few Jewish families," and he developed his comic writing chops at the famed Harvard Lampoon, which, while made up of "the sort of the people you don't think of going to Harvard," was largely Irish-American. In fact, Reiss has long worked with a non-Jewish writing partner, Al Jean.
However, Reiss' protestations about Jewish influence faded when the subject of another show he created came up: The Critic, an animated series about a film critic that aired from 1994-1995. "The critic is much more Jewish," Reiss said.
The show arose from a discussion with producer James L. Brooks, who is Jewish. He wanted to create a sitcom based on The Today Show, and Reiss and Jean decided the only character they found interesting was film critic Gene Shalit, who is Jewish. The proposed show was to be live action and would star comedian Jon Lovitz, who is Jewish. Brooks had recently seen Lovitz in the film A League of Their Own and felt he could carry a television comedy.
Lovitz demurred, fearing that committing to a television series would interfere with his film work, until Reiss suggested it be animated, which would only require a few hours per week of Lovitz in a recording studio.
"It was the only animated show in history where the last creative decision involved was to make it animated," Reiss said.
Aside from his work in television animation, Reiss has worked in feature films, including contributing to the scripts for Ice Age: Dawn of the Dinosaurs and Horton Hears a Who!, but also has a second career as an author of children's books. "I have my 19th children's book coming out this year," he said, including a number of Christmas books. When reminded that Jews have a long history in creating Christmas songs and films, he laughed. "That's our little secret," he said.
Reiss began writing children's books as the result of a high school reunion. He returned to his school during his time at The Simpsons, expecting that people would be impressed. Instead, a friend berated him. "I have kids," the friend said, "I can't let them watch your show!"
It was then he decided to write children's books. They would have the same sense of humor he brought to The Simpsons, but without the adult sensibilities.
Most recently, Reiss authored his memoir, due to come out this summer, titled Springfield Confidential: Jokes, Secrets, and Outright Lies from a Lifetime Writing for The Simpsons. Reiss, who is more self-depreciating than one would usually associate with the entertainment industry, explained that a writer came to him with the suggestion for the book.
"It seemed a little presumptuous," he said. "I kept telling him nobody wants my memoir. But I thought, 'what the heck.'"
They went to a publisher to pitch the idea, and, according to Reiss, the publisher responded with "Who the hell are you?" Reiss turned to his co-writer and said, "See, I told you."
But they took a cab across town and the second publisher they visited bought the book on the spot. "It's not an autobiography," Reiss stressed, "it's a biography of The Simpsons."
Reiss is quite experienced at discussing his experiences with The Simpsons, which he is uniquely qualified to do, having been there from the start and participated in the entire run, including helping to author The Simpsons Movie in 2007.
Reiss has been providing a talk, accompanied by a slideshow, about his experiences with the program for years, and it has taken him around the world. It is this talk that he will give at the Howie Stillman Fund event.
Howie Stillman was a student of journalism at The University of Wisconsin-Madison and The University of Minnesota who died of lymphoma in 1986. That summer, a group of Stillman's friends established The Howie Stillman Young Leadership Fund in his honor, and the fund is used to sponsor an annual lecture from a prominent member of the media, often a journalist but sometimes drawing from other professions, as with Mike Reiss.
The fund also supports an annual youth leadership award. Members of The Howie Stillman Young Leadership Fund Committee search the Twin Cities for a high school senior who is a member of a Twin Cities synagogue youth group or BBYO chapter and exhibits the strong leadership, friendship, and other outstanding qualities that Howie possessed.
Mark Gittleman, president of a property management company in Minneapolis and a childhood friend of Stillman, spoke with American Jewish World about the Fund. He describes it as a collaboration between Stillman's family and a close circle of friends who wanted to remember and honor Stillman. Gittleman describes Stillman as a person who "had a love for engaging with people," and says that journalism have him an opportunity for that. "Howie liked to write," Gittleman explained, "and that developed in college. He was attracted to the human interest side of journalism."
Gittleman described Stillman as having been "full of ruach, full of spirit. "He was a guy who just right out of the gate when you met him you feel a lot of energy from him. "There was a glint in his eye, a desire to engage with people. Howie made a lot of people feel special, feel like they were a close and good friend."
The first year of the Fund, organizers invited Judith Viorst, author of Necessary Losses: The Loves, Illusions, Dependencies, and Impossible Expectations That All of Us Have to Give Up in Order to Grow, a book that partially addresses grief. "It was so moving and cathartic for all of us to understand and get perspective on such a big loss, and a big hole in our life." Gittleman said.
"The event was just an outpouring of the love we had for Howie, to make sure that love was celebrated every year and remembered every year."
***
Mike Reiss' talk for the Howie Stillman fund is free and open to the public. The lecture will begin 7 p.m. Sunday, May 6 at Adath Jeshurun Congregation, 10500 Hillside Ln. W., Minnetonka. For information visit howiestillmanfund.com.
(American Jewish World, 5.4.18)