By ERIN ELLIOTT BRYAN / Community News Editor
In the summer of 1986, a 23-year-old college student named Howie Stillman lost his four-year battle with lymphoma. Stillman was a natural leader who had a knack for gathering people around him — and for pulling off some amazing pranks — and always wanting to do something good for others.
And he wanted to tell their stories. He wanted to be a journalist.
Howie had studied journalism at both the University of Wisconsin in Madison and at the University of Minnesota. He had been a staff member of the Hopkins High School newspaper, and had worked at a newspaper in Madison, for an airline magazine in Los Angeles and at the Twin Cities Reader.
"He did a lot of people stories," Deborah Hopp, then the editor of the Reader, said at the time of Stillman's death. "He was always very interested in the human aspect of everything, whether it was a city council issue or a parks issue. He was very serious about journalism and his work."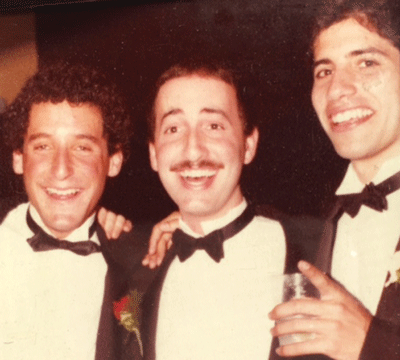 Stillman was also active in the Jewish community. He was a member of United Synagogue Youth (USY), serving as the vice president of the Adath Jeshurun Congregation chapter, as well as the Midwest Region.
And no matter where he was, he always developed close friendships.
"A week after Howie died, a group of his friends gathered in the office of Rabbi Barry Cytron at the Adath Jeshurun Congregation," Stillman's mother, Liba Stillman, told the AJW. "They were and remain very close friends today. They were so taken with Howie's passing and wanted to do something special in his memory. It was a very sad and difficult time for our family and we were very touched that they wanted to keep his memory alive."
The project that emerged was the Howie Stillman Young Leadership Fund, which continues to thrive under the guidance of Stillman's friends and family. The fund organizes an annual lecture by a prominent journalist, a youth leadership award, and scholarships to University of Minnesota School of Journalism students and local Jewish campers.
The 2016 lecture, "An Evening with David Bohrman" — which marks the fund's 30th anniversary — will take place on May 1 at Adath Jeshurun Congregation in Minnetonka. The veteran TV journalist has won six Emmy awards (with 18 nominations) and two Peabody awards, and has had roles as producer, executive producer or in senior management at ABC News, NBC News, CNN and Current TV, among others.
Bohrman recently signed on as a consultant for MSNBC's 2016 campaign coverage. On May 1, he will discuss how election coverage has evolved over the years, using a variety of video clips.
The event, which is always free and open to the public, will be emceed by Ben Deutsch, a native of Virginia, Minn., who met Stillman at the University of Wisconsin. Deutsch is now an executive with Coca-Cola, based in Atlanta, and gave the commencement speech at the University of Wisconsin last year.
Scott Shragg, who first met Stillman in preschool and shared a house with him in Madison, joined the fund in its second year. He has co-chaired the fund with Lynn Blumenthal for the last 23 years.
"The reason the fund was started was to commemorate Howie's desire to be a journalist," Shragg said. "We've had some pretty phenomenal speakers over the last 30 years."
Among the fund's past speakers are Judith Viorst, Michael Medved, Charlie Rose, Julius Lester, Mitch Albom, Jack Klugman, Helen Thomas, Peter Funt and Byron Pitts.
But to Shragg, the most important part of the evening is presenting the youth leadership award to a deserving recipient, selected by a committee of Stillman's friends.
"Any one of the people that are sent to us could win the award, they're just phenomenal kids who have done way more than any of us or Howie ever did," Shragg said. "We joke that Howie wouldn't even win his own award because these kids are just unbelievable… And we tell all the kids that we don't pick a winner, we pick a recipient because to get to where they are and the things that they've accomplished, they're already winners."
The students can be nominated by a rabbi or youth leader, and are then invited to submit an application. All of the students who are interviewed by the committee are recognized during the annual lecture.
In the past, the Howie Stillman Young Leadership Fund has donated to other charitable organizations, such as the Make a Wish Foundation. In 2006, on the occasion of the fund's 20th anniversary, it partnered with Free the Children, an organization based in Toronto, to build the Howie Stillman School in a rural village in Kenya.
Over a period of seven years, the fund continued to build in the area and some 100 people from Minnesota, other states and Canada took part in this project. Liba and Tom Stillman's two sons and daughters-in-law, along with their four oldest children, have traveled at various times to assist. Some friends and family have made several trips, their ages ranging from 11 to 82 years old.
The site is now the Howie Stillman Campus and includes eight schoolhouses, teachers' quarters, a community center, farm, water collection facility, sports fields, library and a hospital with a birthing center and surgical wing.
"This is a place where kids literally walked miles and miles and miles to get an education," Shragg said. "The amount of lives saved with our hospital there and the birthing center, and the amount of girls that have been able to get an education who wouldn't otherwise is just phenomenal."
The project is now independent and self-sustaining, though one of Stillman's cousins continues to be involved in another area in Kenya.
For Shragg, continuing this organization over the last 30 years is just "another way that Howie has brought people together."
"He did it when he was alive and he's doing it now," Shragg said, remarking on his friend's "inclusiveness and magnetic personality." "Howie was Facebook before there was Facebook. He was the one that really kept everybody in touch with one another… Now we know one time a year, at least, that we're all going to see each other and that's pretty special."
Shragg expects several hundred people to attend the lecture on May 1, and stressed that it's not a memorial for Stillman, but a celebration that will be "entertaining and uplifting."
And for Stillman's parents, the annual event is a special time to honor the memory of their son.
"When people lose a loved one, the initial response of others is to be careful what you say or don't bring it up," Stillman's father, Tom Stillman, said. "It's the opposite for us. The more his memory and his stories are brought up, the more it's meaningful for us. We love to hear these kids talk about what's called 'Howie Stories.' He did a lot of fun and joyful things, and it's left everybody with such good hearts and a warm feeling, and we love to hear that."
"For our family, it teaches us what an incredible supportive group of friends, family and community are capable of accomplishing," Liba Stillman added. "We are very grateful that something so sad and painful can bring people together in a very meaningful way."
***
The Howie Stillman Young Leadership Fund will present "An Evening with David Bohrman" 7 p.m. Sunday, May 1 at Adath Jeshurun Congregation, 10500 Hillside Ln. W., Minnetonka.
The event is free and open to the public. For information, visit: www.howiestillman.com.
(American Jewish World, 4.22.16)