King's life and career — and her Jewish influences — are brought to the stage in a new musical, presented by Hennepin Theatre Trust
By DORIS RUBENSTEIN
There have been many Jewish musical prodigies in history. Felix Mendelssohn, for example, the grandson of the great leader of the Haskalah (Jewish Enlightenment), Moses Mendelssohn, started composing and performing his own works at the age of nine.
(Felix's parents converted to Christianity before he was born, but blood is thicker than baptism water when making a point like this!)
Carol Klein — known to all music lovers since the 1960s as Carole King — made her public debut at about the same age as Felix Mendelssohn. And her incredible life story is brought to the stage in Beautiful – The Carole King Musical, a Tony and Grammy Award-winning show that begins its run at Minneapolis' Orpheum Theatre on Nov. 18.
Tickets will go fast if Broadway history repeats itself on Hennepin Avenue — Beautiful debuted at the Stephen Sondheim Theatre in New York City in January 2014, and has broken all box office records; it recently became the highest-grossing production in that theater's history.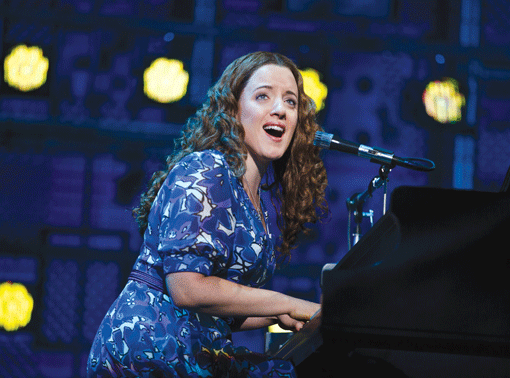 So, how Jewish is Carole King, we may ask? It's a politically charged question, to be sure. And does it have anything to do with her amazing output of popular music?
Let's ask a few more questions.
Whereas Mendelssohn's parents were born Jews but converted, Carole King had unquestionably Jewish parents: Sidney Klein — whose Eastern European father, David Glayman, had his name assigned to him by a somewhat illiterate or deaf immigration agent — and mom Eugenia "Genie" Cammer, according to King's 2012 memoir, A Natural Woman (Grand Central Publishing)
Did she live and absorb a Jewish culture in her youth? She was brought up in the Flatbush/Midwood neighborhood of Brooklyn during the World War II years. Calling that area a Jewish ghetto might be stretching it, but with the plethora of Jewish families living there and the number of synagogues in its borders, one could safely say that the culture was strongly Jewish.
When her career was coasting along in the early 1990s, she and Minnesota's own Bob Dylan were on the bill together for a concert in Dublin, Ireland. She had not been happy with her performance. When she attempted to put on "a good face," Dylan didn't buy it.
"We had come from the same culture in which Jewish mothers famously say, 'I'm fine. I'll just sit here in the dark,'" King observes in her memoir.
Was she given a good Jewish education? No, but let's be forgiving. Very few girls were given formal Jewish educations in those times, and they were expected to absorb things from their mothers and grandmothers. King writes that her maternal grandmother — the daughter of a scholar — was a strong presence within her extended family.
Did she marry a Jew and raise her children to be Jews? The young Carol Klein exhibited such an advanced intellect early in her school career that she skipped kindergarten and first grade, and graduated from high school at age 15. She enrolled in Queens College immediately and knew well what was expected of her there: "Ideally my (future) husband would be a pre-med student. Becoming the 'Mrs.' in 'Dr. and Mrs. (insert Jewish name here)' was the highest achievement they could imagine for a young woman," she wrote.
Indeed, she did marry two Jewish men, Gerry Goffin (her early collaborator) and musician Charlie Larkey, though neither was pre-med. Her attempts at creating a Jewish home, it seems, were restricted to continuing to live in a Jewish neighborhood and preparing recipes out of her grandmother's copy of Leah Leonard's Jewish Cookery.
To this reporter, Carole King is Jewish because she had chutzpa. Would you have the nerve to walk into an established music company at age 15 to peddle your wares?
Carole King is all about music — both writing it and singing it. Who were her influences and idols? Why Jews, of course! Steve Lawrence and Eydie Gorme, Richard Rodgers and Oscar Hammerstein, Aaron Copland. Who were her musical mentors?
More Jews: Alan Freed, the impresario who introduced her to "race music" and Jerry Wexler at Atlantic Records; and Maurice Sendak, author of Where the Wild Things Are and many children's books with Jewish themes, and the playwright of Really Rosie, who invited King to write songs for the Broadway show. And legendary record producer Lou Adler advanced her career when she moved to California.
Can we hear Jewish melodies running through King's songs? Some of your favorites are featured in Beautiful: "I Feel the Earth Move," "One Fine Day," "(You Make Me Feel Like) a Natural Woman," "You've Got a Friend" and the title song are included in the show. You may just hear something kvelling in those tunes.
So grab a friend from the '60s or '70s, or even the 2000s and get in line quickly to score a ticket to Beautiful. You can rank Carole King's Jewishness by yourself. Or just enjoy the music.
***
Hennepin Theatre Trust will present Beautiful – The Carole King Musical Nov. 18-29 at the Orpheum Theatre, 910 Hennepin Ave., Minneapolis. The show is part of the 2015-2016 Bank of America Broadway on Hennepin season.
For tickets and information, visit: hennepintheatretrust.org or call 800-982-2787. For information and a video sneak peek, visit: beautifulonbroadway.com.
(American Jewish World, 11.6.15)