Childhood, by Jona Oberski, 95 pages, Penguin Classics trade paperback, $14
Reviewed by NEAL GENDLER
Reluctantly, I confess that to appreciate the proclaimed brilliance of Jona Oberski's Childhood, I needed to read Jim Shepard's 13-page afterword.
Oberski's spare, slender, reissued novel is a Shoah story through the mind of a Dutch boy apparently too young to know more than what his senses perceive. Not only don't his parents explain Nazism or why they've been sent to Bergen-Belsen, but they seem to be concealing the information.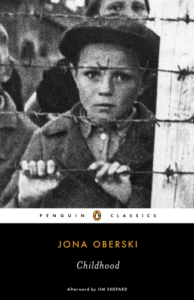 If so, their attempt to shelter him creates a world of naïvety, and readers get what Shepard calls "a worm's eye view" of the Shoah that allows "the narrator to continually access his sense of wonder, and of what the world has to offer."
That world, of course, remains wretched beyond even our fact-filled comprehension; how much more so for him, not knowing why.
A preschooler, he's utterly dependent on his mother, who holds him close and gives vague, misleading explanations. For example, at the start, she holds him, strokes his hair and kisses him in a dark, funny-smelling room — apparently the Dutch transit camp Westerbork.
"There's been a mistake, but everything will be all right," she says. "We've gone away for a few days with a lot of other people, but we'll be going home soon and Daddy will be there too."
That turns out to be true, but briefly. Soon, they're rousted from their home by German soldiers and sent trekking toward the rail station, one suitcase per parent, amid a river of Jews.
"Sometimes the book's strategy is to let [him] report to us information that he doesn't fully understand but we do, because of our greater frame of reference," says Shepard, an author who teaches at Williams College in Massachusetts.
For example, after the Jews have been herded into a big room: "The door opened. Everybody stopped talking. Some more people came into the room. Most of them had long black coats on."
In the camp, older children taunt him, daring him into a risk that he doesn't realize could have gotten him killed. He sees his father dying and is told to hurry to tell his mother to come at once, but on the way, his attention gets diverted and he dawdles, then forgets to tell her.
He is led to believe that his family is going to Palestine; indeed, some Dutch Jews did in a trade for German nationals the British were expelling. He and his mother are put on a train with bench seats; it moves in one direction and another for two weeks, then is left standing. Eventually, the soldiers outside change from German to Russian, and they are freed.
Shepard says Childhood "is a fictionalized account of Oberski's experiences" in Bergen-Belsen when he was 4 to 7 years old. "The novel was first published in Dutch as Kinderjaren in 1978" and "acclaimed throughout Europe as a small masterpiece." It was made into a movie and translated into 20 languages, this one by Ralph Manheim, identified as "one of the foremost translators of his generation." Oberski published more literary works but made his living in nuclear and particle physics.
The book's publicity materials quote author Chaim Potok as saying: "An astonishing book — memorable, piercing. It reaches to the very soul."
I was less moved, finding Childhood remarkable mostly for its view from an uncomprehending innocent who apparently remains largely so, at least at the conscious level.
Perhaps the best explanation is in another blurb, from Thomas Keneally, author of Schindler's List: "A child sees the barbarities… of the Holocaust not in terms of race and politics, but in the way a Martian would see them, as amazing and stupefying instances of the cruelty of man."
***
Neal Gendler is a Minneapolis writer and editor.
(American Jewish World, 1.30.15)