By RON KAMPEAS
WASHINGTON (JTA) — With public acceptance of same-sex marriage growing, liberal Jewish groups are hoping the U.S. Supreme Court will strike down the Defense of Marriage Act that they have long opposed.
The Supreme Court has agreed to hear two cases related to same-sex marriage: an appeal of a federal court ruling that struck down a California ballot initiative banning same-sex marriage; and one of the federal court rulings invalidating provisions of the act, known as DOMA, which prevented federal recognition of same-sex unions.
Since DOMA was passed in 1996, Jewish groups such as the Religious Action Center of Reform Judaism and the National Council of Jewish Women have been among the liberal religious groups arguing against its provisions. At the time, they were pushing against the widespread perception that religious groups almost by definition were opposed to same-sex marriage.
That is no longer the case, said Rabbi David Saperstein, the Religious Action Center's director and a witness during congressional hearings on DOMA.
"There is an increasing religious consciousness across an ever wider spectrum that providing legal protection and religious sanctification to two people who want to create their lives together reflects our highest values," Saperstein told JTA.
Saperstein said the RAC was planning to file or sign onto an amicus brief in support of same-sex marriage.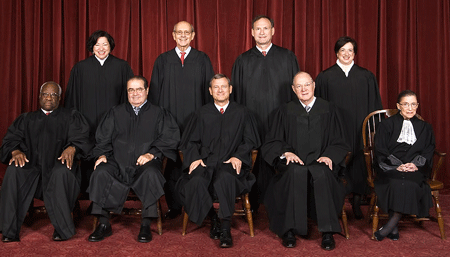 Fifteen years after pleading their case against the Defense of Marriage Act in Congress, liberal Jewish groups are hoping the U.S. Supreme Court (above) will be more receptive to their arguments against legal obstacles to gay marriage. (Photo: Oyez Project)
Sammie Moshenberg, the Washington director of the National Council of Jewish Women, said that recent victories for same-sex marriage in state referenda vindicate NCJW's activism against DOMA.
"We saw in the last election popular support for marriage equality, with wins in Maine, Maryland and Washington, and voters in Minnesota rejected" a law that would have entrenched the ban on gay marriage in that state, she said. "We've seen tremendous popular support, and we see it's growing."
Orthodox groups, active also during the 1996 congressional hearings before the passage of DOMA, are considering amicus briefs since the Supreme Court agreed last week to consider the two cases.
Orthodox groups have opposed same-sex marriage, maintaining that marriage should be defined as union between a man and a woman. They also have expressed the concern that the push for same-sex marriage will end up infringing upon their religious liberties.
"We do plan to file and let our views be known in reference to DOMA and Proposition 8," the California referendum that banned same-sex marriage and that was overturned by a federal appeals court in January, said Abba Cohen, who directs the Washington office of Agudath Israel of America. "We don't know whether we'll file on our own or with others — it's too early for us to make that decision."
The Orthodox Union was still considering whether to file, said Nathan Diament, the group's executive director for public policy.
An array of liberal Jewish groups, including the Anti-Defamation League, NCJW, Hadassah, Bend the Arc, and a number of Reform and Conservative bodies had joined in an amicus brief filed for the lower court appeal of the DOMA case, U.S. v. Windsor, in which the widow of a New York woman is appealing the taxes levied on her late wife's estate that would have been exempted had she been married to a man.
Now that the Supreme Court is considering the cases, the groups and others are considering whether to join others in amicus briefs or file on their own.
Marc Stern, the associate general counsel for the American Jewish Committee, said his group would file a brief backing same-sex marriage but cautioning against a ruling that would be too sweeping and compromise the rights of religious institutions that oppose it.
"You could imagine theories that would lead to that result that would preclude the possibility of protection of religious institutions," he said.