Reviewed by NEAL GENDLER
Tenacious investigative reporter Seymour Hersh, who famously exposed the My Lai massacre and abuse at Abu Ghraib prison, says he once was "seriously quoted as saying that I would run over my mother to get a story."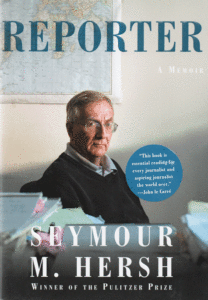 Not so, but perhaps nothing reveals his intrusive zeal better than this sentence in his memoir, Reporter: "It felt good to be once again writing a story my government did not want known."
Hersh's good feelings didn't endear him to everyone — especially officials whose statements were contradicted by facts.
He says, however, that he usually reported less than he knew to avoid harming U.S. security or careers of identifiable sources. Using unnamed sources often was controversial, raising challenges to credibility.
Calling himself "a survivor of the golden age of journalism," Hersh was born in 1937 to immigrants — Polish Dorothy and Lithuanian Isadore, owner of a Chicago South Side dry cleaner. After a boring, poorly performing law school year, "Sy" became a copy boy at Chicago's City News Bureau in 1959. Soon he was covering fires, deaths and crimes, learning that being first "is not nearly as important as being right."
Hersh worked his way up to the Associated Press (AP), where off-shift enterprise freed him from the night desk and sent him to a 1966 stint covering the Department of Defense (DoD). There, he says, he discovered that Secretary McNamara and other officials were lying about Vietnam.
Reassigned to an investigative team in 1967, he examined DoD's chemical and biological program, which included defoliants. AP truncated his 15,000-word series to a single story, so he took his information to the New Republic magazine. He quit AP and wrote Chemical and Biological Warfare: America's Hidden Arsenal, starting his specialty of revealing, fact-laden books.
Fame came after a 1969 tip that Lt. William Calley, leader of the platoon that massacred Vietnamese civilians at My Lai, was being court martialed and kept out of sight. Hersh found him in a condo near Ft. Benning, Ga., and his interview made national headlines.
Continuing investigation and relentless pursuit of participants led to the 1970 book, My Lai 4: A Report on the Massacre and its Aftermath and the 1972 Cover-Up, about the Army's investigation. Meantime, Hersh made "scores of antiwar speeches at colleges and political events" — a risk to perceived objectivity that he says came not from ideology but from what he'd learned.
He did major New York Times work on Watergate and produced an explosive 1974 expose of forbidden domestic spying by the CIA.
Hersh's fourth book was The Price of Power: Kissinger in the Nixon White House. In Reporter, he blasts "the essential evil of the Nixon/Kissinger foreign policy," claiming Henry Kissinger "lied the way most people breathed."
Uncovering abuse of prisoners in Iraq's American-run Abu Ghraib prison led to Chain of Command: The Road from 9/11 to Abu Ghraib. He displeased JFK devotees with The Dark Side of Camelot.
He says The Samson Option: Israel's Nuclear Arsenal and American Foreign Policy, wasn't intended to say Israel shouldn't have an atomic bomb, but that "sub-rosa American support for it was known throughout the Middle East," making a "mockery" of American non-proliferation efforts.
Investigating the Jonathan Pollard case, Hersh says that "Clinton's anticipated pardon triggered threats of wholesale high-level Pentagon and CIA resignations," and that he was shown a summary of "documents that Pollard was known to have illegally obtained." Hersh says "much of Pollard's thievery dealt with how America spied on … the Soviet Union."
He says American intelligence leaders suspected Israel of trading such information for release of certain Soviet Jews.
On a payroll, Hersh seemed happiest at the New Yorker, with its meticulous fact checkers. They might have prevented Reporter from calling nuclear-secrets betrayer Mordechai Vanunu an Israeli Arab. With that name? Vanunu was born in Morocco to a religious Sephardi family.
(Mention of a Rosh Hashana Seder may be correct. Sephardim have such a tradition.)
Reporter, with photos, appeals by telling the motivation, methods and discoveries of a journalist obsessed with prying beneath the veneer of what government and business want known.
***
Neal Gendler is a Minneapolis writer and editor.
(American Jewish World, 7.13.18)