Reviewed by NEAL GENDLER
Hungarian David Arieh Hersch is said to be the only person to have escaped twice from Nazi death marches.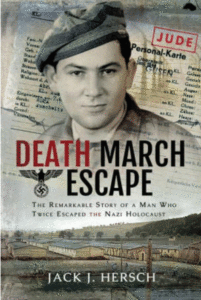 His first escape was brief, and he was returned to Mauthausen. Escaping a second death march, he was hidden by an Austrian couple for weeks until Americans arrived.
"In June 1944, my father entered KZ Mauthausen as a 160-pound, 18-year old youth," Jack Hersch writes. Mauthausen was a quarry, prisoners dying from overwork, malnutrition, disease and guards' sadistic entertainment.
Ten months later, as prisoners were marched away from the approaching Soviet army, David weighed 80 pounds and had tuberculosis, pneumonia, typhus and peritonitis.
"By the Nazis' own rating system," Mauthausen and subcamps Gusen I and II "were the harshest, cruelest concentration camps in the entire Third Reich," Jack says. David worked in each. Prisoners quarried granite, hauling it in carts or on their backs, often in closely-packed groups up a long, curving "stairway of death" that unfortunately isn't shown in the book's 40 photos.
Jack knew the basic story because every Pesach, David would recount his own liberation. But Jack never pressed for details from his good-humored, smiling father, who'd gone from busboy to co-owner of a senior-citizen hotel in America, dying in 2001.
At his Los Angeles office in 2007, Jack, 48, a strategic adviser to managements and investment institutions, was called by an Israeli cousin asking if he'd seen the prewar photo of David on the Mauthausen Memorial website. Jack hadn't, nor did he know there was such a website.
He called up www.mauthausen-memorial.org/en, which had information about his father, then Google Earth to see the house of his rescuers.
"It was as if my father was leaning over my shoulder pointing it out to me," he says. "My heart was pounding." His head full of unasked questions, "I needed to go there."
At Enns, Austria, the memorial's well-prepared Angelika Schlackl took him to the slave-labor and escape sites and to where Ignaz and Barbara Friedmann had hidden him in their home, which also housed two SS men, then in the barn.
Jack learned that his father had made a similar trip in 1997. Why hadn't he told Jack, or taken him along? "I was unquestionably missing a large part of his past."
Death March Escape takes us on Jack's trip to learn more and to see where 197,500 prisoners had worked, 95,000 or more dying. It's an engaging, readable account, although my accuracy alarm flashed at the Warsaw Ghetto uprising dated 1942, one year early. (How could editors miss this?)
David was born in Dej, Romania, a part of Transylvania that reverted to Hungary in 1940. He worked in his father's small soap factory. Hungary hadn't sent its Jews to its German ally's death camps, but in March 1944, Germany invaded and Adolf Eichmann shipped more half of Hungary's Jews to their deaths.
In April 1945, David was in a prisoner group marched from Mauthausen. Those who dropped out were shot. Soon exhausted, David sat. A guard approached, pistol drawn, but didn't shoot. Later, the prisoners stopped as a stream of refugees crossed an intersection, David slipped into it, donned a discarded raincoat, and walked to a house where a woman fed him. Resting in her back yard, he was caught by two Hungarian SS juveniles.
On the second death march, April 16, David, exhausted, fell behind. When guards weren't looking, he darted down a path into the woods.
That night, he returned to the road, taking a dead prisoner's civilian clothes. Next morning, the couple found him. He admitted he was a prisoner, but they took him in anyway.
With Angelika's help, Jack found that path, "the place where he gave himself a new chance for life."
Jack writes repeatedly, with some awe, about his father's strong will, often italicizing the word. During his visit, Jack realizes he's been wondering if he could have survived what his father did. "It was a question I never overtly asked myself before, though now I feel I've been asking it my entire life without being aware of it," he says.
"I now know why I never asked the questions I should have," Jack says. "I didn't want to know the answers."
***
Neal Gendler is a Minneapolis writer and editor.
(American Jewish World 2.22.19)