By MORDECAI SPECKTOR
The great Duke Ellington famously said of music: "If it sounds good, it is good."
When Leonard Cohen performs on Sunday at the Orpheum Theatre, Minneapolis native Leanne Ungar will help make the renowned bard of Montreal and his band sound great.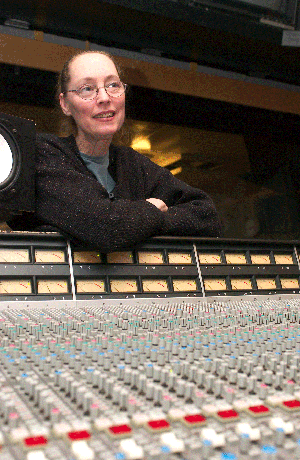 The Washburn High School and University of Minnesota grad has worked as an audio engineer on eight of Cohen's albums since 1984 (and co-produced the 1994 Cohen Live and the 2002 compilation album The Essential Leonard Cohen).
Ungar is in charge of the stage monitors; her task is to help the musicians hear the precise sound they are creating.
When she's not on the road, Ungar has taught audio engineering and music production at Berklee College of Music. This is her fifth year at the prestigious music academy in Boston; but she has taken a leave of absence this year to do the tour with Cohen.
Ungar also has another significant connection to Leonard Cohen's music — her husband, Bob Metzger, plays guitar in the band.
"We met 21 years ago, in 1988, on Leonard Cohen's tour in support of the record I'm Your Man," Ungar recalled last week, during a telephone chat from Seattle, Wash. "I had flown over to Stockholm to record the band for Swedish television, and Bob and I met at that time."
Ungar recalls that she met her husband-to-be on April 30, which was Walpurgis Night (Valborg, in Swedish). The Swedes were lighting bonfires throughout the city, "so it was a memorable evening," said Ungar, who also has worked on albums for Laurie Anderson, Holly Cole, Fishbone, Guster, Janis Ian, the Temptations and other artists.
Ungar then handed the phone to her husband. Metzger, a native of the Milwaukee suburb of Shorewood, reported that the Cohen tour has been playing to sold-out houses and good press reviews. "It's just been an overwhelming response," he said.
"We do songs from every part of Leonard Cohen's career," explained Metzger, who has played with the enormously influential poet, novelist and songwriter since 1988.
Cohen's current tour is his first extended concert swing in some 15 years; he played the State Theatre in Minneapolis in 1993. (I attended his only other local show, a 1975 concert at Orchestra Hall.)
The tour wound through European cities from June through December last year, said Metzger. The American and Canadian concerts began in April and will run into early June, then the musical troupe heads back to Europe in July.
In a Billboard review of Cohen's warm-up concert for his U.S. tour, on Feb. 19, at the Beacon Theatre in New York City, Lavinia Jones Wright noted that the singer-songwriter's "energy throughout the performance was electric, driving the crowd to its feet after nearly every song. Cohen's touring band, led by musical director and bass player Roscoe Beck, laid a subtle, shimmering and sometimes funky background behind Cohen's celebrated lyrics and theater-shaking basso profundo. And the surprisingly spry singer wobbled into shuffling foot dances and rascally grapevine steps as guitarist Bob Metzger and saxophone player/multi-instrumentalist Dino Soldo took their solos."
Asked about Cohen's stage presence this time around, Metzger responded, "I think he's aged, but I think his voice is possibly even better than it was before. He's very focused on this tour. Obviously, he's 74 years old, so he needs to really rest a lot. And he saves his bullets for the stage — he's got tremendous stamina."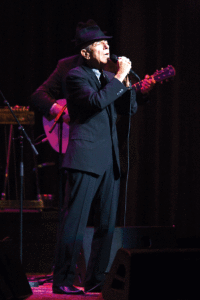 Metzger also commented that Cohen exhibits great humility onstage and shares the limelight with his musicians and technical crew. "He introduces the band, usually twice during the show … and thanks everyone involved in the show … He's been great; he's very gracious to the audiences."
In her review of the February show in New York City, Jones Wright stated that the "evening was joyful; for the audience, but more so for Cohen himself. He seemed positively elated to be back in front of an audience in his beloved city, skipping off the stage at the end of the main set and then again after each of two encores. Any first-timer would have seen every bit of the power of Leonard Cohen both as a performer and a songwriter in the show."
Underlining that sentiment, Cohen's guitar ace encouraged all Leonard Cohen fans to head for the Orpheum on May 3.
"The show is really worth seeing," Metzger enthused. "He's put together a great band … He's at the peak of his powers now."
***
Leonard Cohen will perform 8 p.m. Sunday, May 3 at the Orpheum Theatre in Minneapolis. For tickets, go to: ticketmaster.com.
(American Jewish World, May 1, 2009)