Best-selling author Mitch Albom will talk about his new book on Oct. 18 at Temple Israel
By ERIN ELLIOTT BRYAN /Â Community News Editor
How do you write a eulogy for the man who does eulogies?
That was a question with which best-selling author Mitch Albom struggled when he was asked to write a eulogy for his childhood rabbi — eight years before the rabbi's death.
"I joke around that it was an eight-year adult education course," Albom told the AJW last week. "Which, I think, he probably knew all along."
Rabbi Albert Lewis had served only one congregation in his career — Temple Beth Sholom in Cherry Hill, N.J. In an effort to get to know him "as a human being," Albom traveled back to his hometown to reacquaint himself with the only rabbi he had known.
Around the same time, Albom met a Christian pastor named Henry Covington, a former drug dealer and convict who now ministered to the homeless in inner city Detroit. Though they were very different, Albom saw striking similarities between the two men of faith.
"Until that time, I was searching for a eulogy for an old rabbi," Albom said. "When I started getting involved with the homeless and seeing these pastors and priests who were preaching to homeless people, and the homeless people were responding, I started to think of something very interesting here about two very, very different worlds — very, very different faiths, different races, different economies. Yet, with all that, there was a great similarity, that being what faith is able to do."
Albom's frequent visits with Lewis and Covington, and his reflections on what he learned over the course of those eight years, are chronicled in his new book, Have a Little Faith (Hyperion). Albom will present "Have a Little Faith: A True Story of a Last Request" on Oct. 18 at Temple Israel in Minneapolis.
When he was first approached to write Rabbi Lewis' eulogy, Albom admits that he wasn't religious. After leaving New Jersey, he never joined another synagogue and married a woman who was a Christian Arab.
"My strongest religious education was when I was a child, and I think that's true of a lot of people," Albom said. "I have been forced, by doing the book and all those visits over eight years, to go back and relearn my education. It's been interesting for me and I was reminded of how much stuff I really did learn when I was younger."
But while Albom was talking about Judaism in Rabbi Lewis' comfortable home in suburban New Jersey, he also was learning the harsh realities of life in downtown Detroit through Covington and his I Am My Brother's Keeper ministry.
Covington bases his ministry out of an old church on Trumbull Avenue that was $37,000 in debt to the gas company and has a gaping hole in the roof that let in the rain and snow. Despite that, homeless men and women took refuge in the building and listened to Covington's stories of forgiveness and redemption.
"I think we're so wrong about who we think homeless people are," Albom said. "They're not people who were released from insane asylums, they're not drooling and they're not mumbling and they're not beyond help. Really, that expression, 'There but by the grace of God go I.'"
Among the many charities of which Albom is a part, he has created S.A.Y. Detroit, an umbrella program to fund shelters and care for the homeless in the city. One-tenth of Albom's profits from Have a Little Faith will support a variety of charities, including the A Hole in the Roof Foundation, which helps repair places of worship that aid the homeless (his goal is to have Covington's hole in the roof fixed before this winter), and the Rabbi Albert Lewis Memorial Scholarship Fund.
"Ten years ago, I probably focused more on the worst examples of organized religion," Albom said. "Now, having seen the opposite of that, those quietly going about their business and about their faith, I think I'm much more encouraged, much more faithful myself."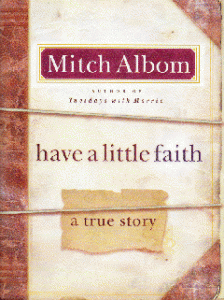 Albom has become more involved with his New Jersey synagogue, including celebrating the High Holidays and attending a recent book launch event there. But he also worships periodically with Covington in Detroit.
"Henry has dubbed me the first official Jewish member of the I Am My Brother's Keeper ministry, which is a badge of honor, the way I look at it," Albom said. "I'm very comfortable there. Henry talks a lot about the Old Testament, stories that I'm familiar with, and it's a sanctuary and a place where you can pray, and I do my own praying there sometimes."
Over the course of Albom's eight-year journey of faith, during which time he addressed some of life's biggest questions, he said he wants people to take away something very simple from his story.
"Hope. There's not a lot of that right now," he said. "That, and that people get along with one another maybe a little bit better when they realize that faith is something that actually could be used to pull us together instead of split us apart."
***
Albom will be the featured speaker at the ninth annual Temple Israel Speaker Forum and will speak 7:30 p.m. Sunday, Oct. 18 at the synagogue, 2324 Emerson Ave. S., Minneapolis. A book signing and dessert reception will follow.
Proceeds from the benefit support scholarships, programming and education. For tickets and information, call 612-374-0313 or visit: speaker@templeisrael.com.