Hanukkah in America: A History, by Dianne Ashton, New York University, 368 pages, $29.95
Reviewed by NEAL GENDLER
If you think the American celebration of Hanuka hugely beyond its religious significance is a postwar phenomenon, you're right – but likely off by a century.
Try the Civil War.
American rabbis began emphasizing Hanuka to counter assimilation even earlier, but the idea of giving gifts gained popularity in the prosperous second half of the 19th century, says Dianne Ashton, who uses the 1889 New York Times spelling for Hanukkah in America.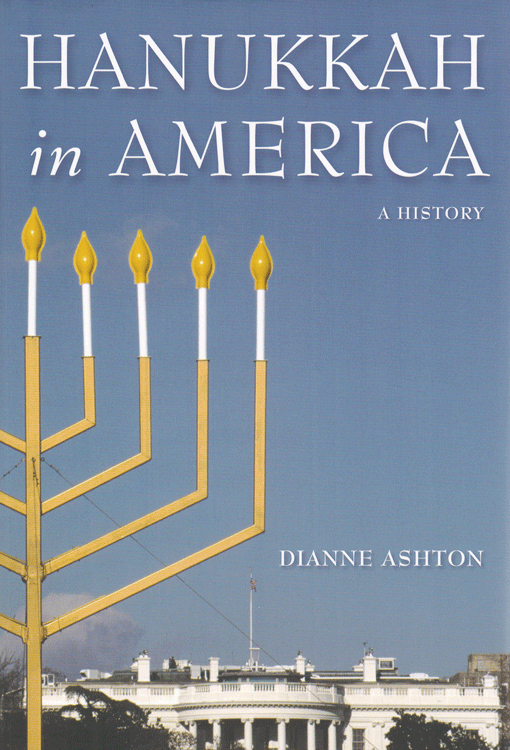 "We have no idea when the first families began to exchange gifts as the Menora candles burned, but it seemed to grow more common in the 1880s," says Ashton, professor of religion studies at Rowan University and editor of the scholarly journal American Jewish History. The idea of gift giving was promoted in American Israelite in 1881.
"Hanuka emerged as a newly meaningful holiday for 19th Century American Jewish leaders because its story provided images and lessons useful to…all sides of a heated debate about how Judaism should adapt to America," she says. Hanuka "became a flashpoint for the struggle between reformers and traditionalists over how best to promote Judaism among an American Jewish population that seemed disturbingly lax in its religious observance."
"All the talk about Maccabees" then was "largely a conversation among leaders who hoped to 'revitalize' what had become a 'forgotten…observance,'" as suggested by "the frequent exhortations to light the Hanuka Menora."
The Maccabee story illustrated virtue in not "Hellenizing," abandoning Jewish religion and practices; as a heroic tale to strengthen children's Jewish identity and pride, and to help Jewish families "feel part of the larger society at the season when they were most likely to feel excluded."
In augmenting a simple December rite, "Reform rabbis and tradition-minded American Jews alike elaborated on an element within Judaism that corresponded to an element of Christianity in order to resist Christianity," Ashton says.
Hanuka pageants became popular. Gift giving was promoted in the Yiddish press as early as 1906. After World War I, "most Jews seem to have accepted that the Christmas season challenged them to create memorable Jewish experiences for their children. … Presents became de rigueur."
Ashton says: "A dynamic alliance of rabbis and women became the most effective force enhancing the holiday's importance." In the 1920s, Reform and Conservative women's organizations encouraged women to organize communal Hanuka activities as a means to gain influence in congregational leadership.
Numerous rabbis have written guides for celebrating Hanuka; among those Ashton quotes is a 16-page manual by Rabbi Albert I. Gordon, executive director of United Synagogue of America. Published in 1947, the year after he left Minneapolis' Adath Jeshurun Synagogue, it was printed again in 2007.
Ashton's book is a history, not a manual, and it is thorough indeed. Her deep research included meeting minutes from the National Federation of Temple Sisterhoods and correspondence among board members. If her book is not definitive, I cannot imagine another, which is both virtue and problem. Although her writing is remarkably clear, the very detailed result reminds me of textbooks.
And I do wish an editor had saved this scholar from some common but grating language errors: using "fun" as an adjective (as in "a fun event") and the nouns "author" and "host" as verbs, and more than once misspelling "restaurateur" as "restauranteur." But we also get a charming phrase about chocolate "coins" transforming Hanuka gelt "from something to save to something to savor."
Ashton's mountain of interesting information includes the origin of "Maoz Tzur" and its Americanization into "Rock of Ages" the "miracle" switching between Maccabees and oil; the spread of Chabad's large hanukiot in public venues, and continual Americanizing of Hanuka until hanukiot are being lit in the White House.
The minor holiday once emphasized to keep us distinct has gained emphasis but lost distinctiveness, as shown in holiday-goods sections of major stores. In our time, Ashton says, Hanuka has moved "beyond the confines of Jewish homes and synagogues and into American culture."
***
Neal Gendler is a Minneapolis writer and editor
(American Jewish World 11.22.13)