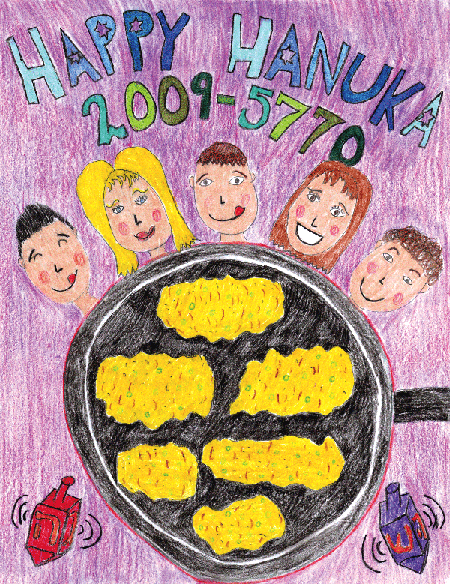 Hanuka art by Yasha Hoffman, winner of the 2009/5770 AJW Hanuka Cover Contest.
Hoffman's artwork appears on the cover of the Dec. 11 edition. Continue reading for more about Yasha and art from the runners-up.
American Jewish World Hanuka Cover Contest Winner:
Yasha Hoffman
Yasha Hoffman
This year's AJW Hanuka Cover Contest was very popular — more than 140 entries, from local schools as well as from many individuals and families, were sent to our office, making the task of selecting a winner a difficult one.
After much deliberation, our panel of judges did reach a decision and we are proud to announce that Yasha Hoffman is the winner of this year's 18th annual Hanuka Cover Contest. Yasha was the first runner-up in last year's contest and he demonstrates that perseverance pays off.
Yasha, who lives in Morris, Minn., is in eighth grade at Morris Area High School. In an interview with the AJW, he discussed the idea for his winning artwork.
"I have a family of people hungrily looking at a pan of frying latkes," he said. "I think that a lot of people eat latkes for Hanuka and it's a good thing that everyone knows."
Yasha likes his latkes with applesauce. He also likes lighting the candles in the hanukia, getting presents and playing dreidel. He and his family are members of Temple of Aaron in St. Paul.
At school, Yasha likes art, choir and geography. He is in speech and the art club, and is on the Knowledge Bowl team.
He also plays the French horn in band and the trumpet in jazz band, takes piano lessons, runs cross-country and plays soccer.
Yasha is the son of Marshall and Dr. Julia Hoffman. He has two brothers, Ira and Isaac, and one sister, Sara (Ira and Sara also entered this year's Hanuka Cover Contest).
As this year's winner, Yasha receives a gift certificate from Brochin's Books and Gifts, 5808 W. 36th St., St. Louis Park, courtesy of proprietor Barry Greenberg. Yasha and each of the runners-up also get a certificate suitable for framing.
Each winner will also receive a baseball-style cap with embroidered letters on the front, "AMERICAN JEWISH WORLD HANUKA COVER CONTEST WINNER," and other Hanuka treats.
We thank everybody who helped make our Hanuka Cover Contest fun and successful. And we thank all the young artists who entered our contest — you're all winners in our book.
We hope to see you next year!
— Erin Elliott Bryan
Hanuka Cover Contest Runners-up
1st RUNNER-UP: Talia Hoffman, 6th grade, Amos and Celia Heilicher Minneapolis Jewish Day School
2nd RUNNER-UP: Ari Buslovich, Gimel, Talmud Torah of Minneapolis
3rd RUNNER-UP: Ilana Weinstein, 5th grade, Amos and Celia Heilicher Minneapolis Jewish Day School
YOUNG LIGHTS HONOREE: Ivy Greenberg, 2nd grade, Amos and Celia Heilicher Minneapolis Jewish Day School