The iconic musical from the Broadway legends Lerner and Loewe will begin previews on June 28
By ERIN ELLIOTT BRYAN / Community News Editor
For the first time in its history, the Guthrie Theater will stage My Fair Lady, the enduring and enjoyable musical by the Jewish duo of lyricist and librettist Alan Jay Lerner and composer Frederick Loewe. The show is based on Pygmalion by playwright George Bernard Shaw.
My Fair Lady will be presented July 4 through Aug. 31 on the Guthrie's Wurtele Thrust Stage (previews begin June 28). The production features Helen Anker as Eliza Doolittle, Tony Sheldon as Colonel Pickering, Donald Corren as Alfred P. Doolittle — all in their Guthrie debuts — and Jeff McCarthy as Professor Henry Higgins.
Joe Dowling, the Guthrie's artistic director, directs the show, which he says is "the perfect musical."
"It's musical genius," Dowling told the AJW, during a telephone interview last week. "With My Fair Lady, [Lerner and Loewe] really hit the jackpot… in terms of how they created not only the synthesis of what Shaw had written, but also absolutely indelible characters: Alfred Doolittle, Freddy Eynsford-Hill, Higgins, of course, Pickering. These are all figures that have now become iconic in musical theater."
This family-friendly production is the story of Eliza Doolittle, a lower-class Cockney flower girl who yearns to speak like a lady, and Professor Henry Higgins, a lover of language who embarks on a social experiment to teach her "proper" English and turn her into a high-society swan.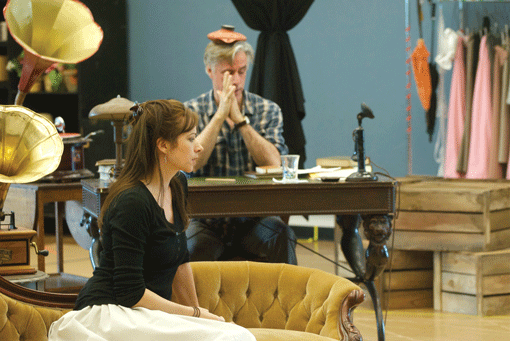 The show features some of the most unforgettable songs in musical theater history, including "I Could Have Danced All Night," "The Rain in Spain" and "On the Street Where You Live."
"Primarily, I think it's the songs," Dowling said of the show's appeal. "When you say My Fair Lady, everybody starts to sing immediately because they know all the songs."
In fact, when the Guthrie staged Pygmalion during the 2004-2005 season, it was well received, though Dowling thought the audiences wanted more.
"Because the play is a great deal more substantive than the musical, in terms of the text, when they would come to a certain point and there were lines like when she's learning 'the rain in Spain stays mainly in the plain,' audiences were almost expecting them to burst into song," Dowling said. "So in some ways — and I think this is the interesting thing about what Lerner and Loewe did — the play Pygmalion has become redundant because of My Fair Lady."
Like Pygmalion, which the Guthrie describes as a "delightful social satire," the musical touches on issues such as income inequality, rising into the middle class, defining differences among people, and access to education and opportunity.
Dowling said it "feels like the right time" to stage the show, but stressed that it is a "wonderful family musical."
My Fair Lady opened on Broadway in 1956, featuring Julie Andrews as Eliza and Rex Harrison as Professor Higgins. In 1957, the musical was nominated for nine Tony Awards and received six, including the award for Best Musical.
It ran until 1962, after 2,717 performances, which was a record at the time. The original London production opened in 1958, and ran for five and a half years. Numerous revivals have been staged.
Harrison reprised his role as Professor Higgins in the popular 1964 film adaption, for which Lerner wrote the screenplay. It was directed by George Cukor and featured Audrey Hepburn as Eliza (and Marni Nixon as Eliza's singing voice).
In 1964, the film was nominated for 12 Academy Awards and won eight, including Best Picture. Lerner was nominated for an Oscar for his adapted screenplay, but didn't win.
Despite its many incarnations, Dowling said that the life-affirming story still resonates with people all over the world. And he said the Guthrie production is rousing and fun, and will "lift the roof off the theater."
He also noted that the show will be presented on the Wurtele Thrust Stage, which is a more intimate space.
"It has such a richness about it. Every day in rehearsal, we're in awe of what [Lerner and Loewe] have achieved," Dowling said. "You're going to hear these great songs and see a really terrific cast produce this."
***
My Fair Lady will be staged July 4–Aug. 31 on the Wurtele Thrust Stage at the Guthrie Theater, 818 S. Second St., Minneapolis. Previews begin June 28.
For tickets and information, call 612-377-2224 or visit: www.guthrietheater.org.
(American Jewish World, 6.20.14)