by MAX SPARBER
The 23-year-old Minnesota Fringe Festival is one of the great experiments in theater. It is unjuried, which means that anyone who applied has a chance of being accepted, regardless of experience or the quality of their work.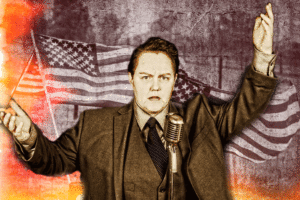 Instead, shows are picked by a lottery system. This means that a lot of work that would not get produced elsewhere winds up at the Fringe Festival. Occasionally, this is for the worse, as genuinely dreadful plays manage to make their way onto the stage every year. But, for the most part, it is for the better. Mainstream theater can be disappointingly unadventurous and unexpectedly myopic. The Fringe gives a chance for plays to take the stage that might not have a chance elsewhere, telling idiosyncratic stories and presenting worldviews that don't get much of a chance to be heard elsewhere.
And there are always some plays that directly address the Jewish experience, or provide opportunities for Jewish talent. Here is our list of plays in the 2017 Fringe that have some Jewish content.
Clutter, Chaos, Creativity and the Collyer Brothers
Illinois storyteller Judith Heineman, who was previously responsible for A Yiddish King Lear, presents stories of hoarding, including that of two Harlem brothers named Collyer who were found dead in the middle of 140 tons of items they had amassed. Heineman will give away "stuff" at the end of each show.
Aug. 4 – 9 at U of M Rarig Center Arena, 330 21st Ave. S., Minneapolis.
Hello, I Must Be Going…
Playwright  Garrett Rademacher with Mercury Ninety Productions tell the true story of Groucho Marx and his secretary Erin Fleming, who wound up taking control of Groucho's career, over the objection of Groucho's family.
Aug. 4 – 12 at Theatre in the Round, 245 Cedar Ave. S., Minneapolis.
Intermediate Physical Comedy for Advanced Beginners
Performers  Joshua Scrimshaw and Levi Weinhagen are two of the Fringe's most dependable talents, annually producing plays that are at once indulgently silly and undeniably hilarious. This year, they play professors teaching the basics of physical comedy. The twist: neither really knows what they are doing.
Aug. 3- 13 at U of M Rarig Center Thrust, 330 21st Ave. S., Minneapolis.
It Can't Happen Here
Kit Bix adapts Sinclair Lewis's prescient novel about fascism coming to America, based on the Federal Theatre Project's 1936 production of the play.
Aug. 3 – 13 at Ritz Theater Studio, 345 13th Ave. NE, Minneapolis.
Melody Mendis is "Barbra"
Local cabaret performer Melody Mendis has made something of a cottage industry with her spookily accurate vocal impression of Barbra Streisand. Mendis has been enjoying sold-out performances of her one-woman show about Streisand, and brings that show to the Fringe.
Aug. 4 -12 at Crane Theater, 2303 Kennedy St. NE #120, Minneapolis.
The New Gig Economy, A Musical
Playwright Phillip Finkelstein tells of a group of contingent workers who are hired and laid off the same day, providing a glimpse into the experiences of employees who have no guaranteed hours, pay, benefits, or even a job.
Aug. 4 – 13 at Phoenix Theater, 2605 Hennepin Ave., Minneapolis.
A Pickle
Playwright Deborah Yarchun's play in inspired by a true story in which a state fair rejected kosher pickles for looking spoiled. Described as a "darkly comedic look at pickle prejudice."
Aug. 4 – 13 at Ritz Theater Studio, 345 13th Ave. NE, Minneapolis.
Stranger
Morgan Holmes and Erika Levy of the Perspectives Theater Company present a play that looks at one of the least-represented stories in Jewish theater, that of Jews of color. They describe the play in this way: "Memory, history, text and ritual entangle three strangers in a sprawling, modern epic, summoning the immense joy, messiness and struggle of being seen at the intersection of race and faith."
Aug. 3 – 12 at U of M Rarig Center Arena, 330 21st Ave. S., Minneapolis.
Wellstone: A Minnesotan Musical
Playwright Bryn Tanner looks at the life of Minnesota's beloved politician through musical theater. Set during a brutal reelection campaign, the story has Wellstone coping "with both a debilitating illness and a corrupt Washington, D.C."
Aug. 5 – 12 at U of M Rarig Center Thrust, 330 21st Ave. S., Minneapolis.
For information about specific shows, showtimes and tickets, visit fringefestival.org.
(American Jewish World, 7.28.17)