Reviewed by NEAL GENDLER
Deborah Feldman was unorthodox long before leaving Orthodoxy.
As a child, Feldman led outer and inner lives, acting the good Hasidic girl while defying restrictions on her thirst for knowledge.
Raised by loving grandparents in Brooklyn's Williamsburg area of anti-Zionist Satmar Jews, she never quite fit in. Her autobiographical Unorthodox, out in economical paperback with a new epilogue, says that in the Satmar world, reputation is everything.
Hers was blemished. Her mother had left the community, "and I carry the burden of that disgrace," she says. Her father is an embarrassment, apparently with below-average intellect and perhaps mental illness in a community where those can damage family chances for children to make good marriages.
Still, she is sent to psychiatrists; the third calls her an "individualist." She storms out, goes to a library and finds pleasure in books by children's author — and reputed anti-Semite — Roald Dahl. Secular books are forbidden, but she gets and hides them. She even buys a Schottenstein volume of Talmud, realizing years later that with it, she "stopped believing in authority just for its own sake and started coming to my own conclusions about the world."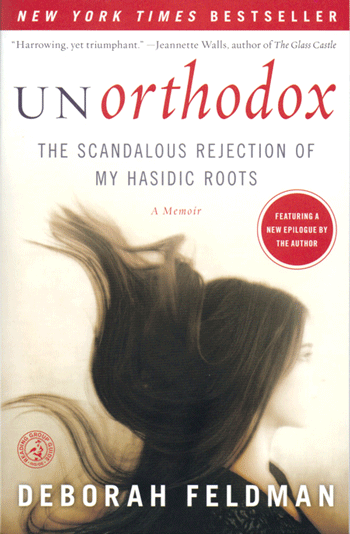 Surreptitiously, she reads novels with heroines who, like her, feel out of place. "Zeidy says the English language acts like a slow poison to the soul" and insists she always speak Yiddish, "the language of my ancestors that God approves of," she says. But she excels in English class, where other girls barely can read. "Zeidy doesn't know it, but I don't even think in Yiddish anymore. The books he claims are treacherous serpents have become my close friends."
Feldman's first-person, present-tense style seems odd at first, but it gives an intimate feel. To her credit, she treats her former community mostly with respect, just wrong for a girl "who wants to know more than she is allowed."
It's important to read Unorthodox nonjudgmentally, or at least without scorn or in the context of Israel's cultural battles. Satmar's ways might fit most of us like a straitjacket, but Satmar isn't trying to impose them on us. People can leave if they're willing to bear and inflict emotional costs.
"I don't feel like Satmar," Feldman says. "I am hungry for power, but not to lord it over others; only to own myself." Her school, which teaches that "God sent Hitler to punish the Jews for enlightening themselves," goes through what would be eleventh grade; more is thought pointless. With good grades, she is hired at $128 a week to teach sixth grade, increasing her confidence and her wardrobe.
All along, she knew Zeidy would "start looking into matches when I turn 16, and he won't wait long." He doesn't, and by the time she's 17, a meeting is arranged in a grocery for her and her Aunt Chaya with a man's unimpressive mother and disagreeable-looking sister.
That test passed, the families meet in Chaya's home. Shortly, the families retreat to the kitchen, leaving Deborah and blond, blue-eyed Eli, 22, to awkward conversation. She decides he's OK, and they walk into the kitchen for a waiting engagement celebration.
Their wedding night begins a year of sexual incompetence. Finally, she becomes pregnant, but their relationship remains strained. She has difficulty connecting with people, even her infant son, and she realizes the world is full of people who aren't Hasidic "and no one is punishing them."
Enrolling in adult studies at Sarah Lawrence — telling Eli she wants to learn business skills — she takes a poetry class. Her desire for a less-constrained life grows, her marriage deteriorates, and before she's 24, she has left Satmar, divorced with unexpected child custody and a "recent penchant for all things pork and shellfish."
Her epilogue admits that she's paid a high price. Her book — first published in February — has brought her hate and abuse, but "I have claimed my place in the world," she says. "I'm finally free to be myself."
***
Neal Gendler is a Minneapolis writer and editor.
As part of the 2012 Twin Cities Jewish Book Fair, presented in partnership with the Friends of the Saint Paul Public Library and Hazelden, Deborah Feldman will read from Unorthodox: The Scandalous Rejection of My Hasidic Roots 7 p.m. Saturday, Nov. 17 at the St. Paul JCC, 1375 St. Paul Ave. Tickets are $9, or $6 for St. Paul JCC members. For information, visit: www.stpauljcc.org.
(American Jewish World, 11.9.12)