In her debut film, Rama Burshtein portrays her community of observant Jews, 'trying to say something from within'
By MICHAEL FOX
Rama Burshtein's gripping debut, Fill the Void, focuses on the quietly dramatic domestic lives of religious Jews in Israel.
Even more rare and unusual, however, is that the director is a member of that community, an observant Jew. And, as you discerned, a woman.
Born in New York and a self-described "wild child" back in the day, Burshtein became religious while she was studying at the Sam Spiegel Film and Television School in Jerusalem. The deeply empathetic Fill the Void wasn't made for her community, she emphasizes in an interview after a screening at the San Francisco International Film Festival a few weeks ago, but for everyone else.
"It's you that doesn't know about us," Burshtein explained. "I did the film out of pain, that we're portrayed only [by] outsiders. No one from within really portrays us and we have no culture voice in the world, which is crazy because we're 3,000 years old and we're very wise and we're very open-minded, and it's crazy that we don't have a voice. So I made a little squeak, trying to say something from within."
Fill the Void, which Burshtein calls "a crazy love story" and a journey "from the impossible to the only possibility," opens Friday, June 14 in an exclusive engagement at the Landmark Edina Cinema.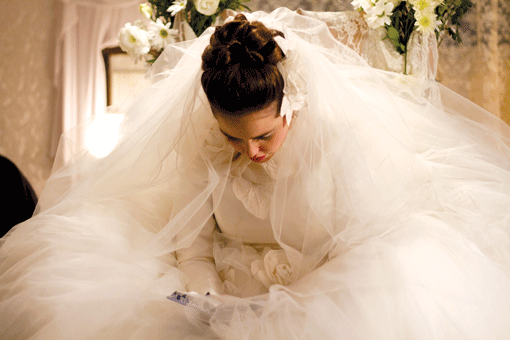 The film revolves around teenage Shira (Hadas Yaron, who received the Best Actress prize at the Venice Film Festival), whose marriage plans are upended when her pregnant older sister dies suddenly, leaving a widower and a newborn as well as grieving parents.
Torn between her dreams and a sense of responsibility to her mother and father, Shira grapples with the strange, alluring and vaguely frightening prospect of marrying her brother-in-law. However, unlike most films set among traditional, cloistered and religious people, the parents and rabbi aren't depicted as agents of repression and suffering.
"I think it's like a secret in life, which of course I did not make up, that if you start seeing the world without villains, then dialogue can start," the 40-something filmmaker muses. "It's very childish to work with villains and good guys and bad guys. So I specifically went [about] opening the dialogue."
Misconceptions around arranged marriage are likewise addressed, with Shira having a definite say-so in who she marries. In the film's mysterious and unexpectedly amusing opening scene, she and her mother surreptitiously check out a potential prospect — proposed by a matchmaker — in a supermarket.
"This is like a true portrait," Burshtein declares. "This is how it works. Shira would probably meet the guy from the super, and he's a good guy and she likes the way he looks and they will marry and from that commitment they will build generations. She will sit with someone, and if it doesn't feel right, and it doesn't move her in any way, she will not marry him."
Burshtein evinces amazement that Fill the Void has traveled as far as it has, from international festivals to Israel's official submission for the Foreign Language Oscar to a national theatrical release in the United States. She's even more stunned at the range of ways in which the audiences interpret and respond to the characters.
"There's something very weird about this film," Burshtein confides with a smile. "I think if I had really meant it, I would be a genius. But because I'm not a genius, I didn't really mean it. I will not take that feather and put it on my hat.
"Everyone reads [the film] differently. But really differently. Someone will say this is a war movie, and someone will say it's a peace movie. This is a victims' movie, and someone will say it's a love story. Some think it's so tragic and some think it's so romantic. I have no idea how it happened. I did not mean that. I meant to do a love story, only very delicate. The real location of the film is Shira's heart, and the journey is to understand what she feels."
Fill the Void unfolds with a great deal of tension and ambiguity, an approach that heightens the viewer's fascination and identification with Shira, and provokes immediate discussion after the credits roll. With a chuckle, Burshtein attributes the film's power to luck rather than forethought or skill.
"[Her heart] is where everything happens. It's a house with rooms. Because she doesn't have the words for it, because I am crazy enough not to [include] a girlfriend so she would tell her what's going on, it's up to you to decide."
***
Fill the Void opens Friday, June 14 in an exclusive engagement at the Landmark Edina Cinema, 3911 W. 50th St. The film is in Hebrew with English subtitles, and rated PG for "mild thematic elements and brief smoking."
(American Jewish World, 6.7.13)
Here's the trailer: