The Geneva Option, by Adam LeBor, Bourbon Street Books, 352 pages, $14.99
Reviewed by NEAL GENDLER
A good detective story or "thriller" tidies up well, weaving plot strands together in a compact ending that usually resolves questions raised in development of the story.
Adam LeBor's ending to The Geneva Option follows the pattern, its bad guys thwarted and its hero — in this book, heroine Yael Azoulay — restored to honor. But rather too tidily, with too much honor and a few too many questions about her unanswered. For example, why is her late brother's surname Weiss?
Perhaps we'll learn more in other episodes of what Budapest-based LeBor plans as a Yael Azoulay series that already includes a short story, The Istanbul Connection. LeBor, who writes for the Economist, the New York Times, the Times (London) and other publications, is the author of the investigative Hitler's Secret Bankers. In May, he wrote in the Times of Israel that Azoulay was inspired by the biblical Yael, and the book by his observations covering the Balkan wars, in which United Nations troops failed to prevent the slaughter of 8,000 Bosnian Muslims.
In Geneva, Azoulay is a 35-year-old high-level U.N. dealmaker closely tied to the secretary-general. Her background hints at important Israeli security work with advanced training in espionage and self-defense.
She's a bit too smart, beautiful, accomplished and competent to seem real, but this is, after all, fiction. Geneva combines the usual ingredients: opening with a murder and continuing with a conspiracy, kidnapping and several homicides.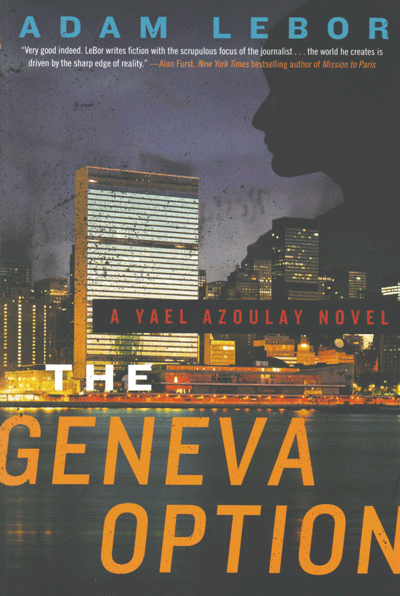 Although the plot seems a bit thin, it's perfect for a movie: A conspiracy of high U.N. officials, an African warlord and German conglomerate KZX plan to take over an area of Congo that produces coltan, a mineral essential in electronic devices. The conspirators have created a purportedly humanitarian U.N.-KZX partnership for Africa. Secretly, they would foment a massacre, to be followed by U.N. peacekeepers eventually replaced by the partnership's own security force, supplied by the amusingly named Efrat Global Solutions. The partnership would control the area and the supply of coltan (which in reality comes from several nations.)
It's not unusual for Germans to be the heavies in fiction, but here, so are Israelis. Efrat owner Menachem Stein is a former IDF general with a mysterious past suggested as unsavory, and two of his officers are retired colonels. Efrat, of course, is a real-life city of 8,000 east of the 1949 armistice line — and the name of an Israeli anti-abortion organization.
Supporting-role heroes are Yael's bodyguard Joe-Don, a Minnesota-born U.S. Special Forces veteran of amazing wile, connections, equipment and an ability to show up at the right time, as well as three U.N. correspondents: Sami, of the New York Times, a Christian from Gaza; Jonathan, his counterpart from London's Times; and Najwa, the royal, multilingual, long-legged reporter for Al-Jezeera.
All this is imaginative, if perhaps a bit formulaic; what elevates LeBor's novel above many others is its portrayal of the U.N. as a "modern-day fusion of the court of the Borgias and the last days of the Roman Empire… a lumbering, uncoordinated bureaucratic machine fueled by intrigue, lubricated by betrayal, staffed by spies, sycophants, a handful of idealists and sinecured relatives of Third World potentates."
That resembles the characterization by Pedro Sanjuan, appointed by the first President Bush to a high-ranking U.N. post for the purpose of keeping tabs on Soviet spying. His hilarious yet alarming 2005 account, The UN Gang, is subtitled: "A Memoir of Incompetence, Corruption, Espionage, anti-Semitism and Islamic Extremism at the UN Secretariat."
Neither Islam nor Israel is central to The Geneva Option; Efrat is a secondary actor. I won't give away more of the plot, which, of course, is foiled by a hair, and just in time.
The Geneva Option, a title referring to the U.N.'s base in Switzerland, is a page-turning tale told in LeBor's very clear, plain, newspaper-reporter sentences.
I hope we'll soon see more of the adventures of the plucky Ms. Azoulay.
***
Neal Gendler is a Minneapolis writer and editor.
(American Jewish World, 6.21.13)