The Impossible Exile: Stefan Zweig at the End of the World, by George Prochnik, Other Press, 390 pages, $27.95
Reviewed by NEAL GENDLER
Before Austria joyously made itself into part of Germany in 1938, Vienna Jew Stefan Zweig was the world's most widely translated living author and a literary superstar.
Don't feel bad if you haven't heard of him. Even author George Prochnik says, "His name never came up in the course of my American education." He discovered Zweig years later, during a writing project centered in Brazil.
Prochnik had found one of Zweig's late works, a joyous tribute to Brazil, where Zweig and his wife Lotte made their last home in August 1941.
Zweig, the second son of a wealthy family, began writing before World War I and appeared often in Neue Freie Presse, a newspaper of Theodor Herzl — Zweig's mentor for a time. But Zweig, a pacifist and humanist who deplored nationalism, opposed Zionism.
Prochnik calls Zweig "one of the most lionized writers in the world," popular even in America into the 1940s. Prochnik says "the theme of isolation became a constant" for Zweig, who "wrote in order to belong, but what he wrote about was the experience of not belonging." (Sounds Jewish?)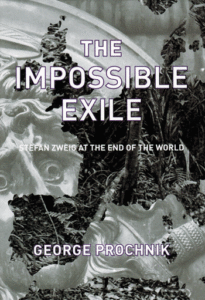 Prochnik describes Zweig as "a restless wandering Jew [he traveled globally], stupendously prolific author, tireless advocate for pan-European humanism, relentless networker, impeccable host… book collector [more than 10,000 volumes], alligator shoe wearer, dandy, depressive, café enthusiast," casual womanizer and one of those "who incarnate the enchantments and corruptions of their environment."
I wish I'd known him. Prochnik does a good job of acquainting us and showing how Zweig was molded by his interests, genius and times — the last recounted in his hit memoir, The World of Yesterday.
A "consummate host," Zweig was said to have "a genius for friendship." A contemporary, Klaus Mann, said: "Every hotel room he occupied, whether for a few days or weeks, became a center of literary activities." Yet, Prochnik says, convivial Zweig profoundly "failed to feel at home even inside his own flesh."
Zweig's 19-year marriage ended in an amicable 1938 divorce caused partly by his prolonged, often sudden, absences. He soon married the quiet woman about half his age that his wife had hired as his secretary, Lotte Altmann, a great-granddaughter of Rabbi Samson Raphael Hirsch, "a founding spirit of modern Orthodoxy."
Zweig, whose books were burned and banned in Germany, began his exile in 1934, first in Britain, then in the United States — which he found culturally backward — and finally in a town near Rio de Janeiro that he considered paradise for its scenery and civic harmony. Uncommonly among refugees, he had plenty of money, yet "he was no closer to finding a palliative for all he'd lost."
Prochnik lightly salts this story with his own family's exile from Vienna in 1938, adding a warm, first-person touch.
As I read, I kept questioning whether 368 pages about someone who until recently had "all but vanished" in English were worth reviewing, but I realized I was turning those pages with anticipation, even delight. Prochnik says Zweig's work is reissued frequently in Europe and reaches best-seller lists.
Prochnik's approach is less of biographical detail than of explaining Zweig — who gave Freud's eulogy — in his social, cultural and psychological context, teaching us much about oft-idealized pre-Nazi Vienna and a European culture destroyed by two world wars. (Zweig complained that New York City had no coffeehouses where, as in Vienna, one could linger for hours or a day, reading, writing and conversing — an American deficiency now more than overcome.)
Despite the occasional high-falutin' word, Prochnik, who has taught English and American literature at Hebrew University, writes clearly and compellingly. Layout and type size are pleasing. I found dates a little hazy — a chronology would have helped greatly — and the name-laden work begs for an index. Midway through, I discovered the photo captions, inconveniently listed at book's end.
The story does not end happily, but it is enlightening and enjoyable.
***
Neal Gendler is a Minneapolis writer and editor.
(American Jewish World, 5.23.14)