AJW Staff Report
Jewish rocker Ezra Furman has been getting great press lately.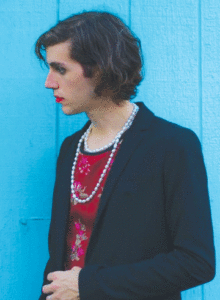 Writing in The Guardian (London), Michael Hann suggested that Furman, 32, a Chicago native, will never be a star: "He's unlikely star material after all, a young man in a dress and vigorously applied make-up, singing about his Jewish faith, his depression, his anger and his joy, to a backing of 50s rock'n'roll, interspersed with bits of garage rock and Velvet Undergroundish R&B. Imagine Jonathan Richman's even nerdier younger brother, from Chicago rather than Boston, and you're partway there."
However, Hann continued, "it's indisputable that he's having what one might call a moment — a couple of low-key British gigs this week sold out in hours, and those who know him think he's one of the most compelling artists working at the moment."
Music fans in the Twin Cities will get to see what all the hullabaloo is about when Furman plays The Cedar on Nov. 28. First Avenue rented the West Bank music hub for this gig.
The Jewish World will publish a feature story about Furman in the Nov. 16 edition.
***
The Jewish World's Oct. 19 edition featured a Page 1 blurb about the memoir, Been So Long: My Life and Music, by guitarist Jorma Kaukonen.
After that issue went to press, we learned that Hot Tuna,the long-running Americana band of Kaukonen and bassist Jack Casady (both are former members of the Jefferson Airplane), will perform in concert Dec. 8 at the Hopkins Center for the Arts.
In addition to the music, Kaukonen will sign copies of his book after the show.
***
Lisa Gutkin took some time out of her schedule in March, during the run of Indecent at the Guthrie, to talk to Jewish World. In addition to being a co-composer, with Aaron Halva, of the show written by Paula Vogel, Gutkin was the Yiddish coach and performed onstage with Spencer Chandler, accordion, and Pat O'Keefe, clarinet.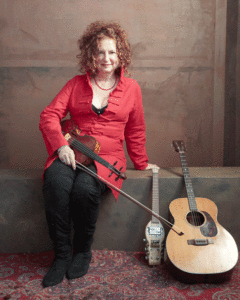 The trio returns to The Cedar stage in Minneapolis on Dec. 9, for a show titled "Lisa Gutkin — The Music and Musicians of Indecent."
The show also will celebrate Hanuka with some uproarious klezmer dance tunes — Gutkin is a member of The Klezmatics, one of the premier klezmer ensembles on the planet. The trio also will perform some original songs.
(American Jewish World, 11.2.18)