Susan Stein will perform Etty, based on the writings of Etty Hillesum, on Dec. 8 at the JSB Tek Box in the Cowles Center for Dance
By MORDECAI SPECKTOR
Over the past two weeks, Susan Stein has performed her one-woman play, Etty, for inmates at the Stillwater and Shakopee state prisons.
"The prison performances are very powerful," she told the AJW.
Etty, an hourlong play, is drawn from the diaries and letters of Esther "Etty" Hillesum, a Dutch Jew who was rounded up during the Nazi occupation of the Netherlands and sent to the Westerbork transit camp. She died in Auschwitz on Nov. 30, 1943, according to the Red Cross. She was 29.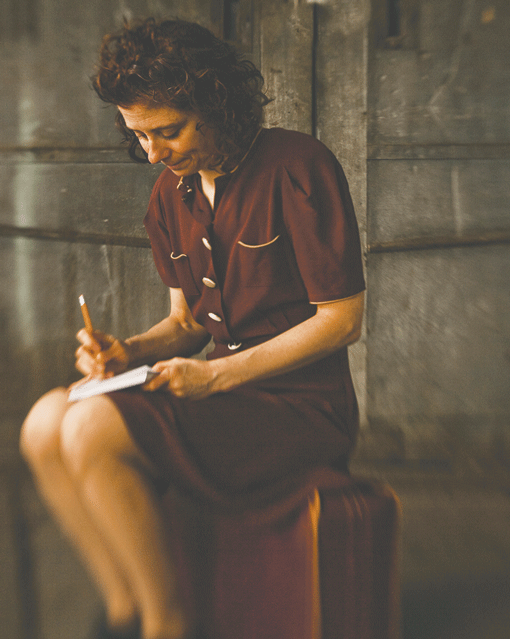 As part of the Rimon Salon Series, Stein will be featured in a program titled "Conversations with Etty," which consists of excerpts from Etty, 2 p.m. Sunday, Dec. 8 at the JSB Tek Box at the Cowles Center for Dance in downtown Minneapolis.
Stein is now in the Twin Cities, teaching in local prisons, at the St. Paul JCC and at Temple Israel through a project support grant from Rimon: The Minnesota Jewish Arts Council. The Tychman Shapiro Gallery of the Sabes JCC and the Jewish Community Relations Council of Minnesota and the Dakotas (JCRC) are co-sponsors of "Conversations with Etty."
Getting back to the prisons, in January of this year, Stein brought Etty to "nine high security prisons in Scotland, and I'm going back to Scotland this January, so I'll be bringing [the play] back to more prisons in the U.K.," Stein said, during a telephone interview this week.
She also has performed Etty in various venues, including prisons, in Ireland, England, Belgium and the Netherlands.
"I think that Etty's story is a prison story," Stein explained, regarding her performances in prisons here and abroad. "She's imprisoned; and her great letters that became part of the Dutch resistance were written while she was in prison. She understands her imprisonment, and she is certainly writing about how Europe is becoming a larger prison and that soon there will be nobody left outside."
In addition to her performances of Etty in Minnesota prisons, Stein is leading reading workshops at Stillwater prison and the women's prison in Shakopee.
Stein allows that the prison inmates here realize that their situations are not exactly analogous to what Hillesum experienced, but they take some hope from the young Dutch lawyer's writing.
For example, while at Westerbork, the Nazi transit camp in the Netherlands, Hillesum wrote a letter in which "she talks about walking along the barbed wire, and how she's not giving up on life," Stein recalls.
This is the passage from Hillesum's letter (from Etty Hillesum: An Interrupted Life) that Stein refers to:
All I wanted to say was this: the misery here is quite terrible and yet, late at night when the day has slunk away into the depths behind me, I often walk with a spring in my step along the barbed wire and then time and again it soars straight from my heart — I can't help it, that's just the way it is, like some elementary force—the feeling that life is glorious and magnificent and that one day we shall be building a whole new world.  Against every new outrage and every fresh horror we shall put up one more piece of love and goodness.
Stein and the Shakopee women inmates read that passage this week. "One of the inmates wrote: 'She has brought a new profoundly positive outlook to us. If Etty can have a spring in her step along the barbed wire fence, so can I.'"
While most Jews, most people, know the name Anne Frank, Etty Hillesum's life and writing are less well known. Hillesum is sometimes referred to as the "adult Anne Frank."
"Yes, I think that's fair," says Stein. "I think that had Anne Frank lived another 15 years, she was on her way to becoming like Etty. They're both products of the Enlightenment. They're both highly assimilated Jews. They're both young female writers. They both refused to demonize or hate their perpetrators. So in that way they are similar."
And there are some stark differences, too. "Anne Frank is a girl," Stein adds. "Etty is sexual, she has lovers, and she has an active sexual life. Anne is in hiding, and Etty refused to go into hiding."
In fact, Hillesum went in and out of Westerbork at various times — she returned to Amsterdam, and then rejoined the Jews in Westerbork, many of whom were sent on to death camps in Poland.
"She wanted to go through what the Jews were going through," says Stein.
During our conversation, Stein talks of Hillesum as if she is a contemporary, and admits, "I've been living inside of her diaries for six and a half years."
Following the performance at the Dec. 8 Rimon Salon, there will be a discussion about Etty Hillesum. Stein will be joined by local theater director Carolyn Levy. They will discuss how theater can create strong communal experiences, in settings ranging from traditional theaters to prisons.
"The play is unusual, it doesn't follow a narrative — where the play brings you is [Hillesum's] internal thinking," says Stein. "Audiences are not used to that; it's an unusual theater experience. And after that, now that they've been brought to her thinking, and it brings them to their own thinking, people really want to continue the conversation. This conversation has become a very interesting part of the project."
Stein credits the conversations around Etty as part of the project's international appeal. "I'm interested in bringing it to as many people as possible. I was really interested in it being in America. I'm surprised, and I have continued to be surprised, at how I keep going back over to Europe. I didn't know that was going to happen."
On Jan. 15, 2014, the centennial of Etty Hillesum's birth will be marked by an international gathering at the Etty Hillesum Research Centre, at Ghent University in Belgium.
"There will be academics and people flocking there from all over… and I'll get to present the play there and give a talk on the project," comments Stein, who is a native New Yorker.
In her letter from Westerbork quoted previously, Hillesum concluded:
Ultimately, we have just one moral duty: to reclaim large areas of peace in ourselves, more and more peace, and to reflect it towards others. And the more peace there is in us, the more peace there will be in our troubled world.
Sometimes the most important thing in a whole day is the rest we take between two deep breaths.
***
Susan Stein will perform "Conversations with Etty," part of the Rimon Salon Series, 2 p.m. Sunday, Dec. 8 at the JSB Tek Box at the Cowles Center for Dance, second floor, 528 Hennepin Ave., Minneapolis. Tickets are $10, $5 for students, and can be reserved online at: rimonMN.org.
 (American Jewish World, 12.6.13)