By ERIN ELLIOTT BRYAN / Community News Editor
When Venezuelan native Vanessa Dembo moved to the Twin Cities three and a half years ago, she hired musician Mark Bloom to play for her wedding to Rob Winnick. It was a joyous occasion, and also marked the first time Dembo and Bloom sang together. They stayed in touch, keeping open the possibility of a future collaboration.
In the meantime, Dembo began teaching Zumba, a dance fitness program inspired by Latin rhythms, at the Sabes JCC. And Bloom, who directs the 55+ Musical Minyan, was working to add a musical performance series to the JCC's offerings.
"I started doing the Zumba to do something related to music, but I always wanted to sing," Dembo told the AJW. "Now, everything is falling into the right place with this project that we have together."
Finally the pair made something work, performing together at Knollwood Place in October 2009. Now, Dembo and Bloom have formed the duo Kavanessence, performing "sophisticated world jazz." They performed for a Sabes JCC fundraiser on Nov. 6 and at Temple Israel's Jazz Shabbat service on Nov. 26.
On Dec. 19, Kavanessence will perform with Kenni Holmen (woodwinds) and Marc Anderson (percussion), as part of the Sabes JCC's Jazz at the J series.
The concert will be set up cabaret-style with tables in the JCC's auditorium — as opposed to the theater — allowing for a more interactive and intimate performance.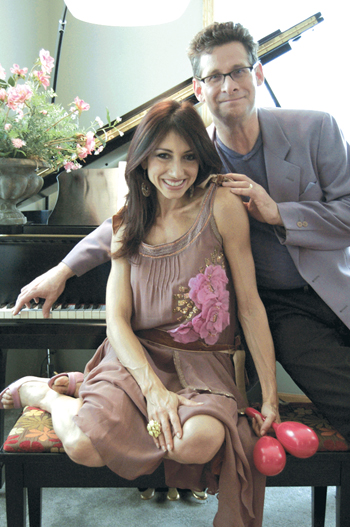 Bloom is an accomplished pianist, stage and musical director, producer and performing artist. He has produced hundreds of scores for stage and film, and frequently performs nightclub and session work. In addition to the Musical Minyan, he leads the wedding and corporate event band Marquis Music, and fusion ensemble Kavannah.
Dembo is one of the most renowned vocalists in Venezuela. She has hosted radio and TV shows, and performed jingles and voice-overs for commercials. She has also performed in numerous Broadway tribute productions, and has opened for the international superstar Chayanne in Caracas.
Together, Dembo and Bloom's Kavanessence works to find a deeper meaning to music — the essence of the soul, they say.
"The word kavana implies interpretation or intention," Bloom said. "I've taken it like jazz, there's things that it's based on. Keva is the term for something that is, we all understand, these are the words and then kavana is what's in between the words or how we interpret them. And that relates to Jewish prayer, but I think it also relates to plain and simple music."
While Dembo and Bloom have a varied repertoire — including Venezuelan and American jazz standards, Broadway show tunes and Jewish prayers, as well as songs sung in English, Spanish, Hebrew, Yiddish and Ladino — each show features different music and includes a lot of improvisation. Most of the songs the duo performs will be familiar to audiences, but may not sound exactly like some popular versions.
"It's exploring that area in between that makes things come alive," Bloom said. "Everyone talks about Jewish journeys. I've always maintained that this Jewish musical journey changes as the times go."
Dembo agreed, adding that she and Bloom, as Jewish performers, can bring another level of spirituality to the music.
"You can bring your soul out there even more because it's in your blood," she said. "I really like to connect with that every time I sing."
For Bloom, Dembo's background has introduced him to music and composers he had not heard before; he dispelled the myth that there is one type of "Latin music." Recently, they have been working with music composed by the late Aldemaro Romero, who created "new wave" music combining jazz with folkloric Venezuelan music, and the Jewish Venezuelan composer Ilan Chester.
"Each of these cultures has got some unique things," Bloom said. "There's an elegance and sophistication to some of this music by Romero and some of the other music that I've listened to."
Dembo said both she and Bloom enjoy performing for audiences who will appreciate the music.
"This gives us the opportunity to perform, enjoy it and have the audience totally involved in what we're doing," Dembo said.
"It's more like art," Bloom added. "It involves both the brain and the soul."
***
The Jazz at the J concert will take place 7 p.m. Sunday, Dec. 19 at the Sabes JCC, 4330 Cedar Lake Rd. S., St. Louis Park. Tickets are $15 for the general public, $12 for JCC members and $10 for students; call 952-381-3499 or visit: www.theatreormpls.org.
For information on Kavanessence, which can be booked for private events, visit: www.vanessadembo.com or www.markbloom.com.
(American Jewish World, 12.10.10)