Mark is a lonely writer still hurting from his partner's death some years before. Then he meets Todd, an enigmatic young male escort whose charm and resilience attract and impress Mark, but whose past remains murky. Soon the two find themselves in an unlikely relationship that neither really understands — and that will either heal them both or tear them to shreds.
Skiing on Broken Glass, by local Jewish playwright David Goldstein, and directed by Joe Dowling, will be presented Oct. 29 through Nov. 17 in the Guthrie Theater's Dowling Studio.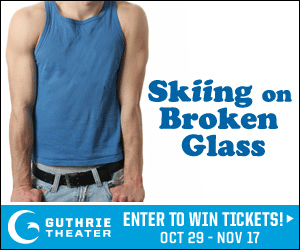 Courtesy of the Guthrie, the American Jewish World is holding a drawing for a pair of tickets to the first preview performance of the play on Tuesday, Oct. 29.
To enter the drawing, send an e-mail to: editor [at] ajwnews [dot] com. In the subject line, please write: Tickets for Skiing.
The deadline for entries is 5 p.m. Monday, Oct. 21. Please, only one entry per person.