The Senate confirmation hearing for Supreme Court justice nominee Elena Kagan — who is in line to become the third Jew and the third woman serving on the high court — took a bizarre turn early on, when Sen. Chuck Grassley, R-Iowa, and Sen. Jon Kyl, R-Ariz., took swipes at Kagan's admiration for a former Israeli Supreme Court president.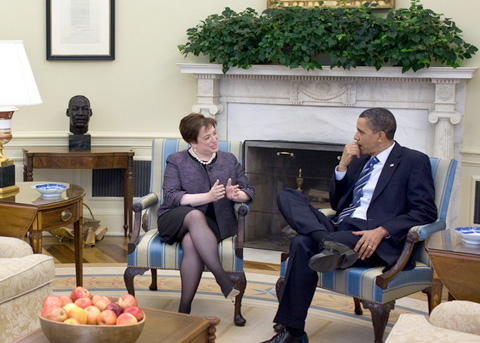 Kagan was forced to explain why she referred to Aharon Barak, president of Israel's Supreme Court from 1995 to 2006, as her "hero," when she welcomed him to Harvard Law School, where she served as dean.
Barak's record as a Supreme Court president in Israel — which does not even have a constitution — would seem to be fairly remote from most Americans' calculations about Kagan's fitness to serve.
In other banter of Jewish interest, Sen. Lindsey Graham, R-S.C., asked the solicitor general what she was doing last Christmas Day.
After initially thinking that the question was about the legal treatment of an alleged terrorist aboard a Northwest airliner in Detroit, Kagan responded, "You know, like all Jews, I was probably at a Chinese restaurant."
Graham later asked Kagan about the attempted bombing plot on the airplane. — Mordecai Specktor