By BECKIE SKELTON
It's rare that a single experience transforms a person's identity forever. Life is a series of experiences, each one impacting and molding the person that we ultimately become.
Yet for Leonard Parker, a single day transformed his Jewish identity forever. His role as a member of the first platoon to enter Dachau in April 1945 impacted not only his life, but the lives of his children and grandchildren. This experience had ripples for many ensuing decades, shaping his commitment to the Jewish community, to Jewish education, and to his large and close-knit family.
The Amos and Celia Heilicher Minneapolis Jewish Day School (HMJDS) has been among the recipients of this exceptional dedication. HMJDS is deeply appreciative of the opportunity to remember and honor the late Leonard Parker and his late wife, Betty, through the legacy of their children and grandchildren at its annual benefit on Feb. 2.
Three of the Parkers' four children — Aaron, Jonathan and Andrew, as well as Jonathan's wife, Ellen Sue — recently shared their parents' legacy and values, and the way in which these values were realized through their grandchildren's experiences at HMJDS. Leonard and Betty grew up in a time when being a Jew was harder than it is for their grandchildren, in a time when many fought and died for the principles that we hold so integral to our religious, cultural and national identity.
This is their story.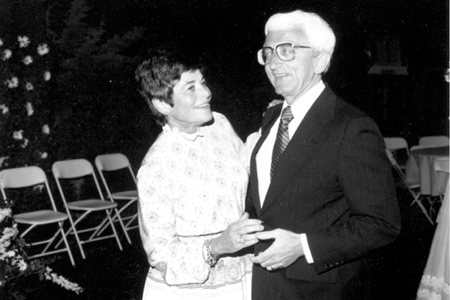 Leonard was born in Poland, but grew up in Milwaukee in an observant Jewish family. He was a "boy cantor" in his parents' shul, led services as a child, and grew up strongly identified and highly educated as a Jew. After a year at the University of Wisconsin–Milwaukee, he entered the infantry and fought in France and Germany.
Leonard described his transformative experience liberating the concentration camp at Dachau in letters and subsequent interviews. He shared how, upon entering the camp, he sang Yiddish songs to the Jewish prisoners — fellow Jews who themselves were amazed that there was a Jew in the American military. According to his son, Andy, this experience changed Leonard's Jewish identity, transforming it from one of "ritual to real understanding."
Upon returning to the United States, Leonard soon relocated to the University of Minnesota, where he studied architecture. He married Betty, a native Minneapolitan whose father was a lifelong Temple Israel member, in 1948. Betty also had a strong Jewish identity, and was herself a committed educator — she ran a local preschool for many years, and served as an active volunteer in Temple Israel Sisterhood, National Council of Jewish Women and the American Cancer Society.
Leonard and Betty raised four children, Aaron, Jonathan, Nancy and Andrew — all of whom were educated at Temple Israel and all of whom brought a strong Jewish commitment and identity to their own children. Yet it was HMJDS that truly solidified this identity. Jonathan and Ellen Sue chose to send their firstborn son, Adam, to the school in 1990, who was followed over the ensuing 18 years by seven more of Leonard's and Betty's 10 grandchildren.
HMJDS provided powerful experiences for the Parker grandchildren, but the school community was equally impactful for Leonard's and Betty's children — and for Leonard himself (sadly, Betty passed away in 1983, just three weeks before the birth of her first grandchild).
Jonathan commented on the joy that he himself experienced learning about Judaism from his own children — as did Leonard. Leonard became a supporter and advocate of HMJDS, and it opened his eyes to the impact that a Jewish day school education could have on shaping the Jewish future.
According to Andy, Leonard "could not have been happier to see what we were doing" by sending their children to HMJDS. Andy also noted that his own, current commitment to Jewish study was initially shaped by his children's involvement with HMJDS. Truly, the school helped sustain and enhance the Jewish values and commitments exemplified by Leonard and Betty, and perpetuated by their children.
In the mid-1990s, the Parker siblings and their families created an endowment fund to benefit the school in honor of Leonard (and in memory of Betty), a fund that was substantially enhanced upon Leonard's passing last year. These dollars now support professional development opportunities for HMJDS faculty, and this year supported the literacy initiative to help promote reading, writing and comprehension in the HMJDS Lower School.
Ellen Sue Parker is a past president of the HMJDS board of directors, and the family remains connected to and supportive of the school (and the larger Minneapolis Jewish community) through their ongoing volunteerism and philanthropy.
Perhaps Aaron Parker said it best: "Both Mom and Dad had a deep belief that education made all the difference."
From that day at Dachau almost 70 years ago to the smiling faces in the HMJDS halls today, we know that education truly makes all the difference.
***
The 2013 HMJDS Annual Benefit will take place 7:30 p.m. Saturday, Feb. 2 at Adath Jeshurun Congregation, 10500 Hillside Ln. W., Minnetonka. To register online, visit: www.hmjds.com/annual-benefit-online-registration; for information, call 952-381-3569 or e-mail: benefit@hmjds.org.
Beckie Skelton is the institutional advancement director at HMJDS.
(American Jewish World, 1.18.13)