We have a binary choice in the 2020 presidential election: You can vote for the incumbent, an incompetent and demented individual who sows more chaos by the day, or you can vote for the Democratic ticket of Joe Biden and Kamala Harris.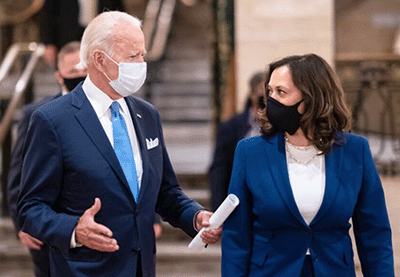 We can put an end to the insanity of the Trump administration at the polls on Nov. 3; and unless we decisively defeat Trump and his minions, the American democratic experiment could be over. The president, a person with no moral center, admires dictators around the globe and openly muses about serving beyond the two terms sanctioned by the U.S. Constitution.
In 2020, Trump has disastrously bungled the federal government's response to the COVID-19 pandemic, and more than 200,000 214,000 of our compatriots are dead from the virus, as cases of infection continue to rise in a number of states. He admitted to publicly downplaying the severity of the lethal virus, in interviews with journalist Bob Woodward. Trump knew about the highly contagious nature of SARS-CoV-2 and that it infected children and young people; but he told the public that it simply would disappear "like a miracle."
And following the Minneapolis police killing of George Floyd on May 25, Trump rhetorically poured fuel on the fires that raged in the Twin Cities and other cities. In this time of reckoning on systemic racism and police brutality, Trump, a bigot, racist and xenophobe, is not equipped to lead the nation in a course correction.
With the recent death of Supreme Court Justice Ruth Bader Ginsburg, Trump and his chief Senate enabler, Mitch McConnell, quickly vowed to replace her. He has named a right-wing extremist, Amy Coney Barrett, to take the liberal justice's seat on the high court. Part of this speedy procedure seems to reflect the strategy to have a Republican-dominated Supreme Court that could rule on an appeal of election results, as the court did in 2000, when the justices voted 5-4 to stop the Florida recount and anoint George W. Bush as president.
Beyond the presidential election, I would encourage Jewish World readers in Minnesota to vote for Sen. Tina Smith's reelection. Her challenger, Jason Lewis, is a benighted Trumpite who has irresponsibly supported the #ReOpen movement, the misguided faction that wants to open up businesses — bars, restaurants, schools, etc. — in defiance of the scientists advising that such measures would lead to a surge in coronavirus infections, which is what we've seen with mass gatherings like the Sturgis Motorcycle Rally, weddings, funerals and Trump rallies. Beyond Trump's defeat, we must stem the power of right-wing reactionaries that are bringing America low.
While former Vice President Biden wasn't my first choice for the Democratic Party's presidential nominee, he and his running mate, Sen. Harris, represent a humane and rational alternative to the current mad king in the Oval Office. Unlike the current president, Biden and Harris seem to value the truth and they display a sense of decency expected from public servants. For example, they acknowledge the scientific consensus that human activity is driving climate change. On myriad issues, Biden-Harris would reorient this nation's policies to remediate long-standing social maladies. Of course, it would remain for activists to push Democratic elected officials to enact progressive reforms. Voting is necessary, but it's not sufficient to achieve the human uplift that we need.
We hope for a sea change in our elected leadership; but the 2020 elections promise a fair amount of chaos. This will be a national election held under the threat of the coronavirus pandemic, with a huge share of voters submitting ballots by mail.
Of course, Trump continually bellows that the vote will be "rigged." As he sees, if he fails to win reelection, it will be because the Democrats tampered with the ballots. He recently said that we must "get rid of the ballots," toss out the mail-in ballots. Every day he spews another insane remark.
"Trump's grievance is almost certainly tied to the fact that Democrats are more likely to vote by mail in the upcoming election than Republicans are," Jeffrey Toobin wrote in The New Yorker (Sept. 28, 2020). "This will contribute to a phenomenon called the 'blue shift' — votes that are counted, and reported, later on tend to favor Democrats. This year's blue shift may be particularly dramatic. In a recent poll by Hawkfish, a data firm associated with Democrats, only 19 per cent of Trump supporters said that they planned to vote by mail, compared with 69 per cent of Biden supporters. Using data from late-summer polls, Hawkfish predicted that Election Night results could show Trump in the lead, with a total of 408 electoral votes. Four days later, with 75 per cent of the mail-in votes counted, Biden would take the lead, with 280 electoral votes and, with all the votes counted, the former Vice-President would win the Presidency, with 334 electoral votes."
Toobin continues, "Throughout the campaign, Trump has sought to undermine voters' faith in the democratic process—going so far as to suggest, on Twitter, that the election should be delayed until people could 'properly, securely and safely' vote. (He later backtracked on the idea, which would require a change to federal law.) Last week, Trump tweeted, 'the Nov 3rd election result may NEVER BE ACCURATELY DETERMINED.' The norms of political conduct, already fading at the turn of the century, now seem to have disappeared altogether. As a result, the aftermath of the 2020 election has the potential to make 2000 look like a mere skirmish."
Some readers might recall that Trump told his supporters in North Carolina to vote twice — to vote by mail and then try to vote again in person. This is a crime that carries felony penalties.
In short, the elevation of Trump to the presidency represents a signal failure of the American political system. It was dangerous to bestow such power to a con man, a person who views every issue in terms of his self-aggrandizement and monetary self-interest. We don't want to think for even a few seconds about the fact that this idiot has control of the nuclear launch codes.
It's a matter of speculation, but Trump could be the first president to go from the White House to prison; the recent reporting by the New York Times indicates that he likely is a tax cheat, owing some $100 million to the U.S. government. He has been fighting an IRS audit for many years.
Regarding the newspaper's reporting on Trump's tax avoidance, columnist Paul Krugman wrote this week: "The most important revelation from the Times report, however, is its confirmation of another thing many observers already suspected: Trump has hundreds of millions in personal debt. It's unclear whether he has the resources to repay it."
Krugman adds, "Personal financial trouble has always been a red flag when it comes to filling sensitive government positions, because it's an open invitation to corruption. So the confirmation that the nation's chief law enforcement and national security official — whose business empire already offers many opportunities for undue influence — is drowning in debt is chilling."
It's time for the pendulum to swing back from red to blue. We're exhausted by the mishegas of the Trump misrule. Please do your part to make a beneficial change in our government.
— Mordecai Specktor / editor [at] ajwnews [dot] com
(The opinions expressed in this editorial are those of the author and do not represent the views of the partners of Minnesota Jewish Media, LLC, the parent company of the American Jewish World, or its employees.)