As this edition of the Jewish World was going to press, Donald Trump, who served one term as president of the United States, appeared in a Manhattan courtroom and pleaded not guilty to 34 criminal charges relating to falsifying business records. Trump did not look happy in court. The case against him stems in part from a $130,000 hush money payment allegedly made by Trump to the adult film actor known as Stormy Daniels, in the run-up to the 2016 presidential election.
Trump had already been caught on an open mic boasting about how, as a famous person, he could sexually assault women. Revelations of an extramarital affair, shortly after the birth of his son, likely would have damaged his political prospects.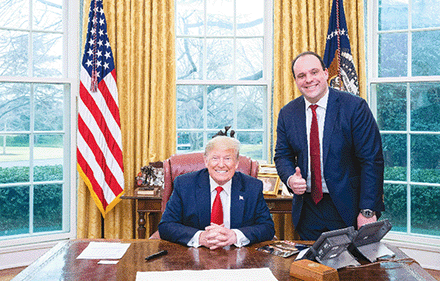 And there are some Jews that are prominent in the Manhattan district attorney's case. Trump's former personal lawyer and fixer Michael Cohen was loyal to his former boss until he got thrown under the proverbial bus. In his popular podcast, "Mea Culpa," Cohen goes tooth, nail and expletive against Trump these days. Cohen reportedly testified multiple times before the Manhattan grand jury that indicted Trump; he also testified about Trump's business dealings before Congress.
Another Jewish figure in the pending case is David Pecker, who as head of AMI, publisher of the National Enquirer, allegedly participated in a "catch and kill" effort to suppress a story about Trump paramour Karen McDougal, a former Playboy playmate of the year. McDougal reportedly accepted $150,000 from Pecker, a longtime Trump friend, in exchange for not going public with her story about the alleged affair. Pecker reportedly testified before the Manhattan grand jury.
On April 4, CNN reported that prosecutors "said a Trump-friendly publishing company, American Media Inc., paid $30,000 to a former Trump Tower doorman who claimed to have a story about Trump fathering a child out of wedlock.
"All three payments [to Daniels, McDougal and the doorman] were part of an alleged 'catch and kill' effort by Trump and others, among them then-AMI chief David Pecker, from August 2015 to December 2017 'to identify, purchase, and bury negative information about him and boost his electoral prospects.'"
And in the Manhattan courtroom on April 4, Boris Epshteyn, a Trump adviser involved in the 2016 and 2020 presidential campaigns, sat with the former president's lawyers. Epshteyn, who was born in Moscow, has coordinated Trump's fundraising outreach to the Jewish community.
Of course, most American Jews stay in the Democratic column at election time and have been repulsed by Trump's antics over recent years. As much as Jews detest Trump, they are more mystified by their co-religionists who choose to be part of the MAGA (Make America Great Again) constituency.
Over the past year, I have conducted a sort of sociological experiment by going onto the Trump-owned platform Truth Social and engaging with the Trumpites. I use a pseudonym because the Twitter-like app is a cesspool of racism, bigotry and antisemitism where anything goes. Some of the antisemitic images posted on Truth Social are on par with the anti-Jewish propaganda published by Der Stürmer, the Nazi party newspaper that caricatured Jews as subhuman, rat-like creatures.
Boris Epshteyn is on Truth Social — he has close to 38,000 followers. The participants are mainly of the evangelical Christian persuasion — there's a lot of posting about Jesus, Trump as the savior of America and quack medical cures. People usually get riled up when I suggest that Ivermectin might not be an effective cure for COVID-19.
Regarding the Trump indictment, Trump loyalists loudly proclaim that the case in Manhattan is a "political prosecution" and that such a case would not be brought against anyone not named Donald J. Trump. You also hear much about the "unprecedented" criminal prosecution of a former president.
On the latter point, the U.S. could emulate the example of Israel, where a former president (Moshe Katsav) and a former prime minister (Ehud Olmert) were prosecuted and imprisoned for rape and taking bribes, respectively. And to bring things up to the minute, the current Israeli premier, Benjamin Netanyahu, is on trial in the Jerusalem District Court on charges of bribery, fraud and breach of trust. Knowledgeable Israeli observers say that his attempt at "judicial reform" is partly intended to get himself off the hook in the pending court case.
(Former U.S. Middle East envoy Aaron David Miller was a recent guest on "The Al Franken Podcast." He discussed the new right-wing Israeli government, the proposed judicial coup and the massive streets protests over the past few months. Miller's conclusion: "Right now, Israel is a real mess.")
It's impossible to predict how things will develop in Israel — or in the U.S., as we approach the 2024 election cycle. The Trump indictment certainly isn't an epochal event; there will be more indictments in the former president's future. He'll be inhabiting various courtrooms in the years to come. There are bigger fish to fry, as far as issues of the moment. Our elected officials have kicked a number of cans down the road, and it's not clear that we have the wisdom and will to face societal crises head on.
Rep. Adam Schiff, D-Calif., another Jewish figure involved in the Trump corruption saga — specifically, the former president's role in inciting the Jan. 6, 2021, MAGA mob attack on the U.S. Capitol — tweeted his thoughts on Trump being held to account in a Manhattan courtroom: "A somber moment in the life of our country, when it's necessary to arraign a former president on criminal charges. As the case falls to the DA to prove, we must recognize what is most important: Even the most powerful are held to account, and that nobody is above the law."
The indictment has been released and we'll soon learn the particulars of The People of New York State against Donald J. Trump.
Again, the editors and staff of the American Jewish World wish our readers Chag Pesach Sameach — a joyous Passover festival.
Mordecai Specktor / editor [at] ajwnews [dot] com
(American Jewish World, April 2023)