Minnesota's "Jewish seat" in the U.S. Senate is up for grabs again this year. Although Jews account for less than one percent of Minnesota's population, by a strange quirk of history three Jews have been consecutively elected from Minnesota to the Senate since 1978: Rudy Boschwitz, who served from 1978-1991; Paul Wellstone, 1991-2002; and Norm Coleman, 2003 to the present.
The current race has DFL challenger and St. Louis Park native Al Franken running against GOP incumbent Norm Coleman — the fourth time in the last 30 years that two Jewish candidates have run against each other, with one of them as the incumbent. Dean Barkley of the Independence Party is the third major party candidate running. In 2002, Barkley was appointed by Gov. Jesse Ventura to serve out the term of Paul Wellstone, following his tragic death in an airplane crash on Oct. 25, 2002.
Wellstone was a beloved Minnesota politician — unique and irreplaceable. He connected with a wide swathe of the citizenry, with his empathy, enthusiasm and progressive populist brand of politics. For many Minnesotans of modest means, those who felt unrepresented in the councils of power, Wellstone was their champion. And although Wellstone didn't have a traditional Jewish upbringing, Judaism informed his identity, as he told me during an interview on April 12, 2002, as we sat across from each other in a St. Paul café booth.
"I think the prophetic tradition of our faith is that to love God is to love justice," he explained. "And, hey, I don't meet that goal, but I try to do everything I can to live by that."
Minnesota and the nation suffered an incalculable loss with the untimely death of Paul Wellstone. As we recall, former Vice President Walter F. Mondale was recruited to campaign in Wellstone's stead, with less than two weeks left in the 2002 Senate race. On election night Mondale came up short and Norm Coleman went on to serve in the U.S. Senate.
I've had the chance in the last couple of weeks to interview the major party candidates, Coleman, Franken and Barkley. As I have written in editorials over recent weeks, this nation desperately needs a sea change in its political leadership.
The frightening financial meltdown, added to costly U.S.-led wars in Iraq and Afghanistan, and a host of other vexing issues, requires new policies and a new vision in Washington. In the last two weeks, I have endorsed Sen. Barack Obama for president, and Ashwin Madia for Minnesota's Third District seat in the U.S. House of Representatives.
Jewish World readers, and all Minnesotans, should vote for Al Franken on Nov. 4, and send him to serve in the U.S. Senate. He is intelligent, well versed in the complex issues facing our nation, and has demonstrated a passion to work for the common good.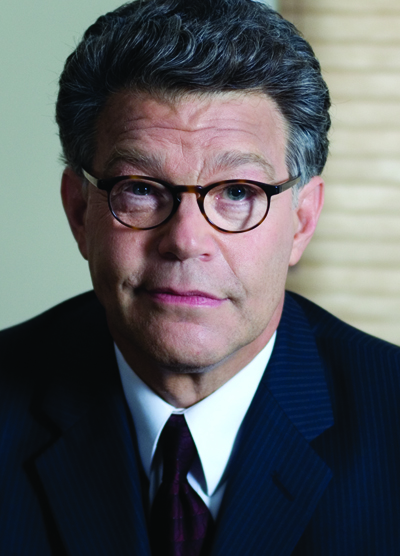 On the campaign trail, Sen. Wellstone would declare that he represented the "little fellers, not the Rockefellers." Likewise, Al Franken has been touched by the struggles of Minnesotans around the state, and he will be a strong addition to the U.S. Senate, advocating for working people who have been steadily slipping down the socioeconomic ladder.
I like Dean Barkley, a truly amiable guy. He has gone through his own personal struggles in recent years; and, after Jesse Ventura decided not to wage a campaign for the Senate this year, Barkley registered and won the Independence Party primary race. Indeed, Barkley founded the party in 1992, when he ran unsuccessfully for Congress.
In 1996, Barkley stopped by the AJW offices during his campaign for the U.S. Senate and talked about issues of concern to the Jewish community. Like David Dillon, the Independence Party candidate in the Third District race, Barkley says that special interest money is corrupting our politics and government. Because he won't take PAC money, he's running on the proverbial shoestring against opponents who have each raised more than $10 million in campaign cash. He has sensible things to say about the dire economic mess that has spread from Wall Street to every corner of the globe, the Bush administration's disastrous wrong step into Iraq, and protecting Israel from the looming Iranian threat.
I could say more good things about Dean Barkley, but space is limited and Norm Coleman's candidacy needs to be explored. The Republican incumbent waged a low-down campaign, which was focused on discrediting and demeaning Al Franken. In his TV spots, Coleman told Minnesotans that Franken is a pornographer, a tax cheat, and an angry guy who doesn't have the temperament to work effectively in the Senate.
Then Sen. Coleman turned over a new leaf. Two weeks ago, Coleman called a press conference and told the assembled press: "One of the many advantages of my Jewish faith is the ancient calendar we keep that calls for certain beneficial spiritual activities throughout the year. One such event is Yom Kippur, which just concluded last night at sundown, a time of fasting, soul searching and refocusing of your life. It was for me a very necessary day to stop and contemplate and make a couple of decisions…" Coleman then announced that he was "suspending all negative campaign ads" and calling on his supporters "to do the same."
The senator amended this statement somewhat, during a telephone interview this week. He said that his decision to suspend the negative, anti-Franken TV commercials was informed by "three days on the road" prior to Yom Kippur, when he found "a lot of fear and anxiety" among the electorate about the future of the economy. He hastened to explain that his shift in strategy was "not all of a sudden God speaking to me" during Yom Kippur services at the Temple of Aaron.
Another way to look at this change of tactics — call me a skeptic, if you like — is that Coleman saw that his negative campaign was losing traction. The Star Tribune/Minnesota Poll this week found that a lot of people see things my way: 61 percent of likely voters "believe Coleman pulled the ads because they weren't working for him, while 28 percent thought he was sincere about wanting to change the tenor of the campaign. The unkindest cut? One third of Republicans said Coleman acted because the ads were backfiring."
Norm Coleman came to the Senate in 2003, and was a reliable partisan for President Bush. As the U.S. war effort in Iraq foundered and the president's approval ratings sank, Coleman tacked away from the Bush administration and proclaimed himself as an "independent" actor, someone willing to work across the aisle, etc. Indeed, throughout his political career, Coleman has refashioned his image to suit the prevailing winds.
Public relations stunts aside, Coleman clings to a failed ideology of trickle-down economics and counterproductive war policies that have brought the U.S. to a state of deepening crisis at home and abroad. During our conversation on Sunday, Coleman bristled at the suggestion that the Iraq War has imperiled Israel by strengthening the position of Iran, which controls the surrogate forces of Hamas and Hezbollah on Israel's southern and northern flanks, respectively. Indeed, Coleman blamed Jimmy Carter's handling of the U.S. hostage crisis in Tehran, 30 years ago, for the present difficulties with the Iranian regime.
Like the GOP presidential standard-bearer, Coleman seems to think that there is a light at the end of the tunnel in Iraq — as we once heard repeatedly from LBJ regarding the Vietnam War. A number of factors have led to the tamping down of violence in Iraq over recent months; but astute observers see the situation as still quite fragile after five years of U.S. military involvement. In any case, Coleman, who touts his experience and his ability to get things done, has been a consistent supporter of and apologist for the Bush administration in what has been its signal foreign policy failure.
As for Al Franken, he admits that he was taken in by Bush administration claims (the professions of Gen. Colin Powell, et al.) that Saddam Hussein was in possession of weapons of mass destruction. Franken now says that we were led into the Iraq War "under false pretenses," and that we should begin getting out.
"Our withdrawal should not be precipitous, and we should have a national conversation about the best way to complete our disengagement – we should put more thought into how we get out than we did into how we got in," Franken says. "But we should start now."
Of course, Franken supports the U.S.-Israel relationship and understands the threat from Iran. He also mentioned during our conversation that his daughter Thomasin participated in the Birthright Israel program last year, and has stayed in touch with her new Israeli and American Jewish friends.
On numerous critical issues, Franken will bring an informed, considered judgment to the Senate. He spent several years hosting a talk show on the Air America network, which was essentially a public policy forum, exposing listeners to the views of a range of experts in domestic and foreign policy areas.
Franken recently took a position against the $700 billion bailout of Wall Street banks — the Paulson plan. He says that he understands "why people voted for it," but has concerns that the ever-changing federal plan doesn't address the root causes of the financial breakdown and also doesn't protect the taxpayers. Franken is the only candidate I talked with who raised a question about the role of the unregulated credit default swap (CDS) market in the ruination of big financial institutions.
Franken has proposed a number of initiatives to aid our rural economy, expand educational opportunities and access to health care, and develop sustainable alternative energy options to grow jobs and redress the outflow of dollars to foreign oil producers. If the federal government can come up with $700 billion for Wall Street bankers (the New York Times reported the cost of the bailout at $2.25 trillion), surely we can prioritize money for a bailout of our cities and crumbling infrastructure.
As economists like Paul Krugman and Robert Reich have suggested recently, the federal deficit has soared into the neighborhood of $10 trillion under the stewardship of the Bush administration; but government spending in the short term will be needed to lift the sagging national economy.
Al Franken understands what will be needed in the difficult months and years ahead. He believes that government should provide a social safety net, as it did for his wife Franni's family when her father died and left her mother alone to raise five children. Social Security, an FDR New Deal innovation, helped the family through a rough time.
In our conversation last week, Al Franken mentioned his humble origins, growing up in a small house on West 25th Street in St. Louis Park, with his parents and his brother Owen. He was able to grab hold of the American dream by getting a good education (Blake, Harvard) and making the best of opportunities that came his way.
To briefly fill in some of the bio, Franken was a writer for Saturday Night Live and performed on the show, and he wrote movies (When a Man Loves a Woman, Stuart Saves His Family). When Newt Gingrich and the hard right took power in Washington, following the 1994 elections, Franken devoted himself to writing books to oppose the Republican ideologues — the best seller Rush Limbaugh Is a Big Fat Idiot (and Other Observations), and Lies (and the Lying Liars Who Tell Them): A Fair and Balanced Look at the Right.
Inspired by the legacy of his friend Paul Wellstone, Franken began to consider a move into electoral politics. He moved back to Minnesota several years ago and stepped up his activities on behalf of DFL candidates, especially during the 2006 campaign cycle. He established the Midwest Values PAC, which funded Democratic electoral campaigns. Also, Franken participated in seven USO tours, including four to Iraq, over recent years.
For numerous reasons, I think that Al Franken will be a great senator for Minnesota.
As former Vice President Al Gore said, "Al's been one of the hardest working activists in our party for a long time. I've appreciated his support and friendship for years, and I know I'm not alone. And if we're going to use our majorities in Congress to affect real change, we're going to need Al's sharp wit and strong convictions."
I talked to another former vice president last week, Walter Mondale, and asked him if Al Franken had the experience and temperament to serve in the U.S. Senate.
"He is a very intelligent, thoughtful, caring person," replied Mondale, who has known Franken for about 10 years. "He thinks and cares about the big issues, and I think he'd be an excellent senator."
Mondale brushed aside the personal attacks that the Republicans have directed at Franken.
"He's a person who will go to Washington fully independent to do what he thinks is right," said Mondale. Unlike Norm Coleman — who, as Mondale pointed out, has taken hundreds of thousands of dollars from corporate PACs (financial firms, oil and pharmaceutical companies) — Franken will enter the Senate with a "fresh" viewpoint and not beholden to the corporations that have been writing the laws to their advantage.
"I think that Franken, who reminds me some of Paul Wellstone, will stand up to this stuff and shake it up, and that's what we need," said Mondale.
The former vice president and ambassador noted that "our nation has to do bold things" in the face of pressing domestic and foreign crises. The Senate will be a key part of the changed political landscape in Washington next year, and Mondale looked forward to Franken being part of a body that quickly passes needed legislative reforms — as happened in the first 100 days of FDR's administration — and that confirms Supreme Court justices who will reestablish the constitutional separation of powers (after the executive power grab by the Bush administration), and protect our endangered civil liberties.
Al Franken has returned to his roots and he is ready to serve Minnesota in the U.S. Senate. He deserves our vote on Nov. 4.
— Mordecai Specktor
editor [at] ajwnews [dot] com
This editorial solely reflects the views of its author. It is not intended to represent the viewpoint of Minnesota Jewish Media, LLC, the parent company of the American Jewish World, or the opinions of its investors.
(American Jewish World, Oct. 24, 2008)