Longtime president of World Jewish Congress was philanthropist
JTA Staff Report
NEW YORK (JTA) — Edgar Bronfman, the billionaire former beverage magnate and leading Jewish philanthropist, died Dec. 21 at the age of 84.
As the longtime president of the World Jewish Congress, Bronfman fought for Jewish rights worldwide and led the successful fight to secure more than a billion dollars in restitution from Swiss banks for Holocaust victims and their heirs. As a philanthropist, Bronfman took the lead in creating and funding many efforts to strengthen Jewish identity among young people.
According to a statement, he died peacefully at his home in New York, surrounded by family.
Bronfman spent the 1950s and 1960s working with his father, Samuel, at Seagram Ltd., the family's beverage business. He became chairman of the company in 1971, the year of his father's death.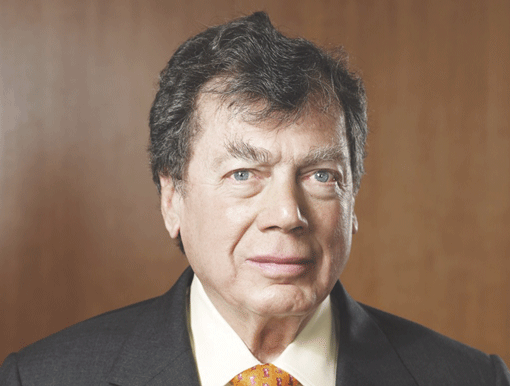 Just a year earlier, in 1970, Bronfman took part in a delegation to Russia to lobby the Kremlin for greater rights for Jews in the Soviet Union. He would later credit the trip with inspiring his increasing interest in Judaism.
"It was on those trips to Russia that my curiosity was piqued," Bronfman said. "What is it about Judaism, I asked myself, that has kept it alive through so much adversity while so many other traditions have disappeared. Curiosity soon turned into something more, and that 'something more' has since turned into a lifelong passion."
In 1981, Bronfman became the president of the World Jewish Congress, stepping up the organization's activism on behalf of Jewish communities around the world. From his perch at the WJC, in addition to battling with the Swiss banks, he continued the fight for Soviet Jewry, took the lead in exposing the Nazi past of Kurt Waldheim and worked to improve Jewish relations with the Vatican. In 1991, he lobbied President George H.W. Bush to push for the rescission of the United Nations resolution equating Zionism and racism.
"In terms of defending Jews, I'm a Jew," Bronfman told JTA in a 2008 interview. "And I was in a position to do so, so I did so."
Bronfman's final years as president of WJC were marred by allegations of financial irregularities revolving around his most influential adviser on Jewish political affairs, the organization's secretary general, Rabbi Israel Singer. Bronfman was never implicated in any of the financial allegations, but the controversy and feuding surrounding his top aide dominated the final years of his decades-long stint as WJC president.
The office of then-New York Attorney General Eliot Spitzer issued a report in 2006 that found no criminal offense, but criticized the WJC's financial management, and it ordered that Singer be prohibited from making financial decisions in the organization. Bronfman initially stood by Singer before ultimately firing him in 2007. Several months later Bronfman stepped down.
But Bronfman did not disappear from the public stage. A staunch supporter of the Israeli-Palestinian peace process, he continued to be a vocal and public backer of liberal politicians in the United States and Israel. And as president of the Samuel Bronfman Foundation, he dedicated most of his final years to his Jewish philanthropic causes.
He founded the Bronfman Youth Fellowship in 1987, a young leadership program that brings together Jewish high school students from Israel and North America. In the 1990s he worked to revive Hillel, serving as the founding chair of the campus organization's board of governors. In 2002, he provided the funding to launch MyJewishLearning, a digital media entity that now also includes the Jewish parenting site Kveller and boasts 1 million visitors per month.
Bronfman and his first wife, Ann Loeb, had five children: Sam, Edgar Jr., Matthew, Holly and Adam. He and his second wife, Georgiana Webb, had two daughters, Sara and Clare. In 1994, he married the artist Jan Aronson. He is survived by Aronson, his seven children, 24 grandchildren and two great-grandchildren, as well as a brother, Charles, and a sister, Phyllis Lambert.