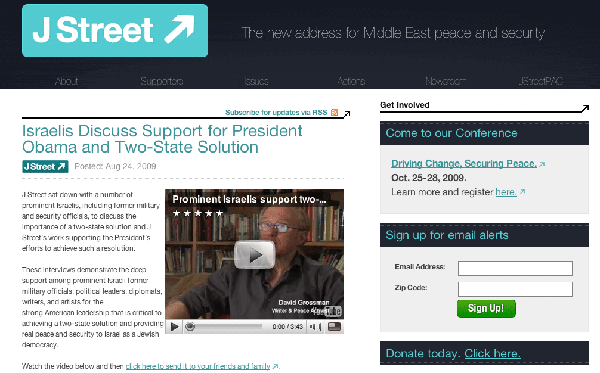 The Forward recently reported that J Street, the dovish D.C.-based Israel lobby, will take over the "the Jewish community's largest likeminded grassroots organization":
The anticipated merger of Brit Tzedek V'Shalom with J Street will give the lobby its own national network of volunteers. It is but the latest in series of seemingly strategic acquisitions through which J Street — which calls for increased U.S. involvement in the Middle East peace process — is seeking to develop a multi-tiered operation mirroring that of the American Israel Public Affairs Committee, its much larger, mainstream rival.
According to unofficial accounts, J Street and Brit Tzedek V'Shalom are in advanced talks that are expected to lead to the latter's absorption in J Street as the lobby's field operation branch.
The move is yet another demonstration of how the 18-month old lobbying group has been changing the political landscape on the Jewish left and consolidating its power at a time when other groups are struggling to survive.
The new Obama administration has been open to including groups like J Street, Americans for Peace Now and the Israel Policy Forum, along with mainstream synagogue and communal groups, in its discussions with the Jewish community, as compared to the Bush administration, which preferred to parley with AIPAC and groups decidedly on the right of the political spectrum.
Nathan Guttman, in his Forward story, points out that J Street, with a $3 million yearly budget and 22 employees, is "dwarfed by AIPAC's $70.6 million budget, of course." Still, J Street is striding ahead; Americans for Peace Now, "a much older, well-established group," brought in $2.25 million last year.
The Forward also mentioned that J Street took over the Union of Progressive Zionism, a small campus organization, last October.
While J Street is treating with Israel lobby groups on the left, Guttman points out that the new new kid on the Washington block also has set its sights on "mainstream Jewish activists who have, up to now, largely stirred clear of J Street due to its leftist image. J Street's latest recruit, Hadar Susskind, is hoping to reach out to these activists and make them 'look at it differently.' Susskind comes to J Street after serving as vice president and Washington director of the mainstream Jewish Council for Public Affairs, the organized Jewish community's umbrella group for advocacy on domestic issues.
"J Street couldn't have found a more perfect person to guide our strategic work," said J Street Executive Director Jeremy Ben"Ami, in a press release. "Hadar combines a deep commitment to Israel, a lifelong commitment to Jewish values and significant experience in both the organized Jewish community and Washington politics." — Mordecai Specktor